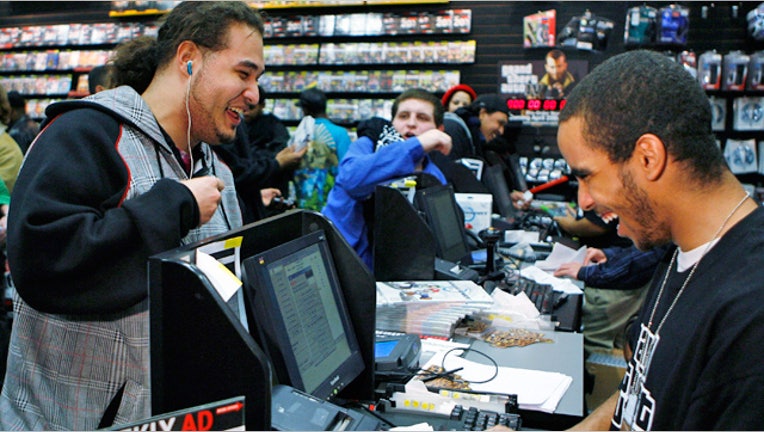 Hit by shrinking same-store sales and restructuring costs, GameStop (NYSE:GME) said Thursday it suffered a 27% slump in fourth-quarter profits, but the video-game retailer forecasted rosier results ahead.
GameStop said it earned $174.7 million, or $1.27 a share, last quarter, compared with a profit of $237.8 million, or $1.56 a share, Excluding one-time items like restructuring charges, it earned $1.73 a share, matching estimates from analysts.
Sales slipped 3.1% to $3.58 billion, trailing the Street's view of $3.71 billion. Same-store sales dropped 3.6%.
"In 2011, GameStop outperformed the video game market through disciplined execution of its core business and strategic initiatives," CEO Paul Raines said in a statement.
Offsetting disappointment over the results, GameStop forecasted full-year sales would rise 1% to 5%, translating to EPS of $3.10 to $3.30. Same-store sales are seen slipping 1.5% to rising 2%.
For the current quarter, GameStop said it expects to earn 52 cents to 55 cents, compared with the Street's view of 59 cents. Same-store sales are expected to tumble 7.5% to 9%.
"For 2012, we project operating earnings growth based on the continuation of our transformation, led by our strong pre-owned business, expanding digital offerings and emerging mobile categories," Raines said.
Shares of Grapevine, Texas-based GameStop rose 1.77% to $25.11 Thursday morning, outperforming a 0.63% slide on the S&P 500. For the year, GameStop is up just 2.2%, underperforming the broader markets.