GameStop 3Q Net Slips 1.5% as Sales Slump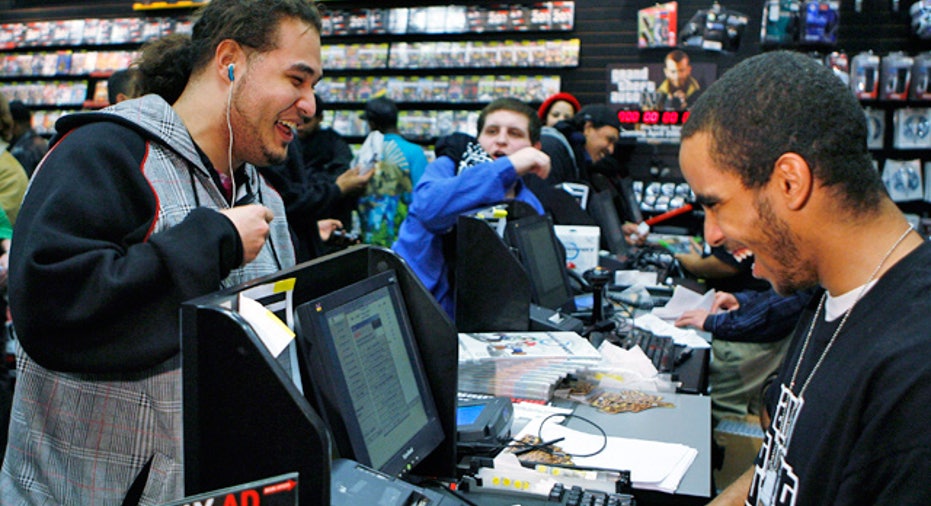 GameStop (NYSE:GME) disclosed an in-line 1.5% slide in third-quarter profits due to declining same-store sales and downgraded its 2011 sales outlook amid the disappointing economic recovery.
Shares of the Grapevine, Texas-based video-game retailer rose in early trading as shareholders cheered plans to initiate a new stock-buyback program.
GameStop said it earned $53.9 million, or 39 cents, last quarter, compared with a profit of $54.7 million, or 36 cents a share, a year earlier. Analysts had been calling for the profit of 39 cents a share.
Revenue increased 2.5% to $1.95 billion, narrowly trailing the Street's view of $1.96 billion. Same-store sales slipped 0.6%, compared with earlier projections for a rise of 2% to 4%. Digital sales surged 59%.
"In the third quarter, GameStop outperformed the market and continued to execute against the long-term strategic plan through additional investments in digital and emerging businesses," CEO Paul Raines said in a statement.
Looking ahead, GameStop downgraded its 2011 same-store sales forecast to a range of -1% to flat. Previously, the company expected comparable sales to rise 1% to 3%.
Still, GameStop reaffirmed its 2011 EPS view of $2.82 to $2.92, compared with expectations from analysts for $2.89. Revenue  is seen rising 2% to 3%.
For the crucial holiday-shopping season quarter, GameStop said it anticipates EPS of $1.66 to $1.76. The midpoint of that range, $1.71, would miss the Street's view of $1.74. Same-store sales are seen flat to up 2%.
"As we begin the fourth quarter, the strong sell-through of November new title releases indicates a good start to the holiday season," Raines said.
GameStop said its board of directors has approved a new plan to buy back $500 million of its shares and repurchase $125 million of debt.