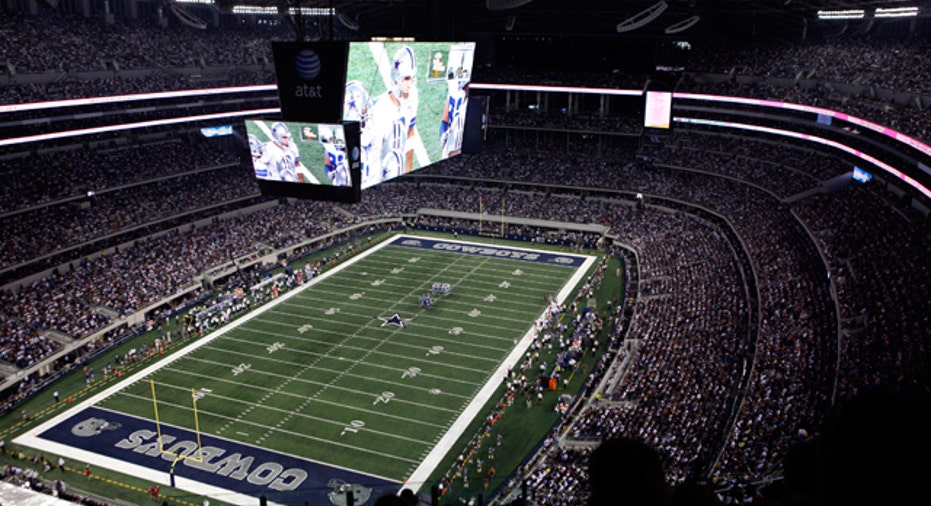 Exhausted by the bleak economy and a dearth of inventory, the once-booming arena naming-rights market has been in a comatose state for the better part of the past three years.
This high-profile form of sponsorship serves as a vital source of revenue for the sports world, spawning deals with major companies like Citigroup (NYSE:C) that have approached $500 million.
While gun-shy advertisers and a lack of public financing for new facilities remain obstacles, the naming-rights market could be on the cusp of a mini comeback, especially if a rumored mega deal for the New Meadowlands Stadium in New Jersey emerges.
There really is nowhere to go but up, said David Carter, a professor at USC and author of Money Games. What else could conceivably go wrong?
To be sure, the market for the naming-rights remains in hibernation. Nothing signifies this better than the absence of corporate names for the palace Jerry Jones built for his Dallas Cowboys or New Meadowlands Stadium, the $1.6 billion home of the New York Giants and Jets.
So what exactly are naming rights? They are multiyear sponsorship agreements that give corporations the ability to place their names on venues. These deals offer companies name recognition and vehicles to drive sales and represent one of the largest forms of non-shared revenue for teams.
Economy, Lack of New Facilities Hit Market
The last large-scale deals were a pair of 20-year, $400 million deals signed by Citi in 2006 for the new home of the New York Mets and by British lender Barclays in early 2007 with the New Jersey Nets.
The weak market can be largely chalked up lingering economic uncertainties after the Great Recession and scary financial crisis.
It was a once-in-a-lifetime business cycle that took everybody off their game, said Carter. Everybody in the sports marketing business was dealing with circumstances no one had ever seen before.
Exacerbating problems, the companies most involved in the naming-rights game in recent years --financial services companies were the ones most damaged by the downturn. Bank of America (NYSE:BAC), JPMorgan Chase (NYSE:JPM), Comerica (NYSE:CMA), Citizens Bank and Raymond James (NYSE:RJF) all shelled out major dollars on big contracts with venues before the crisis.
Even companies that can afford to spend risk a backlash from customers and lawmakers, especially if they are still laying off workers.
Corporations began to feel there might be some blowback for devoting large amounts of dollars to these types of projects, said Steven Korenblat, a partner at Bryan Cave who worked on the CitiField deal.
At the same time, the lack of cheap financing and states tattered balance sheets have all but eliminated the ability of taxpayers to finance major stadiums, which often cost hundreds of millions of dollars.
After a crush of new stadiums around the country was built over the past 15 years, there is just one pro venue under construction: the $515 million new home of the Florida Marlins, which mostly be funded by public dollars.
Likewise, there are only a handful of proposed stadiums around the country, but many of them have serious question marks swirling around them.
The lack of opportunity should create a sellers market, but the economy has created a buyers market, said Bill Glenn, senior vice president of The Marketing Arm, which represents brands in existing and new naming-rights deals.
Despite all that doom and gloom, there may be reasons for hope in the naming-rights space as insurance companies ramp up ad spending.
According to Kantar Media, total U.S. ad spending rose by $1.4 billion, or 4.4%, in the first quarter of 2011 from a year earlier. Insurers were among the aggressive spenders, posting a 29% surge in spending to $1.22 billion. By contrast, financial services and telecom companies decreased spending last quarter by 2.6% and 2.1%, respectively.
Earlier this year Farmers Insurance unveiled a 30-year, $600 million deal to have its name put on the proposed downtown Los Angeles football stadium. While this project lacks a team and faces serious competition from another proposal for a stadium located outside L.A., the deal gives Farmers publicity no matter what.
More than anything, this is a national stage for us, Kevin Kelso, chief marketing officer at Farmers, said at the time. Having our name associated with this will give us a TiVo-proof exposure opportunity.
The Farmers deal comes after Progressive Casualty Insurance (NYSE:PGR) acquired the rights to the home of the Cleveland Indians in 2008 and as reports swirled last month that insurance giant MetLife (NYSE:MET) is near a deal to name New Meadowlands Stadium.
Given its home in the nations largest media market and the fact it is home to two teams, some believe a naming rights deal for this venue could exceed the Citi and Barclays deals and become the richest in history.
A big deal for the Meadowlands might be an icebreaker for the market, said Korenblat. MetLife is obviously a titanic force in the insurance world and I do think thats a great venue for a naming rights deal. Its a gigantic television market.
Whether the market comes back now or later, it does appear owners have learned to be more selective about which brands they should associated themselves with.
The bursting of the tech bubble led to a series of stadium name changes, such as CMGI Field, and the Texas Rangers ended their deal with then-struggling, now-defunct subprime lender Ameriquest in 2007. And who could forget the old home of the Houston Astros, Enron Field?
Those kind of situations created an atmosphere of caution for the entire industry on both the property and brand side, said Glenn. It created a much smarter industry on both sides of the ledger.