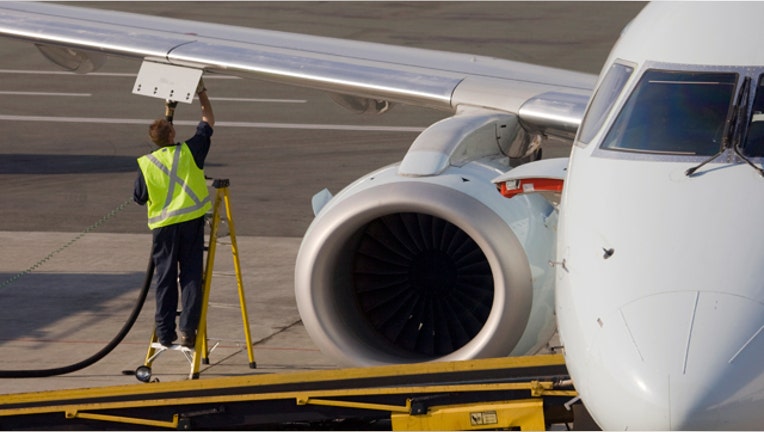 Drivers have a lot to smile about, but frequent fliers may be less than thrilled.
With oil recently hitting a five-year low, GasBuddy says the national average for a gallon of gas is just $2.75. But even as airline stocks fly high on energy savings, travelers shouldn't expect ticket prices to drop anytime soon. If anything, experts say prices could actually rise -- especially in the short-term.
"Air travel remains one of the best consumer bargains in America, given its superior speed and price versus other modes of travel," industry trade group Airlines for America wrote in a statement to FOXBusiness.com. "Do you pay less at Starbucks when the cost of coffee beans falls? Presumably you want Starbucks to expand its stores, offer new beverage choices and share profits with its baristas and stockholders. We are no different."
Despite the recent freefall in fuel prices, Airlines for America said fuel still costs $1 per gallon more than it did five years earlier. And in the first nine months of 2014, the organization said operating expenses increased 3.1% for the nine publicly traded U.S. passenger airlines it represents: American Airlines (NASDAQ:AAL), Delta (NYSE:DAL), Alaska (NYSE:ALK), Allegiant (NASDAQ:ALGT), Hawaiian, JetBlue (NASDAQ:JBLU), Southwest (NYSE:LUV), Spirit (NASDAQ:SAVE) and United (NYSE:UAL).
As the airlines' margins improve thanks to energy savings, Airlines for America said the airlines will concentrate on reducing debt, returning cash to shareholders, updating fleets and sharing profits with employees. Though travelers may complain about the high cost of airfare, dropping ticket prices is simply not a priority. Airline stocks have soared recently: American Airlines has seen its shares rise over 33% in the past three months, and United Airlines' stock is up 25%.
"There's no indication that the industry is interested in reducing prices. To the contrary, the industry is flying full," industry analyst Bob Mann said.
And with consumers saving more on gas day-to-day, they may have more discretionary income available -- which could have an unwanted effect on airfare prices.
"There should be more demand in theory, which should firm up pricing even further," Mann explained.
This "firming up" of prices could take effect over the next few weeks, in the period before Christmas and New Year's Eve.
"It's generally not a very strong business or leisure travel period … On a historical basis pricing is under some pressure. But with this kind of reduction in energy costs to the economy in general, [travelers] may be more willing to fly," Mann added.