From CPA to Olympic Gold Medalist: Gwen Jorgensen's Journey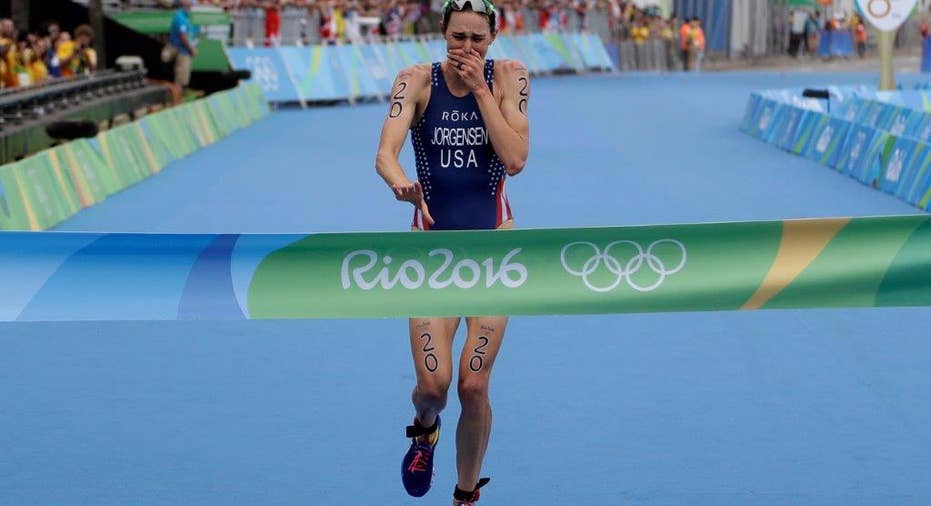 It wasn't too long ago that Olympic gold medalist Gwen Jorgensen was sitting in her office cube at Ernst & Young.
"I was a tax accountant, doing corporate tax at the time," Jorgensen tells FOXBusiness.com.
The former University of Wisconsin track and field star graduated with a master's degree in accounting and passed her CPA exam soon after.
"The USA Triathlon came to me when I was working and said we think you would be good at triathlons. I laughed at them and I thought they were crazy. I actually had never ridden a road bike before that," she says.
But they eventually talked her into it and helped her find a bike and a coach.
That was in 2010. Two years later, she was competing in the 2012 Olympics games in London. And four years after that, she would become the first USA athlete to ever win gold in a triathlon.
"They believed in me when I didn't," she says. "At that time, I only knew of the Ironman, so it was a completely different mindshift. It was something that I had no idea existed but I'm just really thankful that they contacted me I guess."
The road to gold wasn't exactly easy for her, though. Jorgensen had to quit her job and so did her pro cyclist husband, Patrick Lemieux, to travel and train every day for nine months out of the year.
"I'm training every single day. Five days a week, we're doing a swim, a bike, a run as well as gym work and physiotherapy. And, the other two days a week will be smaller days where I will do only two workouts instead of three," she says.
Ever since Jorgensen suffered a flat tire during the 2012 Olympic Games in London, she has been determined to get gold.
"That was really disappointing and after that I made it my goal that I wanted to go to Rio and I wanted to win. So, everything that I have done since I have thought, 'okay, is what I'm doing going to do help me get gold? And if it doesn't, then I'm not going to do it.' That has been the mantra the past four years."
But she does have a secret weapon to her success, she says: her husband.
"The best thing is that he's there for mental support. He also does everything for me. The cooking, the cleaning and all the shopping so all I have to focus on is training."
Jorgensen says she has no plans to slow down either.
"I'm still really focused on competing and Patrick and I really want to have a family."
And, as far as her tax accountant past goes?
"I really don't even want to admit this but I don't even do my own taxes anymore."