Friend, Fan and Follow for Credit Card Gains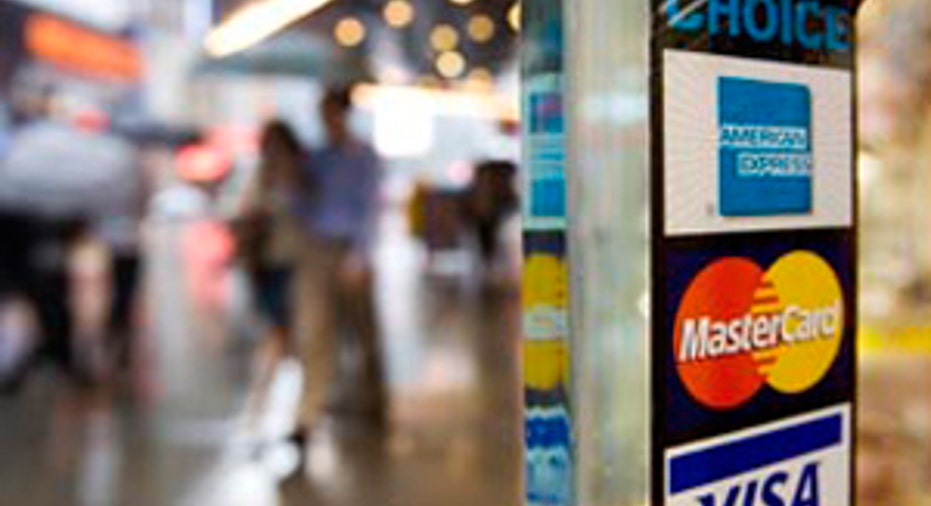 There are plenty of times you might grimace when someone contacts you on Facebook. Your mom. Your ex. Your boss. How about your credit card company? Believe it or not, your issuer (and not your ex) could become a virtual friend with benefits.
As social media carves out a permanent place in everyone's lives -- Facebook claims more than 800 million users and Twitter more than 100 million active users worldwide -- credit card companies are trying to make cyber connections with consumers.
Already, 1 in 4 people have become a fan, friend or follower of their issuer, according to a survey this year from Synergistics Research Corp., an Atlanta-based market research firm. A third of those wanted to find out about special promotions or deals.
They might be on to something.
More credit card companies are offering discounts and other perks on social networking sites, while others are taking customer service complaints. A few are stepping into social apps and games such as Foursquare and "FarmVille."
"When you think about social media, you're really asking permission to have a deeper and more intimate dialogue with your customers," says Matt Kane, general manager of the Chase Freedom portfolio. "So you need to give customers a great incentive to be your friend."
Being a Fan Can Get You Deals
"If you ask the No. 1 reason someone friends a card company, it's getting something that's not available to others who are not friends," says William McCracken, CEO of Synergistics Research Corp.
During Fall Fashion Week this year, American Express offered cardholders a $100 statement credit when they spent $500 or more at online fashion retailer Net-A-Porter.com. The twist? Cardholders could only unlock the offer on the issuer's Facebook application Link, Like, Love, which offers discounts based on likes, interests and social connections, says Sarika Sangwan, a senior manager at the company.
In October, Chase unveiled its Get Your Cash Back sweepstakes and created a Facebook subpage for it on its Chase Freedom page. Those who liked the contest page were asked to fill out a form to enter. The prizes: $500 Visa gift cards and a grand prize of $1 million. In the first three days, more than 200,000 liked the page, according to Alan Maginn, senior analyst at Corporate Insight.
The deals aren't just on Facebook. Discover launched a Six Flags tickets giveaway on Twitter in October 2011. The issuer tweeted a trivia question at 12:30 p.m. and 7 p.m. Central time, and the first five people to tweet the right answer won Six Flags tickets. The questions were about Discover and Six Flags.
"Twitter is a slightly different crowd, because it's limited to character count. It works for news-bite information," says Suzanne Stull-Lazo, social media and brand manager at Discover.
Follow up on Gripes for Swift Attention
Twitter also has proven to be a great way to reach confused or disgruntled credit card customers. Stull-Lazo says the Discover staff often answers general credit-education questions posed on Twitter.
Discover is not alone in helping out customers through tweets. Bank of America, American Express, Capital One and Citibank all have dedicated Twitter accounts for customer service, says Maginn. Chase is in the middle of developing a Twitter customer service pilot to roll out by the end of year or early next, says Kane.
"We want to service people through the channel that is most convenient to them," he says.
Still, Twitter poses a danger for companies, especially if a customer is unhappy with their efforts or the outcome. So don't be surprised if a credit card issuer takes the dialogue offline when the conversation gets heated or privacy becomes an issue.
"Companies don't want to have a social media face, not handle it properly and end up having their social media efforts reflect disenchantment or disappointment for the company," says McCracken.
Like Charity? Vote for a Cause
One of the more heart-warming ways credit card issuers are reaching across the Web to connect with their customers is through philanthropy. Discover, American Express and Chase have all used social networking to support charities.
Earlier this year, Discover hosted its School Giveaway where Americans, cardholder or not, could vote for the public school of their choice on its Facebook page to receive the $25,000 prize. Each fan could cast one vote each day during the contest period. This year, Chicago's WJ Onahan School won the money.
Fans of American Express' Members Project Facebook page can vote for the charities that will receive funding from the credit card company. In its first year in 2007, the company donated $2 million toward clean drinking water in the developing world. The next year, $1.5 million went to funding research for Alzheimer's disease. Fans can also donate their own money through the site.
Chase's Community Giving Facebook page is also an example of a popular social media campaign to give back. Fans can vote for the five charities that will share the $2 million Chase plans to donate. The success is evident. The Chase Community Giving Facebook page has the most fans -- just under 3 million -- of all the Facebook pages of the financial firms that Corporate Insight tracks.
"It was a true experiment that turned into a phenomenon," says Kane.
Other Social Benefits
Credit card companies haven't stopped at Facebook and Twitter. This summer, American Express unveiled a mobile discount program with Foursquare. Cardholders link their Foursquare profiles to their American Express cards to upload discounts and redeem them at purchase.
"I walked into the DKNY store on Madison Avenue, checked into Foursquare and on the top right corner, my phone said I had a special offer -- spend $200 and get a $50 credit," says Sangwan.
In September, Capital One teamed up with Zynga, which owns such social games as "FarmVille," "CityVille" and "The Pioneer Trail." The credit card issuer opened up a bank branch in "CityVille," while the goat from its TV commercials interacted with players of "FarmVille" and "The Pioneer Trail." Players could earn exclusive rewards within the games, or go to the credit card issuer's Facebook page for access to additional offers. Three days after the partnership was announced, Capital One added another 750,000 Facebook fans, according to Corporate Insight.
Don't worry if you've missed out on you issuer's social media perks so far. McCracken doesn't expect the trend of virtual friending to go away soon.
"I think companies will look toward some of the trendsetters, see the success they're having and think: 'We need something like that,'" he says. "There will be a lot of followers."