Fried Shrimp and Mango Margaritas Coming to a Theater Near You?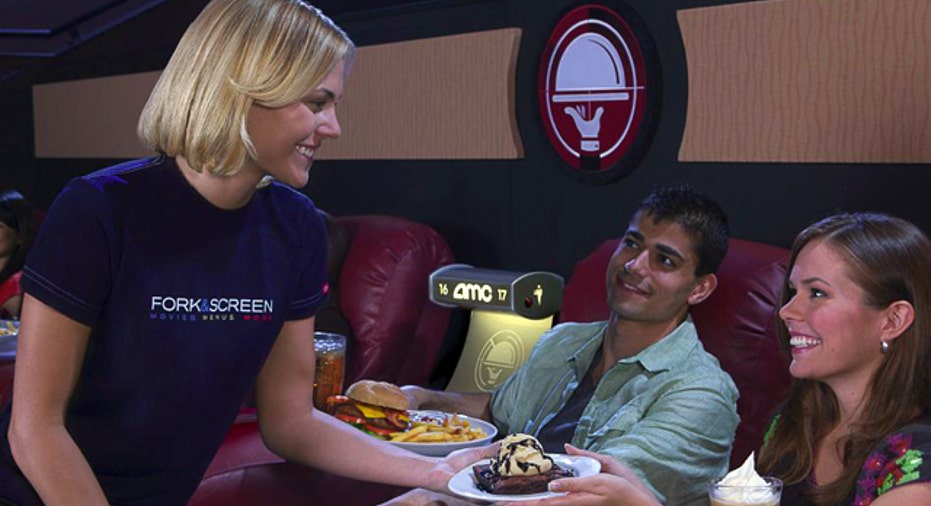 There is no longer a concession stand at the AMC Essex Green Cinema in West Orange, N.J.
No, it's not that moviegoers have become too fearful of dropping their iPhones to risk eating buttered popcorn (though that would seem plausible), or that the healthy-food police has locked up the Sour Patch Kids.
Your favorite snacks are still there for the taking--you'll just have to ask your waiter for them.
In a trend that is as puzzling as it is cool, some movie theaters have begun to play restaurant. Armed with menus that boast everything from Milk Duds to mushroom burgers, theaters are exploring ways to enhance the customer experience and drive business, betting that when the novelty wears off, a new standard of moviegoing will remain.
It's All About Choice
The movie-theater formula hasn't changed much over the years, but as theaters vie to attract customers in a world where films make it to DVD faster than ever, it might be time to switch things up. According to a report by the Motion Picture Association of America [MPAA], box office revenues in the U.S. and Canada came in at a record $10.6 billion in 2010, but not as a result of higher attendance. The number of tickets sold in 2010 actually dropped 5% from 2009 to 1.3 billion while ticket prices rose 5% to $7.89 on average.
Still, going to the movies remains one of America's favorite pastimes, with the MPAA reporting that movie theaters in the U.S. and Canada attract more people each year than all of the theme parks and major U.S. sports events combined. In addition to being less expensive than either a Six Flags outing or a Major League Baseball game, a trip to the movies is reliable in its sticky-floor simplicity. People know what to expect; they don't generally expect Chicken Alfredo, and they seem content with that.
And yet the industry appears to be embracing a more sophisticated vision of moviegoing--one in which consumers have a myriad of choices not only about what they eat and drink, but also about where and how they sit. For example, at the seven AMC theatres across the nation that host a combination of the chain's "Fork & Screen" and "Cinema Suites" seat-side dining services, guests don't have to worry about coming late and not finding a seat--all seating is reserved in advance. Guests who partake in the upscale "Cinema Suites" experience (ages 21 and over only) get the added bonus of sitting in luxury recliners in rows that are spaced up to nine feet apart.
At the lesser-known premium theater chain iPic Theaters, which offers seasonal food options, specialty beverages and free popcorn at its eight locations in the U.S., guests can request a pillow and blanket and aren't shown ads before the film. Why? Advertisements don't fit well with the "perfect escape" that the moviegoing experience is meant to provide, says Mark Mulcahy, iPic's vice president of marketing.
"If you're running ads for a cell phone, that reminds people that their cell-phone bill is due, or that they even have a cell phone," he says.
Movie theaters may be thinking in ways that consumers might not have anticipated, but they aren't trying to force something that isn't natural. For instance, one of the reasons AMC began adding MacGuffins bars to many of its locations is because it wanted to appeal to those who typically come out of a movie and congregate in the theater's hallways and parking lots to discuss it, says Justin Scott, director of public relations at AMC.
Scott says that offering customers food and beverage options is a way of keeping theaters "socially relevant" at a time when everyone seems to be tight on both time and money.
"Going to dinner and movie at one of our dine-in theaters is an easier, truncated process," he says, adding that the price of the food and beverages at the theater are comparable to prices at T.G.I. Friday's and other casual-dining chains.
The Price of Going Premium
Offering people an extraordinary theater experience doesn't come cheap. For AMC, which hopes to equip 10% of its 350+ theaters with dine-in capabilities over the next three to five years, it means lots of renovations and new forms of employee training. For customers--even those who don't want to order food--it means higher ticket prices.
If you were to go to the AMC Studio 30 theater in Olathe, Kans., on a Saturday night and see a film in a regular auditorium, it would cost you $10, according to Scott. If you were to see a movie showing in a "Fork & Screen" or "Cinema Suites" auditorium, regardless of whether or not you were planning to consume any food, it would cost you $12 or $14.
But that's not the case at every theater. At the AMC in West Orange, N.J., which was renovated so that every auditorium is either a "Fork & Screen" or "Cinema Suites" experience, customers have no choice but to pay higher prices.
AMC says customers aren't turned off.
"Our research shows our customers don't mind the higher costs in their theaters; they want the food; they're buying it," Scott says. "It's not simple or cheap to turn existing theaters into full-service restaurants, [but we believe] the investment will be rewarded."
At iPic, ticket prices can range anywhere from $10 to $29 depending on the location of the theater.
Teaching an Old Dog New Tricks Ain't Easy
As is the case whenever a time-tested business tries something new, movie theaters have learned a lot about what works and what doesn't.
At iPic, which was founded as the recession began to unfold in 2008 ("I don't think anyone predicted the recession and nor did we," says Mulcahy), tweaking the in-theater dining process to make it less disruptive was one of the biggest lessons learned. The company initially offered seat-side dining services throughout a film's entirety, but now limits it to during the first 20 minutes, the window when previews are shown.
"We found that once people settled in and got into their movie, they really didn't want to be disturbed," he says.
AMC, the second largest theater chain in the U.S., has learned a number of lessons of its own. When the company first introduced its dine-in services, guests would pay ticket prices that were significantly higher than normal prices and then be given a voucher to use on food and beverage items.
It didn't go over as well as the company had hoped."A lot of people were like $20 to get into a movie? That's ridiculous," said Scott.
In the last two months or so, AMC eliminated its voucher policy. Ticket prices for its dine-in experiences are now only slightly higher than traditional prices, and people pay for what they order.
Theaters have also learned what makes a good menu. Scott says AMC found that serving steak doesn't work in the dark (people can't figure out what's fat and what's not), everything must be bite-sized and that saucy foods like spaghetti are too messy to eat in that kind of environment. The company also uses a composite material for its silverware to avoid the clanking of china.
"We built the airplane; now, we're figuring out how to fly it," he says.