Fresh Squeeze? Ackman Questions Soros' Buy of Herbalife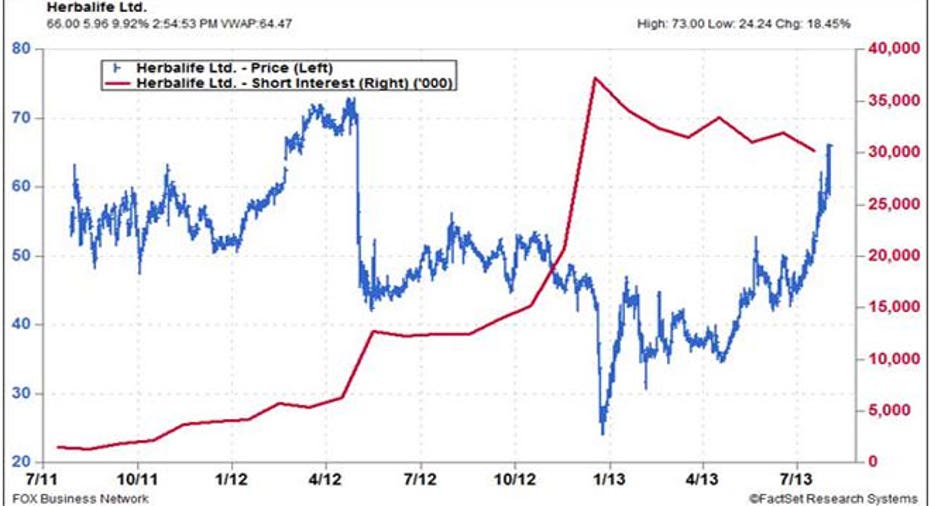 Are some investors manufacturing a "short squeeze" in shares of Herbalife (NYSE:HLF) in order to force activist investor William Ackman to capitulate on his massive bet against the health-product manufacturer?
Those representing Ackman think so, and they're pressing officials in the New York office of the Securities and Exchange Commission to investigate, people with knowledge of the matter tell the FOX Business Network.
Ackman's representatives are pointing to what they say is the curious timing of the latest investor to take a big stake in the company — and drive shares of Herbalife higher, thus further eroding Ackman's short position (in a short sale, investors make money betting that stock prices will decline.)
On Monday, hedge fund titan George Soros took a large "long" position in the company, joining investor Carl Icahn and others who are also betting against Ackman, people close to the matter say.  Ackman's legal representative told SEC officials that Soros' position came as his representatives held a series of "idea meetings" with other potential Herbalife investors.
Shares of Herbalife have soared more than 44% since July 1; on Monday, Herbalife reported strong second-quarter earnings prompting further gains. Shares gained more than 8% on the Soros news.
Soros' investment represents less than 5% of outstanding shares of Herbalife or securities rules would have forced his fund to disclose the size of the position with the regulators. However, if his fund purchased shares in concert with other investors, or as a "common group," that could also prompt a filing of a shared position, securities lawyers say.
No such filing has been made so far. Lawyers for Ackman are prodding the SEC to investigate whether such a shared position exists and whether the leaking of Soros' position constitutes stock manipulation, according to people with knowledge of the matter.
An SEC spokesman didn't return a call for comment; a spokeswoman for Ackman didn't return a call for comment. Representatives of Soros didn't return repeated calls for comment.
One person with knowledge of the matter said the Soros portfolio manager working on the Herbalife investment is Paul Sohn, who joined Soros in June 2012 from hedge fund Kingdon Capital Management.
Sohn, 35, also worked at Duquesne Capital Management. He didn't return repeated telephone calls about his involvement in the matter.
Ackman has said he has not "covered" or retreated from his short position, though he is now losing money on the negative Herbalife bet. His hedge fund Pershing Capital has lost more than $200 million as shares of Herbalife have soared in recent months.