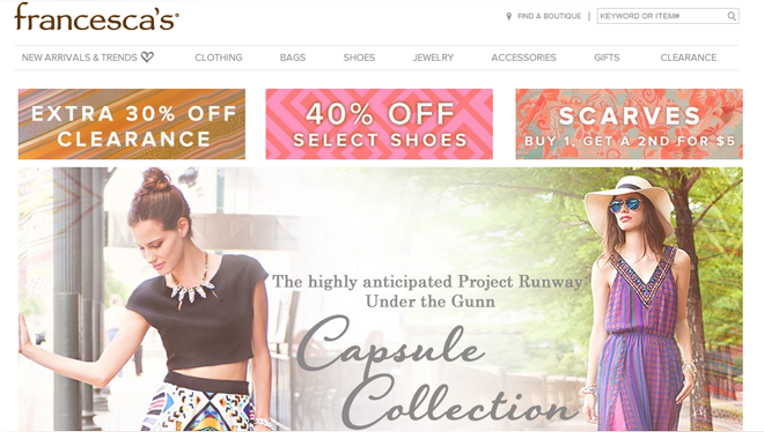 Women's apparel retailer Francesca's Holdings Corp cut its full-year forecast after reporting lower-than-expected quarterly profit and sales due to a harsh winter and more discounts to clear off an inventory pile-up.
The company's shares were down almost 12 percent at $13.50 in premarket trading on Tuesday.
The company said it expects earnings of $1.05-$1.17 per share on revenue of $387-$399 million assuming a low single-digit decrease to flat comparable sales for the year ending Jan. 31.
It had previously forecast earnings of $1.16-$1.31 per share on revenue of $391-$409 million. It had forecast comparable sales to increase in low single digit or decrease in low single digit in percentage terms.
Francesca's, which sells clothing, shoes, bags and jewelry targeted at women aged 18 to 35, said it expects comparable sales to fall in the mid to low single digits in the current quarter based on May sales trends and as it sells slow-moving inventory at discounted rates.
The company joins a number of apparel retailers including Express Inc, Guess Inc and Aeropostale Inc who are struggling to attract customers and drive profits as a revival in consumer spending takes longer.
Francesca's first-quarter boutique sales were hurt by severe winter weather conditions in February which resulted in full- and partial-day closing of more than 360 stores, particularly in the Gulf Coast, Mid-Atlantic, Northeast and New England areas, the company said.
The company, which has 513 boutiques, said net income fell to $8.6 million, or 20 cents per share, in the quarter ended May 3, from $10.9 million, or 24 cents per share.
Revenue rose 8 percent to $85.4 million, while comparable sales fell 7 percent.
Analysts on average had expected a profit of 23 cents per share on revenue of $88.1 million, according to Thomson Reuters I/B/E/S.