FOX Sports Wins U.S. Rights to '18, '22 World Cup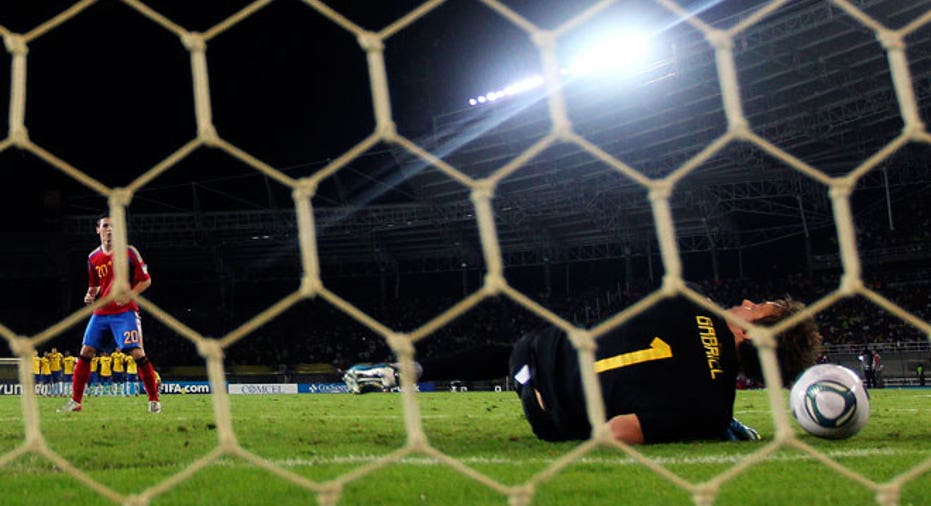 Beating out arch rival ESPN and surprising the sports world, FOX Sports has won the U.S. television rights to air the World Cup soccer championships in 2018 and 2022, according to a number of published reports.
Many believed Walt Disney's (NYSE:DIS) ESPN, which has rights to the games through 2014, was the front-runner. Rupert Murdoch's News Corp. (NASDAQ:NWSA) is the parent of FOX Sports, and FOX Business. Comcast's (NASDAQ:CMCSA) NBC Universal was also believed to be in the running.
It's not clear how much FOX Sports paid for the TV rights, but the English-speaking component of the 2010-2014 deal reportedly sold for $100 million.
A representative from FOX Sports declined to comment.
ESPN acknowledged the defeat in a statement.
"We made a disciplined bid that would have been both valuable to FIFA and profitable for our company, while continuing to grow our unprecedented coverage of the World Cup and Women's World Cup events," ESPN said. "We were aggressive while remaining prudent from a business perspective."
ESPN also said it "remains committed" to showcasing soccer through its coverage in a number of other events, including the English Premier League, the MLS and the 2014 World Cup in Brazil.
According to Sports Illustrated, NBC's Telemundo won the U.S. Spanish-language broadcast rights for the 2018 and 2022 games.
The 2018 World Cup will be played in Russia, the country's first time hosting the games. Australia, Japan, Qatar, South Korea and the U.S. have made bids for the 2022 World Cup.
Shares of News Corp. were recently up 1.19% to $17.05.