Fox News Poll: Trump #1 for Economy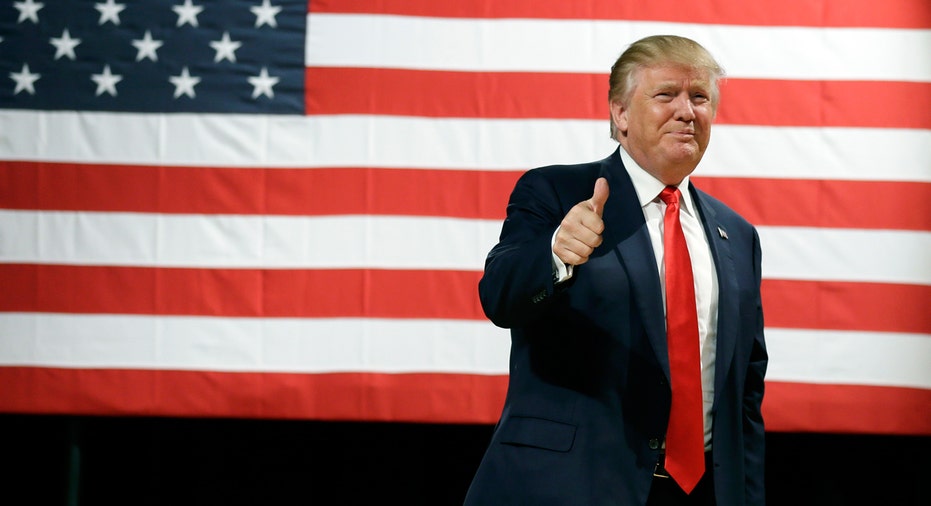 The self-proclaimed "Deal Maker" Donald Trump ranks number one for improving the economy, according to a new Fox News national poll released Wednesday. The billionaire businessman is the clear choice for GOP primary voters who say he is the best candidate for the economy and most likely to beat Democratic front-runner Hillary Clinton, if she wins the nomination.
Here is the breakdown: Trump holds 26% of the support from Republican primary voters, Carson is a close second with 23%, tied at third place with 11% are senators Ted Cruz and Marco Rubio. The top four GOP candidates are backed by 7 in 10 primary voters or 71%. The lower tier candidates with 4% include Jeb Bush, Mike Huckabee, John Kasich, and Rand Paul. Carly Fiorina is at the bottom with 3%, dropping two points from October and Chris Christie with 2%, up from 1%.
It's not all good news for Trump; 31% of men are more likely to support him compared to 21% of women. Dr. Ben Carson is the top choice for women, grabbing 25% support among female GOP primary voters.
When it comes to voters' views on the state of the economy, 79% say it still has a gloomy outlook, 44% say it is "only fair" and 35% agree it is in "poor" shape.
In the poll, the most important factor for GOP primary voters revolves around economic issues with 38% saying it will be the number one reason when picking their choice of a presidential nominee. National security is in second place with 26%, followed by immigration with 15% and 7% for social issues.
The focus on economy is a win for Trump who garners a 42% rating from primary voters who say he is the most qualified to handle the economy. Cruz comes in second with 10%, 9% for Carson, 7% Rubio, and tied with 5% each are Bush and Kasich. Fiorina comes in last place with 3%.
Trump towers over all GOP candidates when sized up against the potential Democratic nominee. Thirty-seven percent of Republican primary voters say Trump is the candidate most likely to beat Clinton than Carson with 18% and 11% for Rubio.
The Fox News poll is based on landline and cell phone interviews with 1,230 randomly chosen registered voters nationwide and was conducted under the joint direction of Anderson Robbins Research (D) and Shaw & Company Research (R) from November 1-3, 2015. The poll has a margin of sampling error of plus or minus 3 percentage points for all registered voters, 4 points for Democratic primary voters and 4.5 points for Republican primary voters.
The next Republican presidential debate will be hosted by FOX Business Network and The Wall Street Journal on November 10 in Milwaukee, Wisconsin and will focus on the economy.