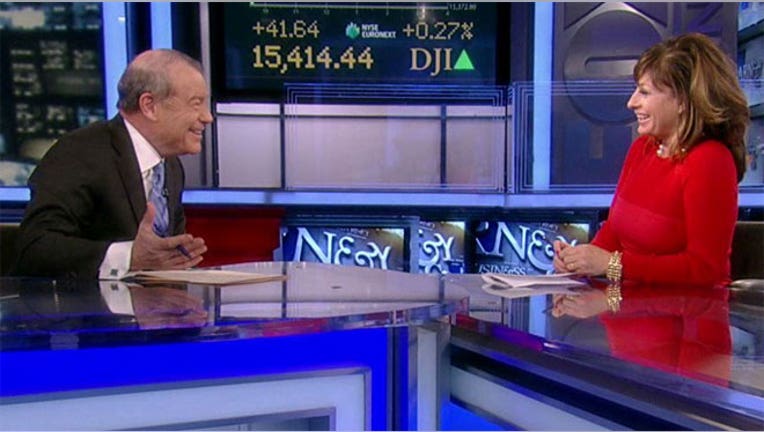 FOX Business Network announced Wednesday it will launch a new business-day programming slate starting Monday, Feb. 24, featuring the debut of Maria Bartiromo, the long-time financial-news anchor who joined FBN earlier this year.
Bartiromo will anchor a new two-hour program, Opening Bell with Maria Bartiromo, which will run weekdays from 9-11 a.m. ET, Kevin Magee, executive vice president of FOX Business, said in a statement.
In making the announcement, Magee said, "Our new schedule will enhance our ability to deliver timely key business news and we are thrilled to debut fresh programming with an all-star team."
Opening Bell with Maria Bartiromo will follow Imus in the Morning, which airs from 6-9 a.m. Varney & Co., anchored by Stuart Varney, will be presented from 11 a.m. to 1   p.m.
Markets Now will continue from 1-2 p.m. until a forthcoming show on alternative investing anchored by FBN's latest on-air hire, Deirdre Bolton, formerly of Bloomberg News, launches sometime within the first quarter.
Shifts that will coincide with the new programming include MONEY with Melissa Francis, which will move to 2 p.m., and The Willis Report hosted by Gerri Willis, shifting to 5 p.m. beginning Monday, February 10th.
Additionally, Cavuto, anchored by FBN Managing Editor Neil Cavuto, will now run at 6 p.m. with an encore presentation at 8. These changes will remain in place when the new business-day programming block goes into effect on February 24th, the statement said.
Liz Claman will continue hosting Countdown to the Closing Bell from 3-4 p.m. and co-anchor After the Bell with David Asman from 4-5 p.m. Lou Dobbs Tonight remains at 7 p.m., preceding Cavuto, The Independents, Monday-Wednesday & Friday at 9 p.m. and Stossel on Thursday at 9 p.m.
FOX Business Network is owned by 21st Century Fox (NASDAQ:FOX), also the parent company of FOXBusiness.com.
Go to FOXBusiness.com/channelfinder to find FBN in your area.