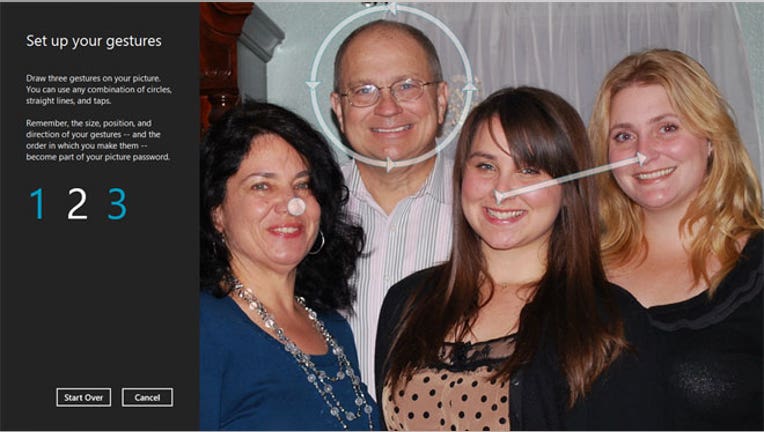 While Microsoft's (NASDAQ:MSFT) upcoming operating system's new Metro-inspired touch interface is garnering much of the attention, there are a number of less-flashy new features that corporate and small business environments may find useful.  Here's a look at four enhancements in Windows 8 that Microsoft hopes will appeal to enterprise users.
Picture Gesture Login
Imagine this scenario: you lift up your shiny new Windows 8 tablet and switch it on from standby but it's locked.  Up pops a photo of that Ferrari you wish you could afford.  Using your finger, you trace a circle around the front wheel, a line between the two headlights, and a tap on the Ferrari logo above the grill.  Instantly your tablet unlocks, ready to be used.
One might ask how that could possibly be secure.  But according to Microsoft, it's not only quicker, but can actually be more secure than other methods, like a PIN or text password, because of the greater number of possible combinations of gestures.
For example, a PIN of four different numbers, which many tablets and smartphones use, allows for 10,000 different combinations, while a simple a-z character set password with a length of five can have up to 11,881,376 combinations.  But a multi-gesture picture password consisting of a circle, line, and a tap?  Over one billion combinations, according to Microsoft.
Of course, for those not comfortable with the picture passwords Windows 8 also allows for more traditional forms of unlocking.  "Although a picture password is robust, there are a variety of businesses for which security is paramount, and anything less than a full password is unacceptable. As such, we've implemented group policy that gives a domain administrator the freedom to choose whether picture password can be used," Microsoft says.
Windows ID Login
Apple (NASDAQ:AAPL) fans may be familiar with the ability to synchronize settings across Macs using the now-defunct MobileMe service.  Now that functionality is coming to Windows PCs, but without the $99-a-year MobileMe price tag.  Users can sign into any Windows 8 PC (even a friend's) using their free Windows Live ID and it will be set up just the way they're used to, according to Microsoft.  Not only do settings synchronize, but the Metro-style apps can also be reacquired (similar to Apple's Mac App Store) and they will even carry over their last-used state.
Signed-in users can have their login credentials for apps and websites saved along with the Windows ID so they can quickly get back into them from different PCs without having to log in again to each.
Windows to Go
For users who need to take home more than just their settings and login information from work, Windows to Go is a new Windows 8 feature that lets users carry the entire OS on a USB thumb drive.
According to Microsoft, it will allow IT professionals to provide workers with secure access to a full corporate copy of Windows 8 as well as all the user's business apps, data, and settings all on a USB storage device.  When they stick the drive into a Windows 7 or Windows 8 PC and restart it, it will boot directly from the drive.  One would imagine it being easier to carry a USB thumb drive home than a seven-pound corporate-issued laptop.
Miscellaneous Features
Windows 8 has relatively light hardware requirements, which could be appealing in a business environment where upgrading and replacing computer hardware for multiple users can be expensive.  This is in contrast to Apple's latest OS X Mountain Lion, which has excluded some slightly-older Macs from being able to upgrade.
Windows 8, according to Microsoft, will sport a redesigned Windows Explorer (file manager) for navigating folders and files on PCs.  The new Explorer will use the "ribbon" menu interface, borrowed from Microsoft's more-recent iterations of its Office suite.  But one menu item may be particularly helpful to corporate users: Copy Path.  Rather than tediously typing out the often-long path to a particular file or folder on a shared network drive, Windows 8 users will be able to select a file and hit "Copy Path" so that they can paste it into an email or document.
Finally, while Microsoft is undoubtedly moving its OS in a more tablet-friendly direction with full-screen apps and the new metro-inspired Start Menu, it still provides the full desktop experience of Windows.  The ability to natively run full software like Microsoft Office (not just limited mobile apps) could be particularly important for business users who have held off on investing in tablets like the iPad due to this lack of flexibility.
On the other hand, the new Start Menu interface is quite a departure from what many users are used to and could present a bit of a learning curve to those who have difficultly learning how to use new software.  Some may also find it cumbersome in a business environment to have to launch the full-screen menu when accessing programs or searching for files, compared to the classic Start Menu.