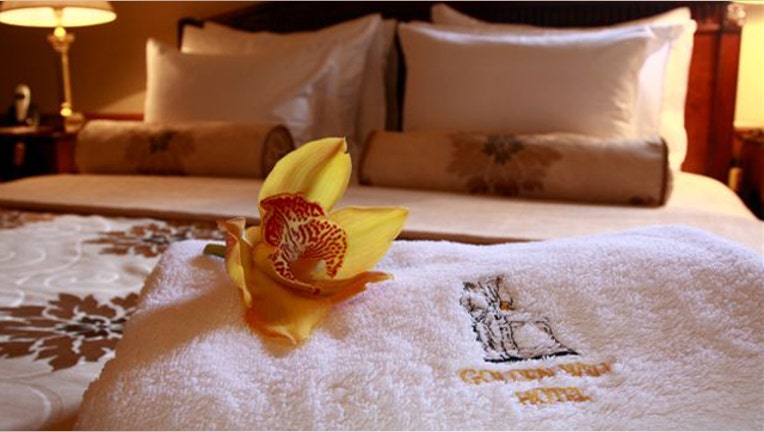 Save Money: Share a Bathroom
Even a squeaky-tight budget doesn't mean the backyard is your only choice for a vacation. Ultra cheap travel is easier to do than you think, but it will mean setting priorities and making a few trade-offs. Opting for bare-bones lodging is one way to do that.
The average U.S. hotel room rate was nearly $102 per night in 2011, according to the American Hotel & Lodging Association. But if you don't mind giving up a few amenities, there are cheaper ways to rest your head for the night. Some lodgings may even provide more niceties than you expected, such as fitness centers, kitchens and linens. Count on sharing a bathroom, though.
If you'd rather keep more of your hard-earned bucks in the bank yet still have memorable vacations, consider these four cheap lodging choices.
The Adventure of Close Quarters
If you want supercheap lodging where you share a room, bathroom and kitchen but get to interact with people from all over the world, hostelling is your kind of travel.
Your fellow hostellers typically are younger than 30 and single. Plan to sleep in a bed or bunking in a room shared with up to 10 strangers, though private rooms are available at many hostels.
"Hostels are designed to foster interaction between guests, so you'll meet people from all over the world to go sightseeing with or just to hang out with," says Netanya Stutz, spokeswoman for Hostelling International USA, or HI-USA. Most of the organization's hostels also offer free or low-cost tours and events almost daily.
But think twice if you want privacy or basic amenities such as room phones and a TV. And sleeping bags generally aren't allowed.
Rooms: Typically group rooms with multiple beds.
Prices: The prices range from $24 to $45 a night for a bed in a group room and $69 to $149 for private rooms.
Amenities: Most HI-USA hostels offer free breakfast, Wi-Fi, linens, outings, and shampoo and soap.
Security: Your stuff is stored in a locker, which may not be in the room, and you'll need to have your own lock. Urban hostels have 24/7 front-desk staff, key card access and security cameras.
YMCAs Take the Sting out of Big-City Prices
Avoid the sticker shock of city hotel rates with a stay at the YMCA. Sure, you might pay $189 for a deluxe double room at a New York City Y, for example, but the Big Apple's average room rate is $349.55, according to a hotel survey by HRG.
"Ys set their own housing policies, and not all offer guest rooms for vacationers," says Kevin Dietz, spokesman for the YMCA of the USA in Chicago. Prices and amenities vary widely, depending on the room and bath, number of guests in a room, and location.
Some Ys cater to certain guests -- take New York City's Manhattan, which has five Ys. They cater to the younger-than-30 "world youth" traveler, says Gary Villaverde, regional director of guest rooms at YMCA of Greater New York. And four of the five also offer rooms to special-needs folks, though they are in separate areas from the guest rooms. In Boston, the Charlestown YMCA's Constitution Inn guests include families with babies.
Rooms: Suites and single and double "quad" rooms are available. Some have private baths; otherwise, you share.
Prices: The range is less than $50 to more than $200.
Amenities: Linens, daily housekeeping, microwaves, minifridge, access to fitness centers or pools, Wi-Fi, TVs are available. Some perks may be only in common areas, others only in fancier rooms.
Security: Ys have security cameras and room doors lock.
Traveling in Summer? Rent a Dorm Room
Dozens of schools roll out the welcome mat to their dorms for summer visitors.
Choices extend beyond the standard one- or two-bed dorm rooms, says Patricia Martinez, director of residential communities at Northern Illinois University and president-elect of the Association of College & University Housing Officers International.There are suites and apartments -- and sometimes private baths -- though shared baths still are common.
"Many universities offer services similar to a hotel (front) desk to aid with recommendations that you would normally receive from a concierge," Martinez says.
Rooms: Singles, doubles, suites and apartments are available. Typically, bathrooms are shared, but there are some private facilities.
Prices: The range varies widely, but figure less than $50 for a single to $200 or more for multiple beds in a room. You can stay a week in a single room at Dalhousie University in downtown Halifax, Nova Scotia, for example, for $290.
Amenities: These will vary. Floor lounges with TVs, linen service, Wi-Fi, some kitchens, access to fitness centers are available.
Security: Rooms and dorms lock, usually a front-desk staff similar to a hotel.
Pitch a Tent and Commune With Nature
Roughing it isn't so simple anymore. If a campground is your getaway choice, lodging ranges from pitch-a-tent sites, with or without electricity and water, to bare "camping cabins" -- camping without the tents -- and deluxe cabins with a variety of creature comforts. Even tepees and yurts are available.
You'll find government-run campgrounds in state and national parks, or privately owned campgrounds such as Kampgrounds of America, or KOA.
"Weather is the wild card of camping," says Jeff Crider, spokesman for the National Association of RV Parks and Campgrounds. So the big question is how much shelter and what type you want.
Prices: Some tent sites are free or cost up to $42 a night, depending on hookups; bare cabins cost $55 to $65 a night; deluxe cabins cost $100 or more. The more perks such as swimming pools and activities, the higher the cost.
Amenities: Wi-Fi in privately owned campgrounds; full kitchens and bathrooms, climate control, maybe even TV and surround sound in deluxe cabins; pools, golf and food service are available.
Security: Cabin doors lock, tents don't. And you'll be sharing a communal bathhouse with your fellow tent-dwellers. Many campgrounds have on-site caretakers, and some offer electronic gate entry.