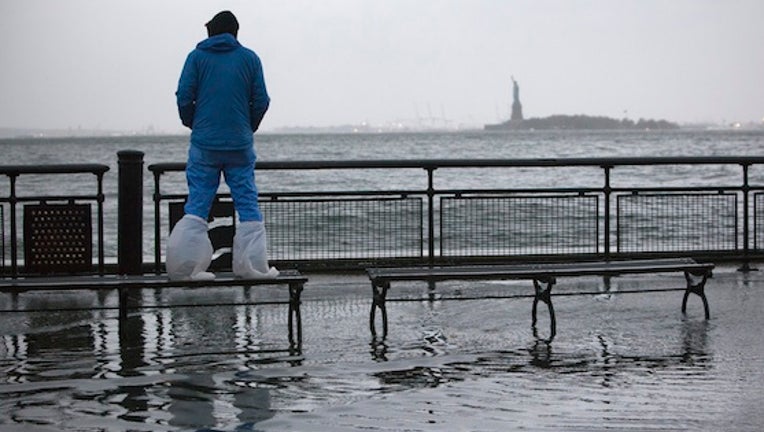 Superstorm Sandy left much devastation across the eastern U.S., but the Northeast isn't the only region that might experience her wrath indirectly. Car buyers throughout the nation could experience Sandy's aftereffects by unknowingly buying a water-damaged car. New and used cars damaged in the flooding caused by Sandy will find their way to the market in the coming weeks and months, leaving buyers to face possible mechanical and electrical problems that can surface months later. Here are four tips to avoid buying a water-damaged car.
Run a vehicle history report. Running a vehicle history report can help uncover potential issues with a car before you make a purchase. A clear sign of a water-damaged car is one that is branded as such or with the more generic "salvage" title. Also look at the car's vehicle history report for data that indicate the car has changed hands several times in a short period, particularly if it involves buyers in multiple states. This could be a sign of car "title washing," where unscrupulous sellers retitle a car repeatedly to hide its history. Read Bankrate's "Why you should get a vehicle history report" to learn more.
Look for telltale signs in the car. Cars that have been even partially submerged in water often have telltale signs, but they may be subtle, especially if the car has been cleaned up for resale. Pay attention to musty or moldy smells, including those coming from the climate control system. Note any stains that appear in a straight line on the car's interior, engine compartment and trunk. Dirt, sand or mud in odd places and seat belts that sound gritty when they are pulled or retracted are also signs of water damage.
Beware of cars that are priced below market value. There's a reason for the old adage about things being too good to be true. Check the market value of the car you are considering at several of the independent vehicle pricing sites. A new or used car priced below market value is a strong indicator the seller is anxious to get rid of it. Buyers should tread cautiously.
Get a professional inspection. It's always a good idea to hire a trusted mechanic or vehicle inspection service to thoroughly inspect the car before you buy it, but it will be even more critical in the coming months to protect yourself from a possible water-damaged car. A professional can help ease your mind, especially if the car you are considering has one or more of the warning signs listed here. Be sure that the inspection not only includes obvious signs of water damage but also a thorough test of all the electronics equipment, as problems with these systems can take months to surface.
Get more news, money-saving tips and expert advice by signing up for a free Bankrate newsletter.
Bankrate's content, including the guidance of its advice-and-expert columns and this website, is intended only to assist you with financial decisions. The content is broad in scope and does not consider your personal financial situation. Bankrate recommends that you seek the advice of advisers who are fully aware of your individual circumstances before making any final decisions or implementing any financial strategy. Please remember that your use of this website is governed by Bankrate's Terms of Use.
Copyright 2012, Bankrate Inc.