Foster Farms Salmonella Outbreak Expands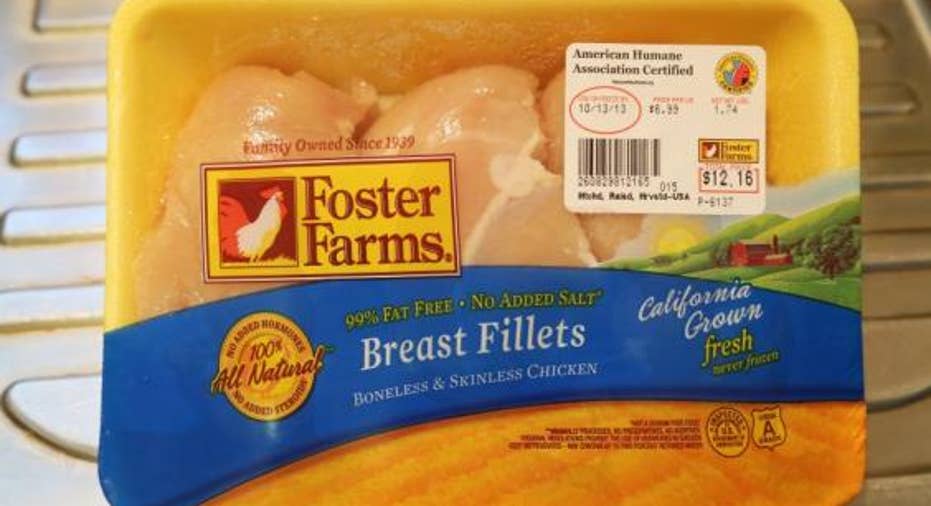 Sixteen months after a massive Salmonella outbreak associated with Foster Farms chicken was reported, the company is recalling some contaminated chicken. So far, the outbreak has been linked to 600 illnesses, and hospitalized 40 percent of those who have fallen ill.
The Salmonella strain in the Foster Farms case has proven to be particularly persistent. The outbreak traced to the California-based chicken processor first made people sick in the nine months between June 2012 to April 2013, but then a second outbreak started in March 2013 and is ongoing. The particular strain of salmonella found in Foster Farms chicken called Heidelberg is particularly nasty, causing life-threatening blood infections in 13 percent of those who were infected.
Far and away, the biggest health threat from chicken is poisoning from salmonella bacteria. When Consumer Reports analyzed a random sampling of 300 packaged chicken breasts from across the country earlier this year, virtually every piece of poultry -- 97 percent -- contained a dangerous bacteria. Every year, 48 million people become ill from ingesting harmful bacteria lurking in raw chicken. Vomiting, stomach upset and diarrhea are common symptoms, but the impacts can be more severe.
While the government has been able to trace the progress of the outbreak using DNA tests, it hasn't stopped it. That's because the government has few tools to fight salmonella outbreaks. According to Pew Charitable Trusts, there are no standards that companies have to meet when it comes to chicken parts. The Department of Agriculture's Food Safety and Inspection Service, which is responsible for inspecting chicken, doesn't even consider Salmonella a food contaminant. What's more, its inspectors give producers a heads up before plant inspections. Pew reports that FSIS never issued any statements to consumers about the Foster Farms outbreak.
Given the industry's track record and the lack of government oversight, it's up to you to keep your family safe. Cook all chicken thoroughly, so that the internal temperature is 165 degrees. And, don't wash the chicken because the bacteria can infect your kitchen.