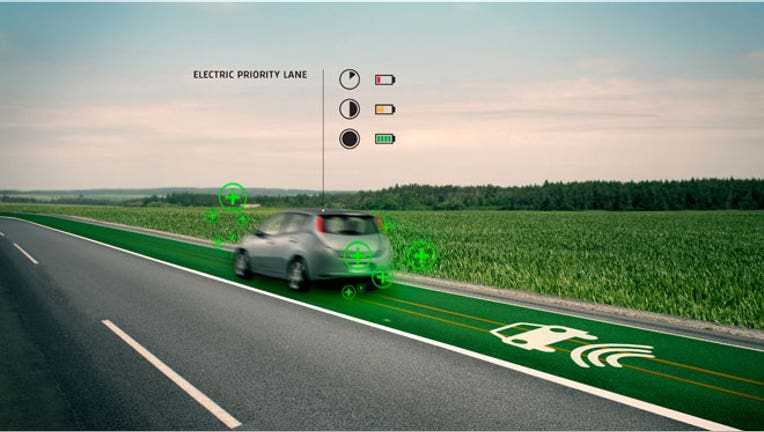 As automakers look into developing a new generation of tech-savvy cars that can drive themselves, others are tackling a seemingly more impossible feat: giving the concrete roads they drive on brains of their own.
Smart Highways – the brainchild of Dutch designer Daan Roosegaarde – would be able to charge electric cars passing over them, paint temporary digital snowflakes over ice patches, illuminate priority lanes and reduce energy waste by using streetlights donned with sensors.
It may sound fantastical, but this is not just some artist's dream. It's reality.
Bringing his idea to fruition, Roosegaarde, who has called himself in jest a "hippie with a business plan," has teamed up with an unlikely partner: publicly-traded multinational Heijman, one of Europe's largest engineers and road manufactures.
The earliest versions of their jointly-developed Smart Highway will appear later this year on a 150-meter stretch of road in the Netherlands province of Brabant. Roosegaarde predicts highways across the world can be transitioned within the next three to five years.
The idea last month won the INDEX: Award 2013 – a highly prestigious prize for "Designs to Improve Life" administered only once every two years. The prize comes with a 100,000-euro reward, which Roosegaarde will inject into the project's continued development.
"These are all ideas which are not super high-tech, they are basic principles which we can implement to existing roads," Roosegaarde said in a video posted to CNN, which highlights Index nominations.
Beautiful and Smart
The Index jurors said they were impressed with Smart Highway because it provides an entirely new approach to traditional roads that is "not only beautiful and alluring but also sustainable and cost-effective."
Using a series of solar technologies, dynamic paint and smart sensors, the road would be designed to come alive at night. Lanes would illuminate, electric cars would be charged, glow-in-the-dark paint would highlight dangerous conditions or traffic patterns and street lights would light up only as a car approached.
"Why can we not connect it to a small, simple sensor so the lights are only on when you drive so you get this beautiful sort-of ghost of light?" Roosegaarde asks.
The Super Highway is designed to be simultaneously beautiful and intelligent, armed with capabilities to spark future innovation around the way people drive and live.
While vehicles themselves continue to be a major piece of this puzzle as manufacturers like Elon Musk's Tesla (NASDAQ:TSLA) build electric cars and others focus on autonomous ones, roads have barely budged.
"When we look at highways, why is so much money and time and energy spent on cars but the actual roads themselves are still stuck in the Middle Ages?" Roosegaarde asks.
The project has a five-step plan for modernizing European roadways, including embedding highways with technology that can visually communicate with the driver using "smart" paint that would be charged by the sun throughout the day.
Paving existing roads with new technologies could help make electric cars -- even autonomous cars -- more feasible and desirable, with roads evolving as fast as the technologies that power them.
Wising Up
The basic idea is nothing new – in fact, as early as 1991 a professor at Virginia Tech proposed embedding electronic sensors into the pavement that would be able to relay information about road's conditions via "radio waves to a central computer."
In 2010, the research group ACCESS Linnaeus Centre announced a focus on "wireless sensor networks" for roads, saying it would help reduce the environmental impact of the transportation system and improve efficiency.
However, past projects have been hit with high costs and technological roadblocks.
Dr. Rajit Gadh, director of the UCLA Smart Grid Energy Research Center, which is studying how to better plug electric vehicles (EV) into the smart grid, says mass-scale projects cannot be widely successful without acquiring several minor successes first.
While the technology exists to charge EV cars wirelessly while in motion, he warns of the heavy costs of putting inductive coils underground every few feet on the highway and suggests instead using this still infant technology at high-traffic intersections, bus stops or stop signs where energy can be more efficiently transferred.
If developers prove through smaller feats the feasibility of their technology, they may be able to garner more investment, which could ultimately help trigger fresh commercial investment and adoption.
"There's still a lot of steps needed to be done in research labs before you can have a pretty scalable solution whereby you can charge in an economical manner while you're driving," Gadh said. Though he does see it becoming as ubiquitous as today's EV charging stations -- perhaps even gas stations -- much farther down the road.
Developers of the Smart Highway plan to use magnetic fields stationed under the road to charge moving cars. They are tweaking their technology in partnership with the Dutch government.
Ever the designer, Roosegaarde is already brainstorming new ideas, including applying some of these same technologies to illuminate bicycle lanes or airport landing tracks.
One day, he might even try to use the bioluminescence of jellyfish and fireflies to illuminate roadside shrubbery, an effort to once-and-for-all get rid of light poles.