Forget 90210. These are now the hottest zip codes in America
Forget big city living, millennials are heading to the burbs to buy homes.
According to Realtor.com's fourth-annual list of the Hottest ZIP Codes in America, older millennials are driving demand for homes in smaller, more suburban locations by nearly a 10 percent increase over the last year.
So much so, that small populated areas such as Kentwood, Michigan; Peabody, Massachusetts; Boise, Idaho; and Rochester, New York, are finding their way on the group's most desirable zip codes list.
The real estate website analyzed more than 30,000 ZIP codes based on the time it takes properties to sell—and how frequently they are viewed—to determine the most desired spots.
This year's hottest zip codes include: Kentwood, Michigan (No. 1); Colorado Springs, Colorado (No. 2); Watauga, Texas (No. 3); Castro Valley, California (No. 4); and Peabody, Massachusetts (No. 5).
Danielle Hale, chief economist for Realtor.com, says when it comes to home buying for millennials, they are looking for the best opportunities and "they're finding it in affordable suburbs."
"These hot housing markets are attracting the attention of hard-working, high-earning 25-to-34-year-olds who are drawn by their relative affordability, strong local economies, and outdoor and cultural amenities," she said.
Some of the top reasons for this year's winners are because homes were relatively affordable with a median price range of about $358,000, with some exceptions. Additionally, five of the top 10 ZIPs have median listing prices that are lower than the U.S. overall.
What's more, residents in a majority of those areas are employed at higher rates and "tend to earn more," the report said. Household incomes in eight of the top 10 ZIPs are greater than the national median of $61,000, at around $83,000.
Here are the country's top 10 most desirable ZIP codes.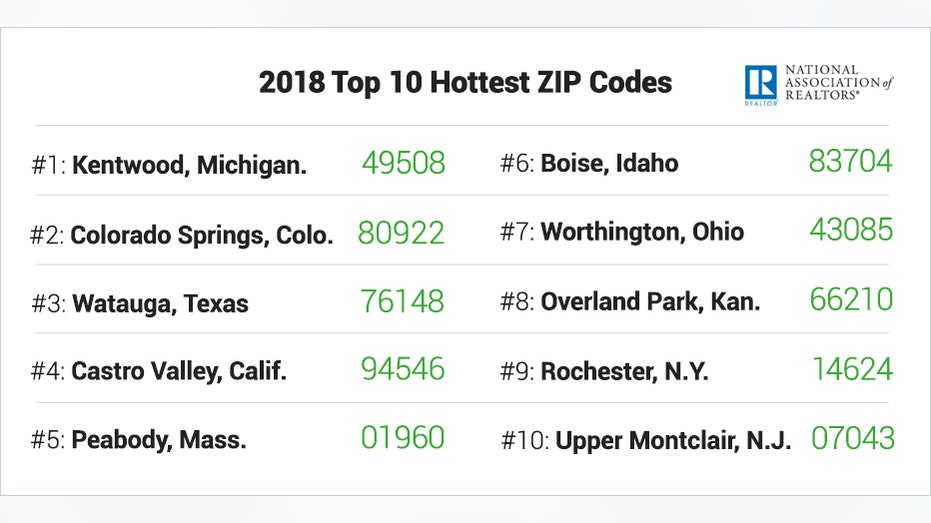 1.      49506 – Kentwood, Michigan
Although neighboring ZIP code 49548 was ranked No. 3 on the list last year, this is 49508's first appearance. The small city is located just 15 miles southeast of Grand Rapids and 30 miles from Lake Michigan. Spectrum Health, Meijer and Mercy General Health Partners are major employers.
2.      80922 – Colorado Springs, Colorado
The city is located 60 miles south of Denver on the eastern side of the Rocky Mountains. Major employers in the area include the United States Air Force at its Academy and other area bases, as well as UC Memorial Hospital North. 
3.      76148 – Watauga, Texas
This suburb is located just 10 miles up on the northern edge of Fort Worth and is known to cater to young families living on a budget. Major employers in the area include American Airlines, Texas Health Resources and Lockheed Martin Aeronautics.
4.      94546 – Castro Valley, California
This neighborhood is situated about 15 miles south of Oakland in the East Bay area near San Francisco. The area caters to young professionals working in San Francisco, Oakland and Berkeley because of its BART (Bay Area Rapid Transport) access, which puts residents in arm's reach of many top employers. 
5.      01960 – Peabody, Massachusetts
This small town located just inland of Salem and 15 miles northeast of Boston is known for its rich industrial history. The area is also headquarters to Analogic Corp. and Tradewin Consulting Services, which are some of its largest employers.
6.      83704 – Boise, Idaho
This city was just named one of Money Magazine's Best Places to Live, and its Ada County ranks among the top five most popular markets for Bay Area Californians searching for homes out of state. As more Californians are moving away from Silicon Valley, many are seeking homes in Idaho where local tech employers, such as Micron Technology, are strong attractors.
7.      43085 – Worthington, Ohio
This city is about 12 miles directly north of Columbus. The area attracts young and growing families that want homes in a quiet neighborhood without giving up their access to downtown Columbus, where a majority of the top employers for the state reside.
8.      66210 – Overland Park, Kansas
The neighborhood sits just 11 miles south of Kansas City. Though it is a suburb of Kansas City, it is also the second-most populous city in the state. Overland Park was also just named one of Money Magazine's Best Places to Live.
9.      14624 -- Rochester, New York
This community sits on the southern shore of Lake Ontario. The area was previously known for its print and film services because of Kodak's former headquarters, but it has since shifted toward health systems and higher education, with Strong Memorial Hospital and the University of Rochester being two of the area's largest employers.
10.    07043 – Upper Montclair, New Jersey
Located about 20 miles from New York City, this area caters to those looking to raise a family but still have an easy commute to Manhattan. The downfall, however, is that median income is nearly triple the U.S. average, causing extreme home prices for the area.
*Source: U.S. Bureau of Labor Statistics (BLS); Moody's Analytics forecasts