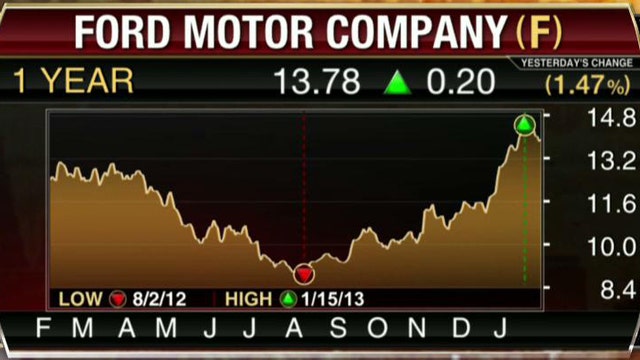 Despite mounting red ink in Europe, Ford Motor (NYSE:F) posted a stronger-than-expected profit in the fourth quarter on Tuesday thanks to strength in the auto maker's North American operations.
After initially rallying around the earnings beat, Ford's shares reversed course and headed south ahead of the opening bell as losses in Europe are expected to accelerate in 2013.
The auto maker logged net income of $1.59 billion, or 40 cents a share, compared with $13.62 billion, or $3.40 a share, a year earlier. Excluding the impact of changes in valuation allowance against deferred tax assets, the year-earlier net income was $1.03 billion.
Ford posted a fourth-quarter pre-tax profit of $1.7 billion, or 31 cents per share -- its highest level for this measure in more than a decade. Analysts had been calling for EPS of 25 cents.
Revenue rose 5.5% to $36.5 billion, easily trumping the Street's view of $33.08 billion.
"The Ford team delivered strong results once again, underscoring that our One Ford plan is working," CEO Alan Mulally said in a statement.
Ford's results were boosted by its North American business, where revenue jumped 12.8% to $22.1 billion and pretax profits soared 52.5% to $1.87 billion. Operating margins nearly doubled to 8.4% from 4.5%.
On the other hand, Ford's European revenue slumped 21.7% to $6.5 billion due to "unfavorable volume and mix." The division suffered a pre-tax loss of $732 million, compared with a loss of $190 million the year before.
Ford slashed its outlook for Europe, projecting the company will lose another $2 billion in Europe in 2013 after originally calling for losses to match 2012's $1.75 billion.
Ford, which recently announced restructuring moves in Europe, warned that "the business environment remains uncertain."
Overall, Ford projected "another strong year," but said it expects total operating profits to be flat and automotive operating margins to be about equal or lower than 2012.
Ford also posted its 11th straight quarter of positive automotive operating-related cash flow, which came in at $1 billion in the fourth quarter and $3.4 billion for 2012. The auto maker listed automotive gross cash of $24.3 billion at the end of the year and its liquidity rose to $34.5 billion from $32.4 billion a year before.
Shares of Dearborn, Mich.-based Ford initially rallied 4% on the news but were recently down 1.52% to $13.57. Ford's stock has gained more than 6% so far in 2013.