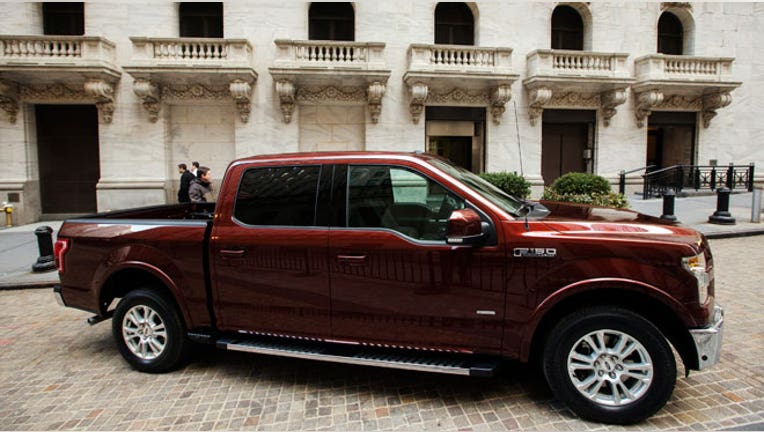 Thanks to an aluminum body and turbocharged engine, Ford Motor Co.'s (NYSE:F) redesigned F-150 will offer better fuel economy compared to rival gasoline-powered pickup trucks.
The 2015 F-150 is rated at up to 26 miles per gallon on the highway with a 2.7-liter EcoBoost V6 under the hood, Ford announced Friday. The truck will get 19 mpg in city driving. Combined, drivers can expect to get 22 mpg.
The F-150's Environmental Protection Agency ratings are slightly better than those for the Chevrolet Silverado, General Motors' (NYSE:GM) best-selling pickup. A Silverado powered by a 4.3-liter, six-cylinder engine is rated at 24 mpg on the highway and 20 mpg combined.
Ford also beat the Ram 1500 from Fiat Chrysler Automobiles (NYSE:FCAU). The Ram 1500 gets up to 25 mpg on the highway, or 20 mpg combined, with a 3.6-liter V6.
But Ram's diesel-powered 1500 truck still remains the overall leader. It has a highway rating of 28 mpg, or 23 mpg combined.
Ford shares fell into negative territory following the news, trading three cents lower at $15.43.
Industry analysts have been anxiously waiting for Ford to provide fuel economy figures for the new F-150, which is expected to begin arriving in showrooms in December. Ford switched from steel to aluminum, a significant departure for America's top-selling pickup, in order to cut 700 pounds from the truck.
The Dearborn, Mich.-based automaker also bet on the 2.7-liter EcoBoost, which will be available in the F-150 for the first time. Ford added EcoBoost engines to its F-150 lineup in 2011.
Turbocharged EcoBoost engines boost power while providing better fuel economy than a larger engine. Many automakers have used turbocharged engines, particularly in cars and sport-utility vehicles, to help improve fuel economy.