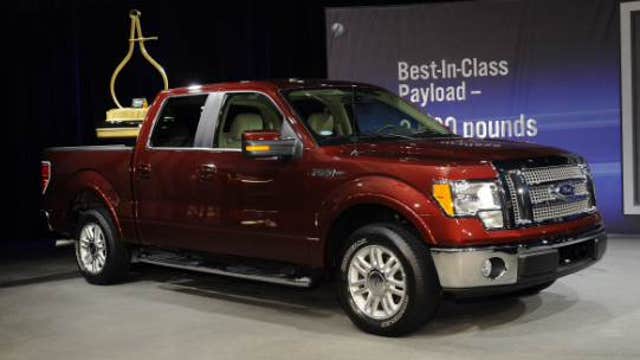 Continue Reading Below
Advertisement
The latest iteration of Ford's flagship pickup, which will go on sale late this year, will have up to a 3.5-liter turbocharged V6 engine under the hood. The smallest engine option will be a new 2.7-liter turbocharged V6.
Ford has disclosed few other details about the new F-150, promising it will be more powerful and durable than the current model. Current models range from about $24,000 to more than $50,000.
"The all-new F-150 redefines the future of trucks, and it is yet another example of our One Ford plan producing vehicles that serve customers with a commitment to the very best quality, fuel efficiency, safety, smart design and value," Ford chief operating officer Mark Fields said.
Currently, luxury vehicles like Tesla's (NASDAQ:TSLA) Model S and several from Jaguar are the only vehicles that are made almost entirely of aluminum, which is more expensive than steel and harder to use in the manufacturing process.
According to news reports out of Detroit, Ford CEO Alan Mulally said the No. 2 U.S. automaker will begin to use aluminum throughout its portfolio of vehicles.
Rival automakers like General Motors (NYSE:GM) and Chrysler Group have so far turned to alternative methods of improving gas mileage, with the U.S. government requiring that a car manufacturer's fleet average 54.5 miles per gallon by 2025.
Chrysler has focused on using transmissions with more speeds and new engines. The company is expected to introduce a diesel engine for its Ram truck this year.
GM is using new engine technologies to boost fuel efficiency in its Chevrolet Silverado and GMC Sierra trucks, which were redesigned for 2014 and went on sale late last summer. The company also plans a return to the mid-size pickup segment this year.
The top U.S. car maker won awards at the Detroit auto show in both the car and truck categories. GM's new Silverado was named 2014 North American Truck of the Year, while the redesigned Chevrolet Corvette Stingray was named North American Car of the Year.
Shares of Ford revved 2% higher to $16.40 late Monday morning.