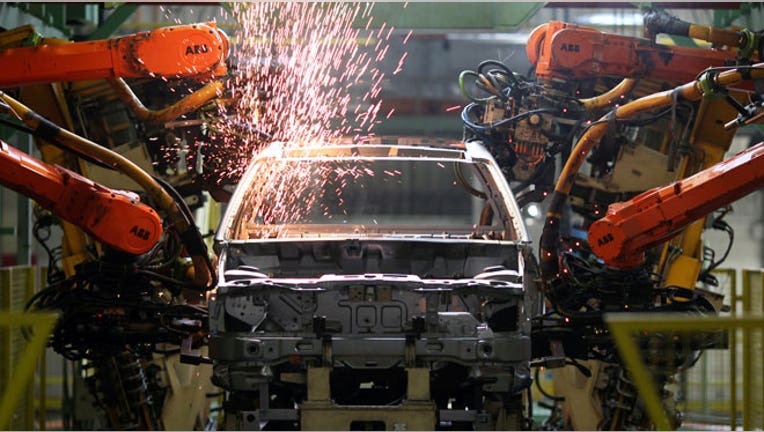 Slammed by shrinking demand on the other side of the Atlantic, Ford (NYSE:F) announced plans on Thursday to pull the plug on a trio of European factories and slash its workforce there by nearly 6,000.
Ford also told FOX Business the auto maker anticipates losing a total of $3 billion in Europe over the next two years and doesn't plan to return to profitability on the continent until the middle of the decade.
Wall Street cheered the cost-cutting moves, bidding Ford's shares about 2% higher.
In an effort to generate gross annual savings of $450 million to $500 million, Ford is taking a number of steps, including shutting down facilities in the U.K. and Belgium, cutting jobs and relocating production of key products to better utilize its plants.
"Using the same One Ford plan that led to strong profitability in North America, we will address the crisis in Europe with a laser focus on new products, a stronger brand and increased cost efficiency," CEO Alan Mulally said in a statement.
Slammed by the global recession and European debt crisis, Ford said total industry vehicle demand has plunged more than 20% across Western Europe since 2007. New vehicle sales have slumped to a 20-year low and could dip further next year.
The cost-cutting moves are estimated to cut Ford's installed vehicle assembly capacity by 18% to 355,000 units.
Ford said it plans to shutter two facilities in the U.K. next year: an assembly plant in Southampton and a stamping and tooling operation in Dagenham. By the end of 2014 Ford also plans to end production at a major assembly plant in Genk, Belgium.
Combined, the three facilities employ about 5,700 hourly and salaried employees, 4,300 of which work in Genk.
Ford said the newly announced moves and a previously announced smaller plan impact about 13% of its European workforce.
"We recognize the impact our actions will have on many employees and their families in Europe, and we will work together with all stakeholders during this necessary transformation of our business," said Mulally.
Shares of Dearborn, Mich.-based Ford rallied 1.92% to $10.36 Thursday morning, trimming their 2012 loss to less than 4%.