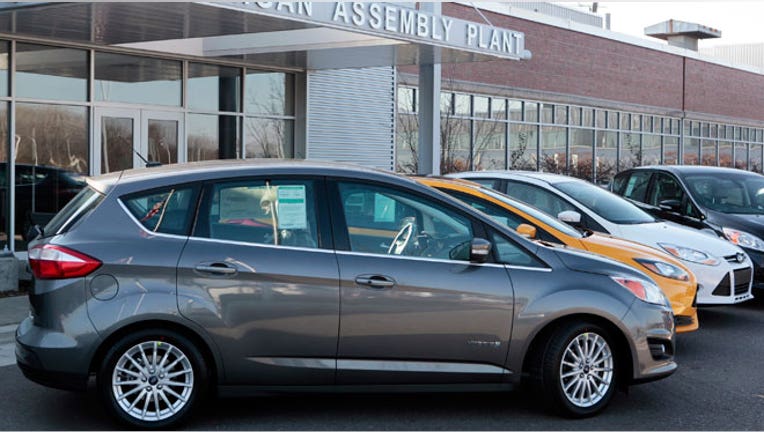 Ford (NYSE:F) is trimming the fuel-economy rating for its C-Max hybrid, a move that comes amid broader scrutiny of estimates provided for hybrid and electric vehicles.
The C-Max's miles-per-gallon cut stems from a U.S. Environmental Protection Agency investigation that led the regulator to review mileage claims for other hybrid vehicles.
Ford, which has sold about 32,000 C-Max hybrids, said the current model will be rated at 43 miles per gallon in combined city and highway driving, down from 47 mpg.
The automaker will send refund checks for $550 to current owners of a 2013 C-Max, while customers who leased the hybrid car will get $325 refunds. The total cost of the rebates is unclear.
Ford added that the 2014 C-Max is slated to receive upgrades that will improve fuel economy, although the company didn't provide a projected rating for the upcoming model.
The fuel-economy downgrade for this year's model was voluntary, Ford noted.
"Ford is absolutely committed to being a leader in the hybrid market and to top fuel efficiency across our lineup," Raj Nair, Ford's group vice president of global product development, said in a statement. "We are taking actions with our popular C-MAX Hybrid so that customers are even more satisfied with the vehicle's on-road fuel efficiency performance."
Thanks to the C-Max and Fusion hybrids, Ford quickly jumped to the No. 2 spot in the segment behind Toyota (NYSE:TM), which has found success with its Prius.
But the C-Max was met with customer complaints that the car didn't meet its estimated miles per gallon. In July, Ford unveiled a free software upgrade it promised would improve fuel economy for 77,000 C-Max, Fusion and Lincoln MKZ hybrids.
Ford officials said Thursday some customers filed lawsuits over the C-Max's mileage rating.
The EPA said the Big Three automaker based the original rating on testing performed with the hybrid version of its Fusion, which uses the same engine and transmission. The Fusion hybrid is also in the same weight class but has a different body shape. Current EPA regulations allow this type of testing.
C-Max's new fuel-economy rating is based on tests conducted with that car.
Automakers test their own vehicles for fuel economy, and the EPA reviews those tests to certify that a certain procedure was followed. The EPA directly tests about 15% of the cars sold annually to check estimates.
Hybrids have proven to be a difficult segment to test in a lab setting, since electric systems are more prone to outside variables than gasoline engines.
"This is yet another sign that real-world fuel economy has to match manufacturers' claims," said Karl Brauer, a senior analyst at Kelley Blue Book. "Ford isn't the first automaker to run into trouble here, but with today's heightened level of accountability, maybe they'll be the last."
In November, Korean automakers Hyundai and Kia restated the mileage on a wide range of vehicles, 900,000 total, sold from 2010 to 2012. The companies offered to give customers with a refund for the difference in fuel costs.