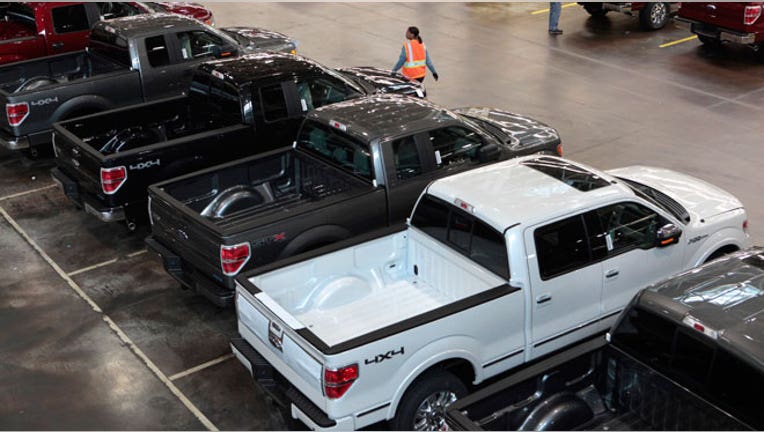 Ford Motor (NYSE:F) said Thursday it plans to hire about 3,300 U.S. salaried workers and more than double its global launches in 2014, as the automaker looks to drive growth in the new year.
The car manufacturer is set to launch a wide array of new or redesigned vehicles next year, eyeing 23 new vehicles worldwide and 16 launches in North America. Ford recently unveiled its updated Mustang, while the F-150 pickup truck is also slated for a redesign for model-year 2015.
General Motors (NYSE:GM) embarked on a similarly aggressive launch schedule this year, with 18 new or redesigned vehicles slated to hit showrooms by the end of this year.
Ford expects to add a total of at least 5,000 new jobs in the U.S., the company's largest hiring spree since 2000. Another 6,000 employees will be added in Asia next year. Ford has already logged 14,000 new hires in North America over the past two years.
The Dearborn, Mich.-based company will open three new plants, two in China and one in Brazil.
Ford's 2014 agenda also calls for two new EcoBoost engines, bringing its total offerings to six, as well as wider use of fuel efficiency technologies to cover 70% of North American volume.
"This is the fastest and most aggressive manufacturing expansion the company has undergone in 50 years," said John Fleming, executive vice president of global manufacturing. "The last time Ford was growing like this, Dwight D. Eisenhower was the U.S. president."
As for the current year, Ford said it's on pace to produce 16 million vehicles and sell more than 730,000 F-series trucks.
The automaker's market share this year has risen five-tenths of a percentage point through November, a jump that Ford says is better than any of its rivals. In China, Ford's market share grew to a record 4.3% in the third quarter, up eight-tenths of a percentage point.
Auto sales have been on a tear this year. In November, sales widely blew past expectations to post a seasonally adjusted annualized rate of 16.4 million units. Ford's sales for the month were up 7% on demand for F-series trucks and passenger cars like the Fusion.
Shares were down three cents at $16.38 late Thursday afternoon, paring losses in earlier trading. The stock is up 26.7% so far this year.