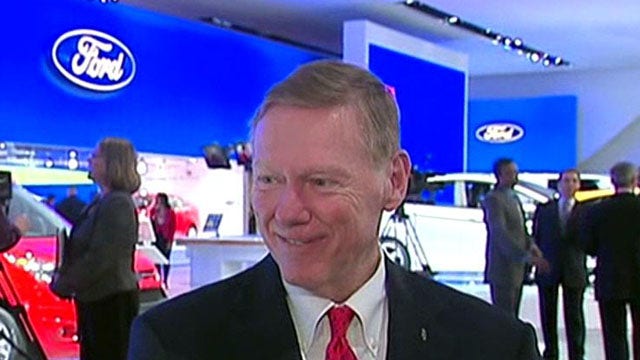 Ford Motor Co's (NYSE:F) top executives predicted steady, consistent growth in the U.S. auto market this year and remained confident in the company's earnings prospects despite increasingly tough competition in the region.
U.S. auto sales reached their highest level since 2007 last year and industry analysts and executives expect the region to make further gains in 2013. As the European auto market weakens, the U.S. market is emerging as the most attractive region for global automakers.
Last week's decision by the second-largest U.S. automaker recent to double its quarterly dividend signaled confidence in its earnings outlook, Ford Chairman Bill Ford said on the sidelines of the Detroit auto show on Monday.
"I think our plan is robust enough that we'll get through any dislocation that we're going through," Bill Ford told reporters after an event to unveil the Lincoln MKC compact crossover.
Ford expects to lose at least $3 billion in Europe over the combined 2012 and 2013 period, plagued by an economic slowdown and underused factories in the region.
The automaker is now seeking to turn around its European operations based largely on its strategy in the U.S. market. The company is also growing in China and overhauling its upscale Lincoln brand to attract younger, more affluent buyers.
Ford executives said financial performance has been strong, pointing to record profit margins in North America during the third quarter.
"Not every part of the business is where we ultimately want it to be, but overall, the company is performing very well," Bill Ford said.
"I think it's a signal of confidence in the company in where we've been but more importantly where we're going," he added, referring to the company's decision last Thursday to raise the dividend.
Analysts, on average, project the automaker to post an annual profit of $1.34 per share in 2012, with earnings rising in 2013, according to Thomson Reuters I/B/E/S. Ford reports fourth-quarter earnings later this month.
Ford shares were up a penny at $14.01 on Monday afternoon, well off the 12-month low of $8.82 last August.
On Monday, Ford showcased a concept version of its Lincoln MKC compact crossover designed to attract a younger buyer to the brand, whose buyers tend to be around 65 years old. The MKC targets one of the fastest-growing segments in both the U.S. and Chinese auto industries.
Several auto executives said they projected the U.S. market to become more competitive this year, as European demand softens. Ford's chief operating officer, Mark Fields, predicted "steady, consistent" growth in the United States.
"A lot of competitors are looking at this market as a healthy one and directing more of their resources and potentially more of their production here," Fields told reporters on Monday. "So we have to guard against that."