Ford Counting on Big Trucks to Haul In Profits
Ford's (NYSE:F) rollout of new heavy-duty pickup trucks dragged down earnings in the third quarter, but those same trucks might just carry the automaker into 2017.
North American sales, particularly of a revamped F-150, helped Ford haul in hefty profits last year. Recent months have told a different story, though. The industry has experienced softer sales, and Ford has warned retail demand is cooling off. Last week, the company revealed plans to temporarily close four North American plants in an effort to reduce inventory of the F-150 and other vehicles.
CEO Mark Fields, speaking to the FOX Business Network's Maria Bartiromo on Thursday, said Ford will continue to match production with demand, noting the decline in U.S. sales at dealerships.
"When you look at the overall market, the car industry…is still relatively strong, but we are seeing some weakness in the retail end of the market. We did take some production adjustments during the quarter, and that's very consistent with our strategy of matching production to demand," he said during an interview on "Mornings With Maria."
Fields also suggested that Ford will trim F-150 production rather than lift discounts to encourage sales—a strategy that would cut into profit margins.
"We saw a number of our competitors get very aggressive during the quarter in terms of incentives," Fields said. "Our share in that segment is actually up year-over-year, and we spend the least of all the major automakers in terms of incentives. So that brand and those sales are quite strong."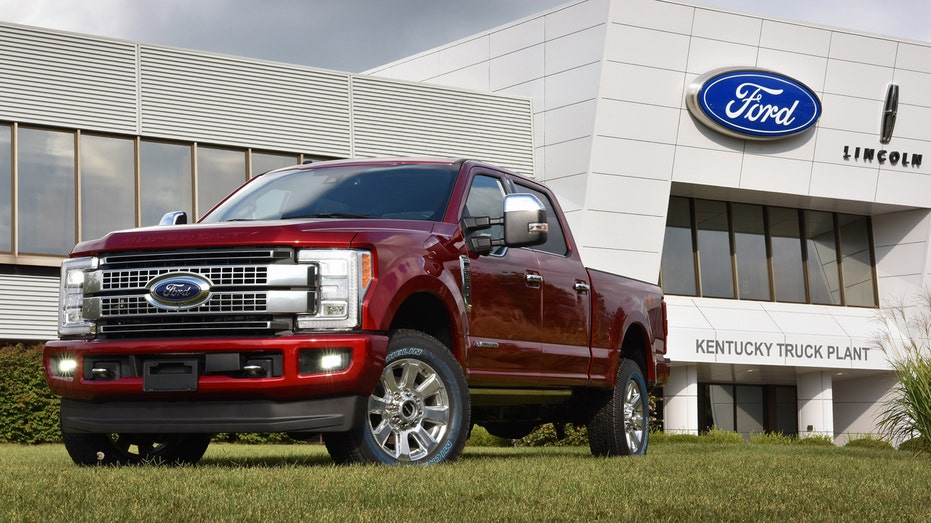 F-Series sales have gained 5.5% year-over-year to 595,656 trucks so far this year. Wall Street will get the latest picture of the sales landscape next week when automakers are scheduled to report October figures.
During the third quarter, sales for Ford and Lincoln vehicles in North America fell 11%. Revenue in the region declined 8%, and pre-tax profits dropped 55% to $1.3 billion.
Ford's net income overall came in at $957 million, down 56% from $2.2 billion last year. Earnings per-share fell to 24 cents, while adjusted earnings of 26 cents a share beat Wall Street's estimate of 20 cents.
Analysts expect a stronger fourth quarter, given in part that Ford will put its costly truck launch in the rear-view mirror. Super Duty pickups, which were fitted with aluminum bodies like the F-150, are scheduled to arrive in showrooms this fall. The F-150 is Ford's most profitable and best-selling vehicle, while Super Duty trucks are just as important to Ford's bottom line.
In addition to the Super Duty launch, Ford said recall costs contributed to lower earnings during the latest quarter. The recall, which impacted 2.4 million vehicles with faulty door latches on, set Ford back $600 million.
Ford lowered its full-year earnings forecast by the same amount after announcing the recall in September. The company expects a pre-tax profit of $10.2 billion, and earnings are projected to slip next year before returning to growth in 2018.
General Motors (NYSE:GM) beat earnings expectations and offered a rosier outlook for its full-year results earlier this week. Still, investors fled. Both GM and Ford shares are down around 2.3% this week.
Wall Street has remained skeptical that GM, Ford and other automakers will maintain healthy profits through a sales slump. Manufacturers believe they can support earnings by keeping supplies and incentives in check. GM has also cut back on less-profitable sales to rental fleets.