Ford CEO Mark Fields Talks Halo Cars, F-150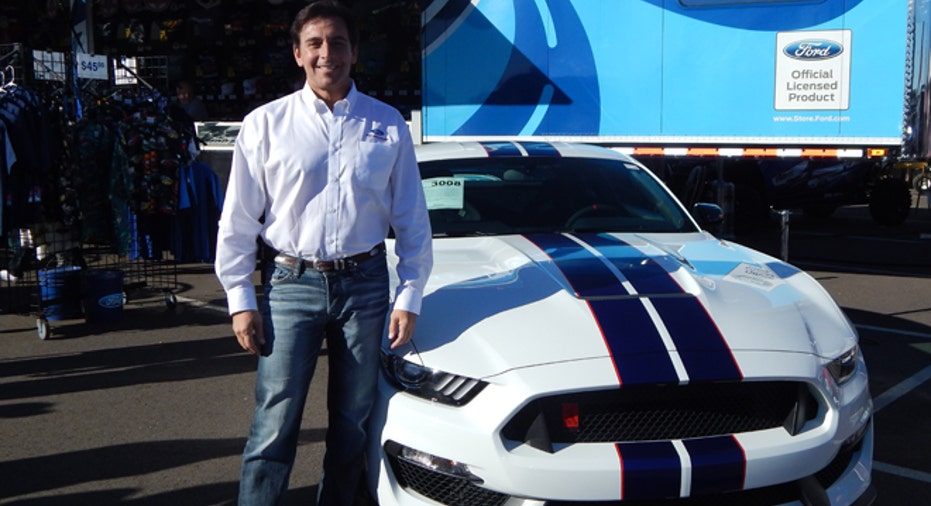 Ford Motor Co. (NYSE:F) is making a bigger play to develop performance vehicles, a move Chief Executive Mark Fields described as a key driver of innovation inside the automaker.
After introducing new versions of its cars, trucks and sport-utility vehicles in recent years, Ford is putting an emphasis on high-powered sports cars. The Blue Oval stole the spotlight at this year's Detroit Auto Show with two new vehicles—a GT supercar and track-ready Shelby GT350R Mustang—that are aimed squarely at buyers looking for more horsepower.
Ford Performance, a newly formed division, will oversee the creation of 12 new cars through 2020, including the GT and Shelby GT350R. The 2017 F-150 Raptor, based on the aluminum-bodied 2015 pickup, was also shown for the first time in Detroit.
Fields said the company's latest push to attract auto enthusiasts is a good business decision, noting how the performance market has grown around 70% over the last couple of years. Halo cars like the GT also highlight the Ford brand and could spur interest in its entire lineup.
It's a logical progression for Ford, he added. The company's new performance vehicles wouldn't exist without prior improvements to foundational vehicles, such as the standard Mustang. Even cars like the Focus, which is offered in an ST performance package, got a jolt of power under the hood.
"When you get to work on those kinds of iconic programs, it's a combination of immense pride, because you get to work on these iconic products, and abject fear, because you don't want to be the team that screws it up."
"It's also a technology showcase for a lot of our engineers. When they go back into mainstream programs, they can apply some of that technology and innovation that they've used on these performance vehicles," Fields told FOXBusiness.com.
Further aiding the performance market is the rapid drop in U.S. gasoline prices, which have fallen below $2 a gallon in 28 states. However, Ford sees the cost of fuel eventually climbing higher, and the Dearborn, Mich.-based company wants to be prepared. Gas prices "will go through their cycles, and we're seeing that right now with the supply and demand dynamics," Fields explained. "We want to make sure that we can deliver both [performance and efficiency] for customers so that when the next recession comes along, or the next spike in oil prices, people don't have to park their cars."
The Ford chief, who succeeded Alan Mulally last July, was at the Barrett-Jackson collector car auction in Scottsdale, Ariz., to watch the first production model of the GT350R cross the block for charity. It fetched a winning bid of $1 million for JDRF, an organization that funds type 1 diabetes research.
The limited-production 2016 GT350R will be available later this year. Rear seats, air conditioning and stereo systems were stripped to lose weight, and carbon fiber wheels come standard. Under the hood, buyers will find a 5.2-liter V8 engine that generates more than 500 horsepower.
The GT350R puts Ford in competition with other street-legal racers like the Chevrolet Camaro Z/28 from General Motors (NYSE:GM).
"It really is a culmination of a lot of the technology and the innovation that we put not only into Mustangs, but our entire lineup," Fields said.
Meanwhile, the 2017 GT is scheduled to hit assembly lines in 2016, so it will arrive 50 years after the original Ford GT took first, second and third places at the famed 24 Hours of Le Mans race in France.
Staying True to Ford
Ford's heritage, which Fields defined as "history with a future," runs deep in the world of performance cars.
The 2015 Mustang, which arrived in showrooms last year, was redesigned for its 50th anniversary. Carroll Shelby also created the original GT350 in 1965, and nearly three years after his death, enthusiasts still pine for Shelby-labeled pony cars. At Barrett-Jackson, Shelby American showed off the 2015 Shelby GT, a modified version of Ford's Mustang GT.
Fields addressed the challenge of finding the right balance between Ford's history and modern features. It's a classic battle of old versus new, and Ford was quite aware that developing a new Mustang would be a delicate task. Ford wants customers to easily recognize longtime staples like the Mustang and F-150, but also appreciate a fresh take in design, Fields said.
He continued, "When you get to work on those kinds of iconic programs, it's a combination of immense pride, because you get to work on these iconic products, and abject fear, because you don't want to be the team that screws it up."
Ford used the body styles of the 1967 and 1969 Mustangs as inspiration for the sixth generation. The team at Ford repeatedly conducted design reviews to ensure the famous pony car was on the right track.
"We knew it when we saw it," Fields said of the final design.
Throughout its lineup, Ford is also looking to balance performance and efficiency. For example the GT, which is expected to go head-to-head with European exotics like Lamborghini, will get an EcoBoost engine but still produce at least 600 horsepower.
Ford's EcoBoost engines use turbochargers to maximize power in smaller, more fuel-efficient motors. Competing automakers have utilized similar technologies in order to improve gas mileage. The Mustang also got an EcoBoost engine for the first time. Also a first, Ford will ship the Mustang overseas beginning this year.
The GT350 and GT350R Mustangs are slated for North America, where having halo cars is perhaps more critical than ever in a competitive auto industry.
Fields agreed that from a quality perspective, there are few bad cars sold today. So the way manufacturers differentiate themselves is through technology, design, safety, fuel economy and innovations in performance.
"For us, it's the right time to do it," Fields said when asked about launching halo cars like the GT.
But automakers can't stop there.
"I think the most important thing is to make sure that every one of your vehicles that you bring out, and that's our approach at Ford, is a halo car in terms of its design and appeal," Fields added. As an example, he said the technology used in the GT is common in all of Ford's vehicles
Counting on F-150
More than performance vehicles, the redesigned F-150 could make or break Ford's year.
Pickup trucks are often characterized as the most important vehicle for Detroit's Big Three. They are very profitable, especially with more buyers opting for pricier packages.
In 2014, Ford's F-series trucks were the best-selling vehicle in the U.S. for the 33rd consecutive year. F-series has held onto the top spot among pickups for 38 years.
The new 2015 F-150 marks a significant shift for Ford, which opted to use aluminum rather than steel to construct the truck's body panels. Ford has said the reduction in weight improves fuel economy and allows drivers to haul more equipment. Ford also added a new 2.7-liter EcoBoost V6 to the truck's engine options.
So far, Ford is seeing strong demand for the limited amount of F-150s that have made their way to dealers since December. Fields said the new trucks are the fastest-turning vehicles on Ford lots, selling in five days or less.
"As soon as the truck transports are showing up at the dealerships, the trucks are going out," Fields said.
The 2015 F-150 accounted for roughly 5% of Ford's December sales of 74,000 F-series trucks. Fields noted that compared to rival pickup trucks, 2014 F-series models booked higher transaction prices and lower incentives.
Overall, Ford lagged behind its peers last year. Total Ford and Lincoln sales were down 0.5% in the U.S., compared to 6% growth for the entire industry. Ford had cautioned that 2014 would be a year of transition, given its reliance on F-series sales volume.
The company is still in the process of expanding inventory, but Fields described a strong sales mix for 2015 models. In other words, buyers are opting for higher trim levels.
With the rollout continuing as planned, Ford sees no reason to think that F-series can't achieve a 34th year as America's best-selling truck.
"We expect to retain our leadership this year as we launch the new truck," Fields pronounced.