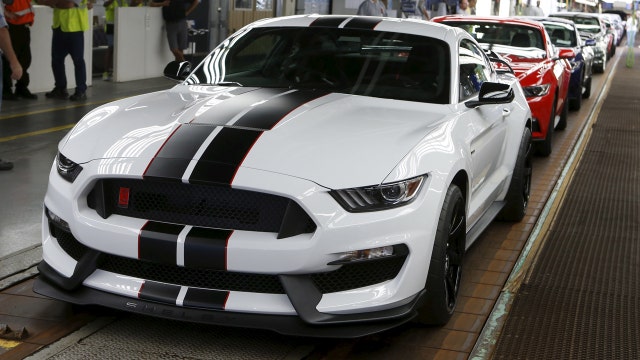 Factory workers at General Motors (NYSE:GM) and Ford (NYSE:F) are poised to cash in amid record profits for the nation's two largest automakers. With negotiations in the home stretch, tentative labor contracts with the United Auto Workers union include perks like pay raises and hefty signing bonuses.
Under the UAW's pending deal with GM, 52,700 hourly workers at the company's plants will get signing bonuses of up to $8,000 for ratifying the contract. GM also offered to boost wages. Veteran workers would bank higher salaries for the first time in nearly a decade, while wages for entry-level employees would rise gradually through the next eight years.
The wage changes are consistent with Fiat Chrysler Automobiles' (NYSE:FCAU) agreement that was finalized in October.
Ford's labor contract will be the most lucrative of the bunch. Workers are in line to score pay raises, $8,500 signing bonuses and $1,500 advances in profit-sharing checks. Ford also promised to invest $9 billion in its 22 U.S. plants over a three-year period.
The UAW historically chooses to negotiate with the strongest car company first and then use the agreement as a model the last two contracts. However, this year, union officials elected to iron out details of a deal with Fiat Chrysler first in order to revamp a tiered-wage structure. CEO Sergio Marchionne publicly expressed his willingness to phase it out.
Fiat Chrysler workers approved a four-year contract that included the first pay raises for longtime employees in a decade, signing bonuses of $4,000 for veteran Tier 1 workers and $3,000 for newer hires in Tier 2.
The Italian-American automaker also agreed to implement a new formula for profit sharing, offering $800 for certain percentage gains in North American margins.
GM and Ford have tied their profit-sharing program to North America operating earnings. In recent quarters, trucks and sport-utility vehicles, which are profitable segments for manufacturers, have bolstered results in the region.
GM booked pretax earnings of $3.3 billion in North America during the third quarter, the highest mark since emerging from bankruptcy. Ford's North America profits more than doubled year-over-year to $2.7 billion, a new record for the company.
GM is still waiting for final UAW approval since skilled-trade workers, such as electricians and welders, and employees on the assembly line were split. Even though 55% of GM's entire factory workforce gave the green light, 60% of skilled-trade workers voted against the draft contract. Both groups must approve the contract separately, but the UAW can choose to override the vote and move the deal forward.
The union agreed with GM on Friday to extend their existing contract another week. Meanwhile, Ford workers are still in the process of voting.