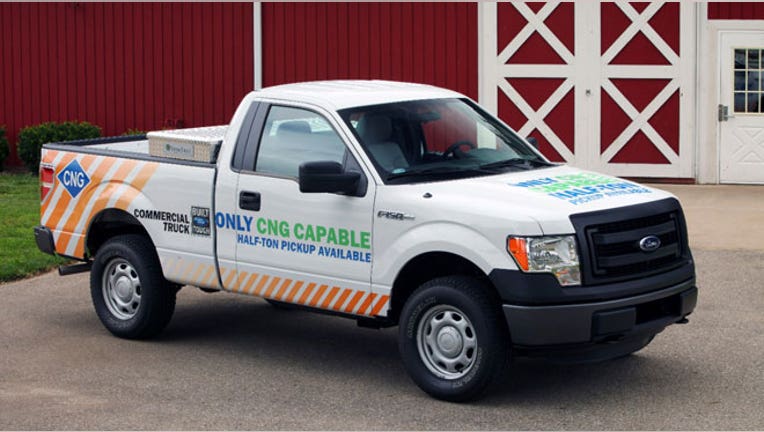 Ford Motor Co. (NYSE:F) plans to launch a version of its top-selling F-150 pickup truck that will run on compressed natural gas, responding to growing demand from commercial fleets and other buyers looking to cut fuel costs.
The 2014 F-150 will be available in the fall, featuring a 3.7-liter V6 engine and a factory-installed prep package, Ford said. The truck will be able to run on either CNG or gasoline through separate fuel systems.
Along with rivals General Motors (NYSE:GM) and Chrysler Group, Ford already offers CNG as an option on its larger, heavy-duty pickup trucks. Ford said it will be the only manufacturer offering a half-ton pickup that runs on natural gas.
The new F-150 brings Ford's CNG lineup to a total of eight models, including CNG-capable E-series vans. Last year, Ford sold 11,000 trucks that use natural gas, or twice the amount it sold in the previous three years combined. With the addition of CNG to the base F-150, the company now expects to sell 15,000 total CNG vehicles this year.
"Businesses and fleet customers have been asking Ford to make F-150 available with CNG capability to take advantage of the fuel's low price and clean emissions," Jon Coleman, Ford's fleet sustainability and technology manager, said in a statement.
Vehicles powered by natural gas make up a small piece of the market. One trade group, the Natural Gas Vehicles for America, estimates that 130,000 natural gas vehicles, mainly commercial trucks and buses, are out on the road today in the U.S.
But natural gas is becoming an increasingly popular alternative to gasoline and diesel, especially for large vehicles that can easily handle the size of the tank. Natural gas is also easily accessible using underground lines around the country.
Natural gas vehicles do face an uphill battle because of the upfront costs and limited number of refueling stations. And unlike electric vehicles, there are no federal tax credits for buyers looking to make up for some of the cost.
Ford's CNG-capable F-150 will cost buyers about $315 for the engine prep. Customers also choose a Ford Qualified Vehicle Modifier to supply fuel tanks, fuel lines and unique fuel injectors, an upfit that will run $7,500 to $9,500 depending on fuel tank capacity.
Companies can recover the cost of purchasing natural gas vehicles since they use a large amount of fuel at a higher cost, while fleets can refuel using their own natural gas pumps. Natural gas prices vary, falling between less than $1 to about $3 per gallon of gasoline equivalent. According to Ford, CNG sells for an average of $2.11 per gasoline-gallon equivalent. AAA said Wednesday the current national average for a gallon of regular gasoline is $3.62.
"With the money saved using CNG, customers could start to see payback on their investment in as little as 24 to 36 months," Coleman said.
AT&T (NYSE:T), one of Ford's CNG customers, recently purchased 650 F-350 chassis cabs with the CNG-prep option, according to the car maker.
"We're almost halfway to our company-wide goal of deploying 15,000 alternative-fuel vehicles by the end of year 2018," said Jerome Webber, AT&T's vice president of global fleet operations. "Vehicles such as CNG F-350s from Ford have helped us avoid purchasing 7.7 million gallons of gasoline over the past five years while reducing our fleet's emissions."
Shares of Ford were up five cents at $17.03 in late morning trading Wednesday.