For Matt Ryan, Super Bowl 51 is a Game Changer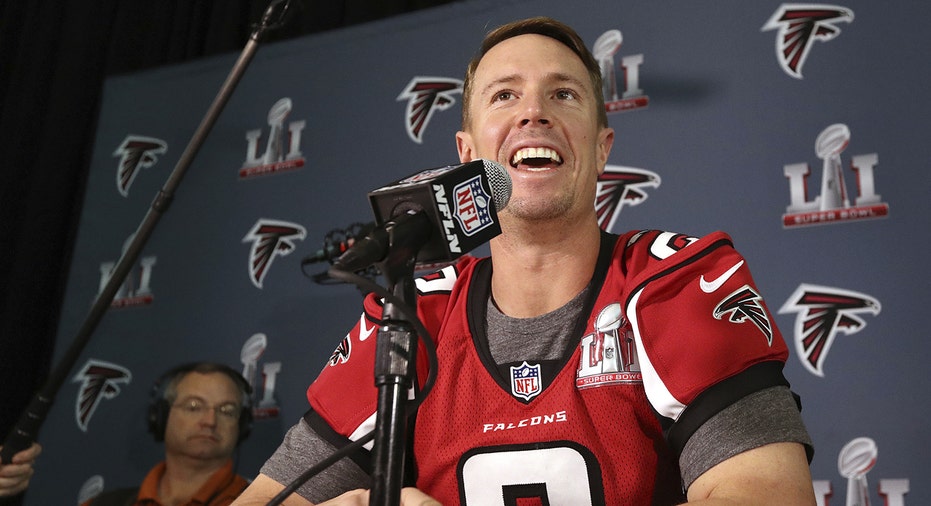 For an uber-talented quarterback set to lead the NFL's most exciting offense into Super Bowl 51, Atlanta Falcons star Matt Ryan has trailed behind rival signal-callers when it comes to celebrity status. That could change with a strong performance against the New England Patriots on Sunday.
Despite years of on-field success, Ryan has remained virtually invisible to casual NFL fans. When the NFL Players Association released its list of top 50 players in terms of 2016 merchandise sales on Thursday, Ryan wasn't on it. A total of 17 quarterbacks were – including three rookies.
A win in Super Bowl 51, with tens of millions of fans – and top sponsors – watching, would give the man affectionately known as "Matty Ice" the perfect springboard to national stardom.
"Marketers don't know Matt Ryan. He hasn't been on the national stage," David Schwab, a senior vice president at Octagon who specializes in matching brand clients with celebrity endorsers, told FOX Business.
On paper, Ryan appears to be an ideal candidate for endorsement deals. As the leader of the Falcons' potent air attack, Ryan routinely posts some of the best passing statistics in the NFL. He's the NFL's presumptive MVP for the 2016 season, with 38 touchdown passes and more than 4,900 passing yards en route to a berth in Super Bowl 51. Perhaps most importantly, Ryan has a spotless reputation off the field.
Ryan has an endorsement deal with Nike Inc. and has appeared in commercials for major brands like Comcast and Dannon's "Danimals" yogurt. He's also among the league's highest-paid players after signing a 5-year, $103 million contract in 2015.
But contemporaries like Patriots quarterback Tom Brady and Carolina Panthers quarterback Cam Newton have routinely out-earned Ryan away from the field.
"He hasn't done anything wrong – some people are more marketable than others, and he is in an incredibly competitive spate of NFL quarterbacks. It's less of him [doing something] wrong and it's more, on the other side, who's done it right," Schwab said.
Ryan's marketing agent, Alan Zucker, did not respond to FOX Business' request for comment.
The NFL's top tier quarterbacks are considered some of the most marketable athletes in all sports, let alone football. Peyton Manning, who retired at the end of the 2015 season, has earned tens of millions of dollars through deals with top sponsors like Nationwide and Papa John's. Brady has gravitated toward deals with lifestyle brands like Under Armour and Ugg boots.
"It comes down to a conscious choice and how much time you want to put into marketing yourself," said Joe Favorito, a longtime sports marketing and public relations professional. "There are some athletes that put a tremendous amount of time into it and succeed. There are some where it falls to the wayside."
For athletes looking to expand their business off the field, differentiation is the key to attracting marketers, Schwab said. The most sough-after endorsers have developed a unique voice. Green Bay Packers quarterback Aaron Rodgers is known for his unique sense of humor, while Newton's natural charisma has resonated with brands that are trying to reach Millennials.
"Brands want to see what's going to separate [Ryan] from the next guy," Schwab said. "Winning helps, winning puts you in more national TV games, it puts you in Sunday and Monday night games."
Ryan's role in leading the Falcons – a team that traditionally lacks a national following – in the Super Bowl is a major opportunity. For the first time, Ryan has had the chance to showcase his personality at Super Bowl media events, with national media outlets tracking his every move.
The Falcons don't necessarily have to win on Sunday for Ryan to take the next step as an endorser. But images of Ryan hosting the Lombardi Trophy, in front of the world, certainly wouldn't hurt.
"Getting to the stage he's on now changes a lot of things," Favorito said. "When the casual fan thinks about the NFL, maybe now they'll think about the Atlanta Falcons. That was never really in the realm of possibility because of the rest of the hierarchy in the NFL."