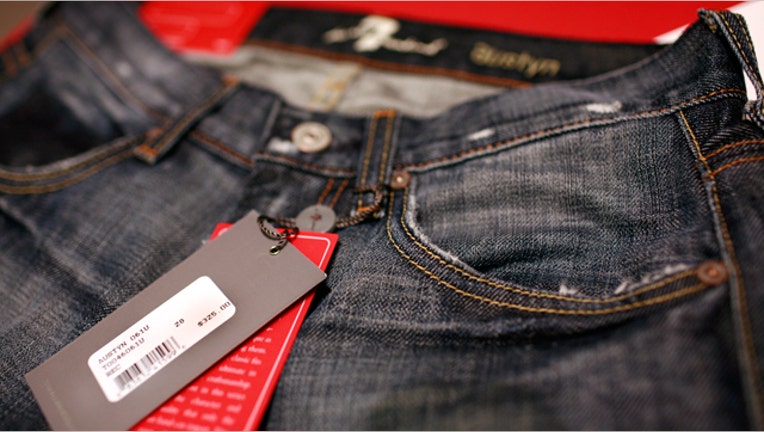 Cotton prices have continued to hover near record highs since breaking through the $2 mark in February, and clothing makers of all kinds are feeling the effects. But while certain pockets of the industry have some wiggle room when it comes to how they handle rising costs, jean companies – which rely predominantly on denim, a woven cotton fabric – are in a tight spot.
The price of cotton, which has surged 45% since the beginning of 2011 and has more than doubled since a year ago, is expected to remain firm as a result of an almost textbook case of supply-demand imbalance. Demand for cotton is burgeoning – especially in China, where the U.S. Department of Agriculture expects cotton imports to increase by 38% this year. Supply is down considerably and has been since last year as a result of key cotton-producing regions of the globe being hit by bad weather and India continuing to restrict its cotton exports.
The U.S. is the world's No. 1 cotton exporter, and despite the fact that its farmers are planning to increase the acreage they devote to cotton crops, most in the apparel industry agree it won't be enough to avert higher prices at the register.
Clothing prices are expected to increase at a minimum of 20% through the 2011 calendar year, with consumers likely to see a 10% to 12% jump before the U.S. crop year begins in May, says Burt Flickinger III, managing director at Strategic Resource Group, a retail consulting firm.
Flickinger says the cotton crisis has been apparent for nearly two years and that too few manufacturers hedged against rising prices.
"There are so many textile manufacturers, fashion houses and clothing retailers that are run by Wall Street firms that don't understand the economics of agriculture and don't understand how cash-constrained consumers are right now," he says.
In the denim world, companies have already begun to warn about price increases. VF Corp. (NYSE:VFC), the maker of 7 For All Mankind, Wrangler and Lee brands, said in February that it would raise its prices at retail to offset rising cotton costs. Michael Glasser, who launched premium-denim brands Citizens of Humanity and 7 For All Mankind and now runs Cj by Cookie Johnson and Rich & Skinny, says he will likely raise prices by 3% to 5% on his Fall collections.
"I'm trying to keep my prices realistic to what's going on," he says.
Jean makers are in a particularly tough spot, as the nature of their product is so immovably rooted in cotton. While some apparel manufacturers have the option of incorporating more synthetic fabrics such as polyester and lycra in their garments, jeans can be meddled with only so much before they simply aren't "jeans" anymore.
"Denim makers are in an unusual position because they do use a lot of cotton," says Ed Yruma, an analyst at KeyBanc Capital Markets. "There are places where you can substitute. Denim is one place where cotton is very important."
Even if there were a way in which jean companies could use alternative fibers to significantly reduce cotton usage, it would likely be in vain; the price of alternative fibers, like cotton and most other commodities, is also on the rise.
"Synthetic prices are approaching a parallel path [to cotton]," says Flickinger. "Synthetics are a cheaper alternative, but what was cheap in September and October as a substitute won't be cheap between March and May," he says.
But apparel makers aren't solely concerned about the way their products or produced. In many ways, their biggest fear is that consumers may drastically reduce their discretionary spending amid a bleak employment picture and inflation-fueled increases in food and gas prices.
"With almost 1 out of 5 Americans out of work or only able to find part-time work, the pressure on consumer purchasing has never been greater in the last 66 years," Flickinger says. "Any purchase that can be postponed will be postponed. Because denim is discretionary, it's the ultimate postponable purchase."
For Glasser, whose jeans run anywhere from $140 to $200 and are sold at upscale retailers Neiman Marcus, Saks (NYSE:SKS), and Nordstrom (NYSE:JWN), concerns that the already-conservative consumer will cut back further have weighed on his sales outlook for the year.
"I'm not being overly aggressive," he says, adding that he sees "good things" for Cj by Cookie Johnson this year and feels "just OK" about Rich & Skinny.
What Glasser and others believe is that denim purchases won't disappear altogether, but that shoppers will not be buying multiple pairs at a time the way they did in better days. Yruma of KeyBanc argues it's possible that people drop the same amount of money on back-to-school shopping that they did last year, but on fewer items.
"I think the dollar amount may not change, but the units might," he says.
From an investment perspective, Yruma believes the apparel space will face a number of challenges through 2011. Of the two denim makers he covers, he currently has an "underweight" rating on True Religion (NASDAQ:TRLG), arguing the company's products are "executed well" but are priced too high and aren't as in style as they once were. He has a "hold" erating on Joe's Jeans (NASDAQ:JOEZ), saying the company is undergoing a "very difficult" turnaround but that the stock is inexpensive.
But not all of the news is bad news for the denim world. As jean makers struggle to adapt to commodity and consumer pressures, there may be an opportunity for some of them to reinvent themselves.
"This is probably the time for Levi's to stage its 21st century comeback," says Flickinger, who believes the company's "Faustian deal" to sell a line at Wal-Mart (NYSE:WMT) in 2003 compromised some of the brand's reputation for quality. "It may be an opportunity for Levi's as an icon brand to reposition itself vs. the 'luxury' denim brands."
Flickinger also predicts that the private-label denim lines at Kohl's (NYSE:KSS) and J.C. Penney (NYSE:JCP) will benefit as consumers trade down from designer brands.