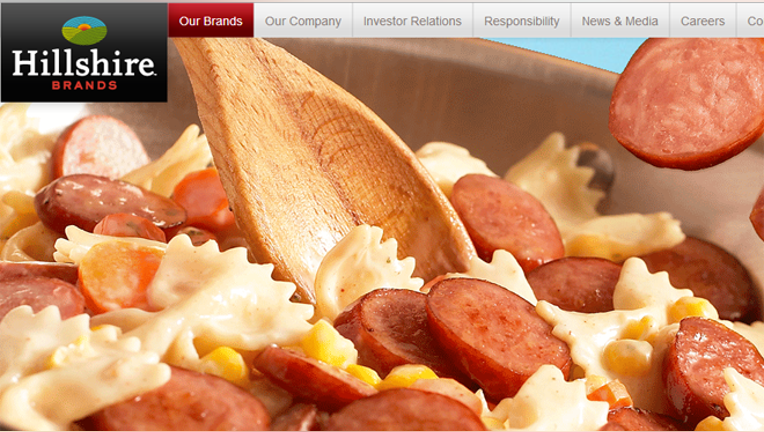 Tyson Foods (NYSE:TSN) entered into the race to acquire Hillshire Brands (NYSE:HSH), launching a cash bid of $6.8 billion for the maker of Ball Park hot dogs and Jimmy Dean sausage.
Earlier this week, chicken producer Pilgrim's Pride (NYSE:PPC) made an unsolicited offer of $45 a share, or $6.4 billion. Tyson's proposal is worth $50 a share.
Both offers are contingent on the termination of Hillshire's agreement to buy Pinnacle Foods (NYSE:PF) for $6.6 billion. In response to the offer from Pilgrim's, Hillshire said it remained committed to its Pinnacle deal but would thoroughly evaluate the takeover bid.
Hillshire shares jumped 17.2% to $52.51 in recent trading, while Tyson rallied 7.2% to $43.68. Pinnacle rose 1.2% to $31.76.
The flurry of bids come as food producers look to broaden their portfolios and combat supply challenges. Most recently, Tyson said a virus affecting piglets in the U.S. will hurt pork production this summer, and drought conditions in California have contributed to weaker cattle supplies.
Meanwhile, Chicago-based Hillshire has said an acquisition of Pinnacle would strengthen the company's footprint in grocery stores. Pinnacle owns Vlasic pickles and Wish-Bone salad dressing, among other brands. Hillshire also makes its namesake lunch meats and Sara Lee frozen bakery products.
Tyson, the top U.S. meat producer by sales, said its proposal "constitutes a significantly superior alternative" to Hillshire's agreement to buy Pinnacle. Tyson's offer reflects a 35% premium to Hillshire's stock price on May 9, one day before the Pinnacle deal was announced.
Tyson chief executive Donnie Smith said the company is "ready to work together with Hillshire's leadership to quickly reach an acceptable definitive merger agreement."
Hillshire, which expected its takeover of Pinnacle to close by September, issued a statement saying its board will "thoroughly review" the Tyson proposal.
A representative of Pilgrim's didn't respond to a request for comment. According to The Wall Street Journal, Pilgrim's is reviewing its options after the Tyson announcement.
In a letter to Hillshire CEO Sean Connolly, Smith noted that Tyson "would have preferred to make this proposal to you privately" but chose to take its interest public "in light of current circumstances."
Smith believes the deal would be a "game-changer" for Tyson, he told analysts during a conference call.
Springdale, Ark.-based Tyson said Hillshire presents an opportunity to significantly increase Tyson's offerings in the breakfast category. The company also praised Hillshire's strong brand presence.