Floyd Mayweather: I'll make $300M in 36 minutes for McGregor fight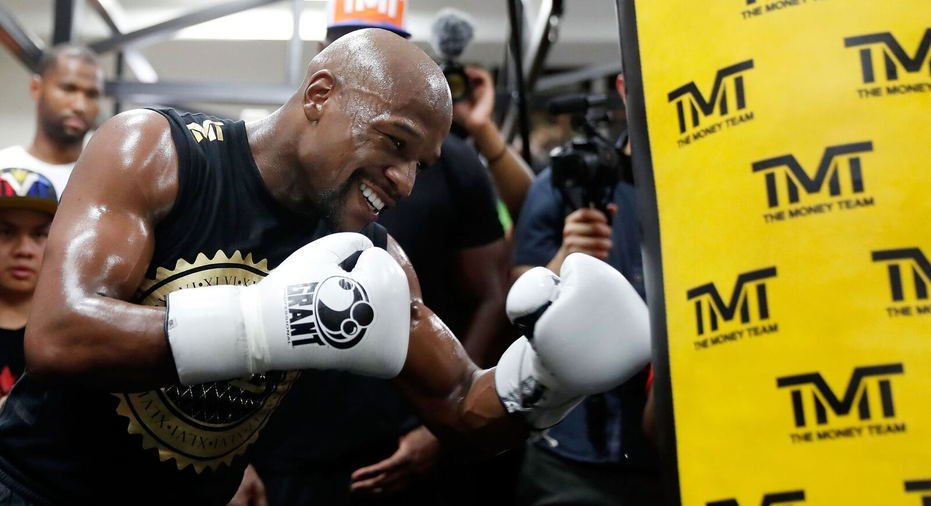 Boxing champ Floyd Mayweather says he's not only going to defeat UFC lightweight star Conor McGregor on August 26, but will walk away with $300 million or "better" for the 36-minute fight – if it lasts all 12 rounds – which equates to about $8.3 million per minute.
"Just being real. They call me 'Money Mayweather' for a reason," he told FOX Business in an email interview.
Mayweather, who first retired in 2007, then again 2015 following his defeat of Andre Berto – which boosted his career record to 49-0 – says the upcoming super fight will be his final hurrah.
"This will be my last fight. My legacy as a boxer and in the ring is set," he wrote.
After the fight, Mayweather says he plans to focus solely on building out his multiple business ventures that include several clothing lines, training gear, makeup and even a new Las Vegas strip club called Girl Collection, which opened earlier this year.
But that's not all – Mayweather announced Thursday that after several decades in the ring, he's officially opening up his own boxing franchise called Mayweather Boxing & Fitness. The company's flagship location is expected to open this fall in Southern California, but Mayweather says he plans to have more than 500 locations in five years' time across the globe.
"In the same way that I revolutionized the sport of boxing, I'm going to disrupt the fitness industry," he added.
And the timing couldn't be more perfect, as his face-off with McGregor is a little more than a week away.
"It's the right time to put my name and my business acumen to work on a venture that I'm truly passionate about, that's authentic to who I am and what I've achieved, and that I know has the potential to be a huge, global movement."
James Williams, CEO of Mayweather Boxing & Fitness, told FOX Business in addition to brick and mortar locations, the brand will also launch a mobile app and an in-home Virtual Reality experience featuring Mayweather himself.
"We've seen a shift in the fitness industry, in that the average consumer is seeking access to the same training that elite athletes have available, and more studios and gyms are now dedicated to a specific discipline," he said in a statement.
"Within those offerings, boxing fitness is a highly popular and extremely effective workout. We will cater to this demand all over the world and are doing so under the banner and guidance of the most dominant boxer of all time, which cannot be replicated."
But Mayweather says he's not just attaching his name to the company and leaving the day-to-day business side to someone else; he's actually the brains behind the whole concept.
"As chairman, I've created the vision for the business and will oversee execution based on that vision, developing the direction for programming and content for the business," he added.
And his selling point to gym goers is simple: the proof is in the pudding.
"I want to have everyone training as effectively as me," he wrote. "I believe that everyone – no matter where they come from or how much money they make – should have access to the most elite fitness resources."