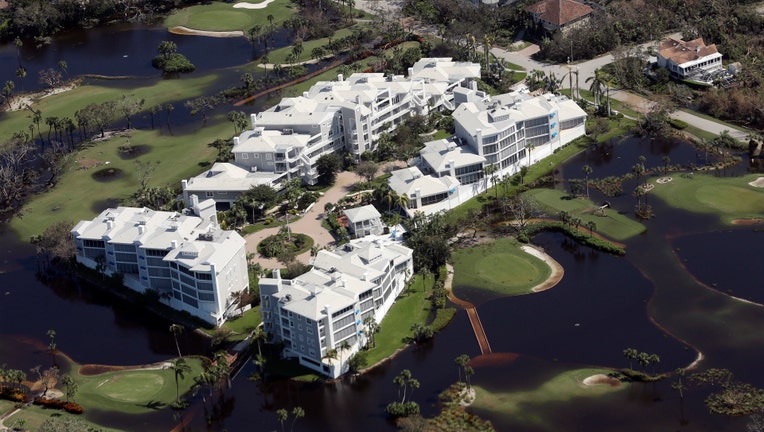 Florida golf courses may have been hit hard by Hurricane Irma, but the industry sees bright days ahead.
The Sunshine State boasts more than 1,250 courses—the most in the United States—and the industry alone contributed $8.2 billion to the state's economy, supporting more than 132,000 jobs in 2013, according to data from Golf 20/20.
Irma, which made landfall last month in the Florida Keys as a Category 4 hurricane and later swept through portions of the state as a Category 2 storm, caused widespread damage, estimated to total about $100 billion.
Some courses that were directly hit sustained substantial amounts of damage, both to their facilities as well as playing areas themselves.
"We're going to see certain uninsured losses that will be in the millions and then our insurance claim will be in the millions, just in these facilities," Don Hunter, general manager and CEO of Quail Creek Country Club in Naples, told FOX Business.
Hunter said the most expensive part of rebuilding post-hurricane is removing remains of downed trees—at least 1,500 at Quail Creek are dead or damaged—and other debris from the two 18-hole courses at his club.
"We're looking at probably $600,000 worth of expenses for removing debris in-bounds on the golf course. But we're also looking somewhere around [$1 million] in expenses as it relates to reshaping bunkers … So it's no 'one thing'—everywhere you look it's $250,000 or more going out on different projects," he explained.
It's not only the physical damage, however, that has hurt the golf industry in Florida. Many clubs lost revenue from closing early ahead of the storm, during the hurricane itself or because cleanup efforts left courses unplayable.
"Without a doubt the financial impact from the loss of business alone will be in the tens of millions of dollars," Jim Demick, executive director of the Florida State Golf Association, told FOX Business. "Most courses will lose at least a week's revenue and those that sustain damage may take months to fully recover."
Furthermore, Hunter said his club is looking at six weeks potentially of no to limited golf being played, which will also put a dent in revenue numbers.
Destruction to Quail Creek by Irma was the worst the club—which broke ground in 1981—has seen, though it did sustain damages during Hurricanes Andrew (1992) and Wilma (2005), according to Hunter. Due to Irma's wrath, the club was forced to cancel the U.S. Women's Mid-Amateur Championship, which was slated to commence on Oct. 7. Now, the U.S. Golf Association (USGA)—the group that runs the tournament—has rescheduled the event to take place in November at Champions Golf Club in Houston, Texas.