Fixing the Repair Business World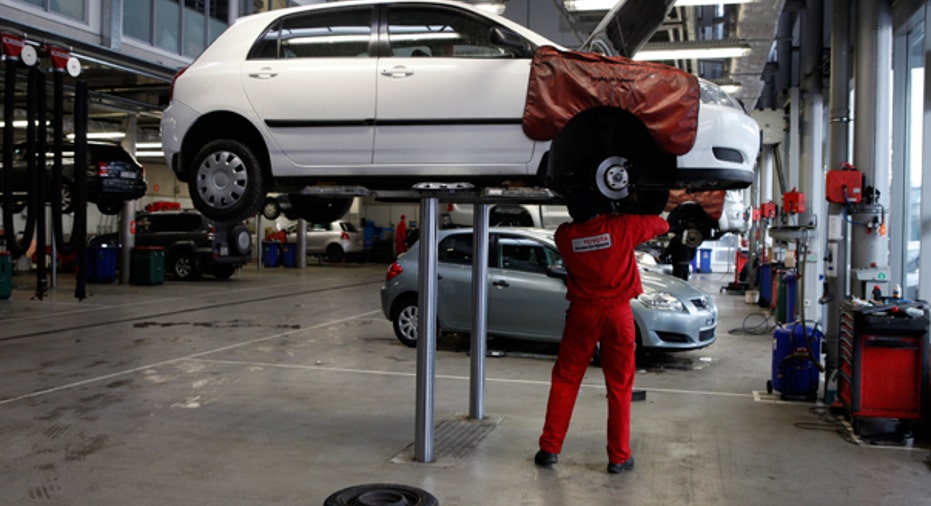 Greg Gorman, 59, recently made the painful decision to postpone his retirement this year and work until he's 65.
Owner of a home repair franchise that serves Santa Barbara and Ventura counties in California, Gorman is dependent on a real estate market that's in no hurry to recover from the widespread recession.
"People here are not investing in their properties at this time," Gorman said. "They're holding onto their money. The way the business environment is right now, I can't predict the future.  I don't think I can afford to retire right now."
His plight is reflective of many others across the spectrum of the maintenance and repair business.
During the current economic downturn, people are putting off repairs of all sorts – to cars, homes and even themselves, a new study shows.
Sageworks, a leading analyst of privately- held companies, recently reported downward trends in 2009 for numerous slivers of the "fix-it" sector: auto repair and maintenance (down 1.7%), auto parts and accessories (down 3.9%), residential remodelers (down 7.3%), private building material and supply dealers ( down 13.5%), beauty salons and hair, nail and skin care services (down 4.1%).
"At the outset of the recession, the auto repair business was up as people delayed new car purchases," said Sageworks spokeswoman Melinda Crump. "Now even the repair business is down. In 2009, as unemployment peaked and consumer confidence became more drastic, people started retrenching to preserve cash. New car dealerships saw a decrease in business last year of between 11 and 12%."
Kent Davis, who has 20 employees at the two auto repair shops he owns in suburban Denver, didn't need a survey to confirm the trend.
"We have been amused by all of the articles about how 'great' the auto repair business is now that dealers aren't selling many new cars," Davis said.  "Mostly, I observe smaller car shops going out of business. I hear constant complaints from our parts vendors about how slow sales are and how many shops are on the edge.  There are more empty service bays in Denver than I can remember, and we've been doing this more than 20 years.
"We are flat, and durned happy about that," he added.
Sageworks CFO Drew White expanded on the survey data. "We looked at maintenance businesses as a whole – maintenance of your home, your car and yourself," he said. "Some of it is discretionary - like nails, hair or skin.  Some are not. Auto repairs can be either. You may need new tires or brakes, but people will put off fixing that annoying squeak."
Several things keep people from dealing with their car problems these days, Davis said. "They have fear about their finances - and lots are unemployed and simply have no money to do the repairs. They fear  what bad news we are going to give them.  And today's cars are so good that they will take tons of abuse for extended periods of time.  Also, many families have three or four cars. I think they are just parking the one that breaks and letting the license and insurance lapse."
Gorman deals with similar customer behavior in the home repair business. He and his wife, two sons and a daughter-in-law operate Screenmobile franchises that replace screen doors, windows and patio enclosures. They recently expanded to Ventura County, hoping they'd make up in volume for the red ink in Santa Barbara.
"We used to get a lot of our business from people flipping homes," Gorman said. "We're not seeing that right now. For one thing, with the mortgage industry the way it is right now, it's tough for people to get money to purchase a home. Either houses aren't moving or people are just holding onto their cash."
Remodeling projects are expensive and many are probably discretionary, Sagework CFO White said. "You're feeling less confident about the housing market. You tell yourself 'I can live with the kitchen I have. The linoleum's good enough for now.' Also, people are not excited about reinvesting in a house that's lost value in the last two years, or they might be doing more remodeling themselves."
Large public "big box" companies such as Home Depot (HD) and Lowe's (LOW) have seen a slight uptick in their stock over the past year, but Raleigh, N.C.-based Sageworks analyzes smaller, independent, privately held companies like Ace Hardware.
"We're talking about a downturn in business for locally-owned neighborhood hardware stores that are a little more expensive, but offer a higher level of service," White said. "They're similar to a convenience store, not a big hassle to go. You're not going there to buy bulk lumber to re-do your kitchen. You're going there for a hammer or potting soil or smaller repair projects."
The Sageworks survey also plotted a dismal 2009 for such personal maintenance as nails, hair and skin services. But recent positive trends in the economy could be good news for them and their fellow "fix-it" businesses.
"If the unemployment rate and consumer confidence index come back, people will start spending more," White said. "Nails, hair and other personal appearance luxuries aren't expensive, and they make you feel good."
Several recent surveys fuel such optimism:
*American Express' Spending and Saving Tracker found that 85% of homeowners considered their home their most valuable investment and planned to spend an average of $6,200 on home improvement projects this year.
*U.S. Census Bureau reported more than 3% growth in building material and garden equipment sales in March (or more than $125 million),  compared to March 2009.
Tom Wood, president and CEO of Smyrna, Georgia-based Floor Coverings International, thinks his company has finally turned a corner.
"Things seemed to hit rock bottom in April 2009," Wood said. "The fall of 2009 was very, very promising – not back to normal, but we started to feel the upswing. The first quarter of 2010 was up and we are seeing growth throughout most of our 82 franchised businesses across North America.  The company is up nearly 10% versus this time last year."
Sageworks' White said the so-called "new frugality" largely depends on one's personal experience of the recession.
"For the 11% who actually lost jobs, that will change your behavior," White said. "Let's say that for as much as 25% of the population, this recession will permanently change their outlook on spending. They'll no longer go into debt to spend money."
"But the others who just read about it and may have cut back for awhile," he added, "they'll be back."