Fix Car at Repair Shop or Dealer?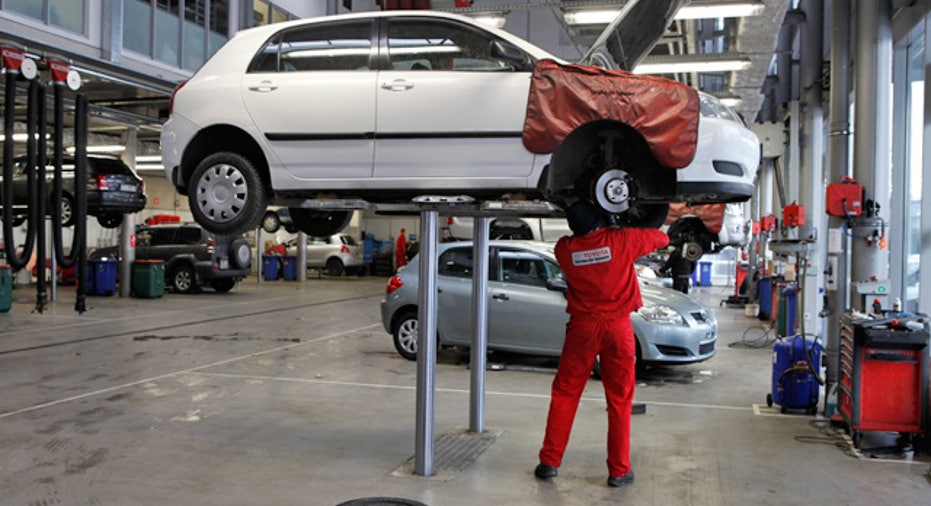 To keep your car in tiptop shape, it needs regular maintenance. That maintenance can vary widely depending on the shop you choose. Conventional wisdom says that an independent repair shop is the smarter financial choice over a dealership, but that's not always true. Sometimes, paying a little extra is a wise choice. Here's how to weigh the pros and cons of choosing an independent mechanic or a dealer for your car repairs and maintenance.
Compare apples to apples when price shopping. A few quick phone calls will allow you to compare prices between multiple dealers and repair shops for regular maintenance, but calling to ask for each shop's rate on, say, a 50,000-mile service, does not guarantee you'll be comparing the exact same service. To be sure, ask for a printout of exactly what's included in the service as well as a breakdown of parts, labor and any other fees, such as a hazardous waste disposal fee. A dealer that sells your specific car brand is more likely to follow the recommended service for that mileage (which is listed in your owner's manual), while an independent mechanic or a dealer that carries another brand may or may not. Compare what you're getting for the fee to determine where your best deal is.
Check labor rates. It's not always true that car repair shops have the lowest labor rates. An overall decline in car sales has led dealers to seek more business in their service departments, which has caused some of them to lower their labor rates or offer coupons or specials, effectively reducing the overall cost for specific maintenance. At the same time, some independent mechanics have been forced to raise their labor rates due to increased costs of doing business. Ask for the labor rate as well as the time estimated to complete the job if you are not being quoted a flat price for the regular maintenance or repair.
Ask if OEM or aftermarket parts are being used. Dealerships typically use parts that are supplied by the original equipment manufacturer, or OEM, and these are often more expensive than aftermarket parts. Car repair shops most often use aftermarket parts unless the customer requests OEM parts. In some cases, saving a few bucks by using aftermarket parts is perfectly fine, while in other cases, it may result in added cost and problems later on. For details, read Bankrate's story, "How to choose replacement car parts."
Think about convenience. While it's hard to put a price on your time, convenience is a factor when deciding where to go for car repairs. Consider not only the distance you have to travel to get to the shop, but also what customer services they offer. A free loaner car or a courtesy shuttle is offered by some dealers, while it's more likely that a repair shop will expect you to find your own ride when dropping off your car.
Regardless of dollars and cents, the best financial choice for choosing a dealer or an independent mechanic for your car repairs is to choose a shop that you feel comfortable working with. Having a service adviser or a mechanic who listens carefully and answers your questions thoroughly will pay dividends in the long run.