Five Ways to Celebrate Mardi Gras Like a Millionaire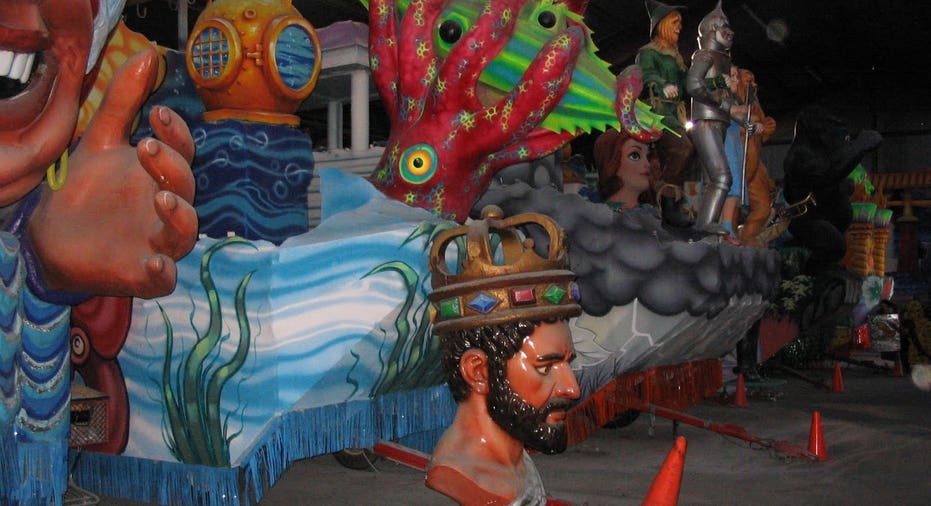 Stop us if you've heard this one before: A day steeped in deep religious history and significance receives a few lighthearted twists over the centuries, inherits a few peculiar traditions, and arrives in the 21st century as part religious observance, part party and part quirky customs. Fat Tuesday is no exception to this recipe, with original meanings often intertwined with parades and pancakes.
Also known as Mardi Gras or Shrove Tuesday, depending on the cultural significance, Fat Tuesday was named for the practice of stuffing one's face prior to Ash Wednesday with the rich, fatty foods that are customarily avoided during Lent.
These days, Mardi Gras is shrouded with extravagance and excess, primarily in its epicenter, New Orleans. The city draws hundreds of thousands of people for its parade and festivities, and those celebrators pump around $322 million into the local economy during this time.
With the final touches being put on this year's floats and the invitations sent for the glamorous balls, it is possible to spend a lot of money on making this Fat Tuesday a truly grandiose and corpulent day.
It Started Off as Breakfast
The tradition of gorging on pancakes for Fat Tuesday is one of the more prominent customs. Some towns have "pancake races," and some communities in Europe decided to simply rename the holiday in favor of the wondrous cooked batter. Sure, it would be easier to order up a short stack at IHOP and call it a Lent, but where's the fun in that?
A restaurant in Bangalore, India, recently started selling pancake-like dosas at $19 each, which is 10 times the normal price. At first, it might sound like an ambitious businessman capitalizing on an otherwise dosa-craving community. Then you realize he's simply covering his normal dosas in edible 24-karat gold foil. So far, it seems like a good plan, with the dosas selling more like, well, hotcakes.
If you insist on a glamorous take of a more traditional pancake, the restaurant Opus in the Printworks will provide the ultimate breakfast of champions. The Manchester, England, restaurant created a pancake complemented with pods of Madagascan vanilla, 23-karat gold leaf, a Dom Perignon jelly and organic strawberries to boot. At a price of more than $200, you may want to reconsider that jelly-making hobby and open a pancake window just in time for Tuesday.
Wash it Down, and Party it Up
Much to the likely disturbance of Fat Tuesday purists, scenes of drunken debauchery and cheap beads being tossed at revealing women are often a quick association with the holiday. Though less an actual tradition than the inevitable result of many carousers given the opportunity to celebrate anything with copious alcohol, Mardi Gras is nonetheless supposed to be a good time. A festive cocktail is usually the right harbinger.
"I have a friend who walks the St. Ann Parade route with a shopping cart and some sort of classic tiki punch and gives it out to anyone wishing to drink," says Christine Nielsen, renowned mixologist for the Cocktail Bar at the prestigious Windsor Court Hotel in New Orleans.
If you're not of the mold to drink tropical, alcohol-laden fluids from a stranger's shopping cart, Nielsen recommends her bar's Mardi Gras Preflight Punch, which is a mixture of brandy, rum, black tea, and cardamom syrup served in a bowl for $29.
You can always make your own costly cocktail, too. Mix up a hurricane, a common drink with New Orleans Mardi Gras revelers. You shouldn't have a problem giving it up for Lent if you take the central ingredient -- rum -- from a bottle of 1940s Wray and Nephew rum, valued at a pricey $54,000. Add in the necessary fruit juices and a splash of Remy Martin Cognac Louis XIII -- which can cost more than $1,000 per bottle -- and you've got yourself a storm of a drink that will wash away your pain along with any extra cash you may have been saving for a rainy day.
Everyone Loves a Parade
After getting yourself sufficiently sauced, it's time to join in the parade -- literally. Parades are common in the streets around the French Quarter of New Orleans, with 56 scheduled this year in the weeks leading up to Mardi Gras. Each one is led by one of the local krewes, which are basically party clubs for grown-ups where everyone piles on to incredible floats and throws party favors at onlookers.
Parades and parties sound like fun, but it can be rather costly to be part of a krewe. Some of the older, more reputable krewes can charge $3,000 to $4,000 to partake in all of the festivities, and that's if they're even open for the public to join. The hard economic times have led some of the krewes to allow out-of-towners to ride in their floats for around $300 and even settle the bill ahead of time on PayPal. However, most of the krewes' fees run much higher for the privilege. Typical fees will cost you an initial $500 to $2,000, plus up to an additional $1,000 in other dues. Plan to spend another $1,000 for your "throws" -- the beaded necklaces, toys and trinkets you'll shower on the partiers lining the street.
If you'd rather build your own float, the city of New Orleans requires that your grandiosity stay under 17 feet in height. Though floats today no longer include the actual traditional gold leaf, hiring one of the half-dozen major float companies to construct an average float starts at $40,000. The signature 50-foot-long double-decker floats can set you back more than $1 million.
Masquerade Balls
In addition to the fun of the floats and parades, a big staple on a krewe calendar is the spectacular Mardi Gras masquerade balls. Each krewe holds its own formal event, often closed to the public, though some krewes do allow the public to purchase tickets for what is often a steep fee.
The Zulu Social Aid and Pleasure Club was started more than 100 years ago and is one of the more prominent societies, once touting Louis Armstrong as a leading member. You can purchase a table for 10 at the krewe's Coronation Ball for $1,000.
A krewe known for its celebrity participation, the Krewe of Bacchus, boasts 33 "super-floats" for its parade and has more than 1,350 members. You can party along with the krewe and Will Ferrell, this year's "Bacchus," at the Bacchus Rendezvous Ball for around $1,500 per table.
You Have the Invites, but What do You Wear?
Whether you're planning to ride on a float, attend an ornate gala or simply wander through the French Quarter, you need to dress the part if you're going to make it a genuinely fat Tuesday. Traditional garb at the more official Mardi Gras functions is very formal and a bit time-warped, from tuxedos to fancy gowns and headdresses.
Start with the golden Salute Masquerade Mask by St. Lucia Venice. Made in the 600-year-old Venetian style and available for $625, your fellow partiers will be thoroughly impressed with your ornate inconspicuousness.
Women can move on to the Chagall's Flowers couture gown, which won the 2009 Masquerade Fashion Show, and is available to purchase for $748. Complete the overzealous Victorian look with 14-carat Diamond Fleur De Lis earrings from the Isabella Collection for $1,743.
Since most men prefer a one-stop shop, there is the Venetian Gold and Black Casanova costume complete with mask, cape, jacket, tricorner hat, shoe buckles, knee pants and the overwhelming awareness that you will never wear this again. This convenience will cost you $1,000 before tax and shipping, but despite what the tags say, it's hard to put a price on the fun of what amounts to a glorified Halloween.