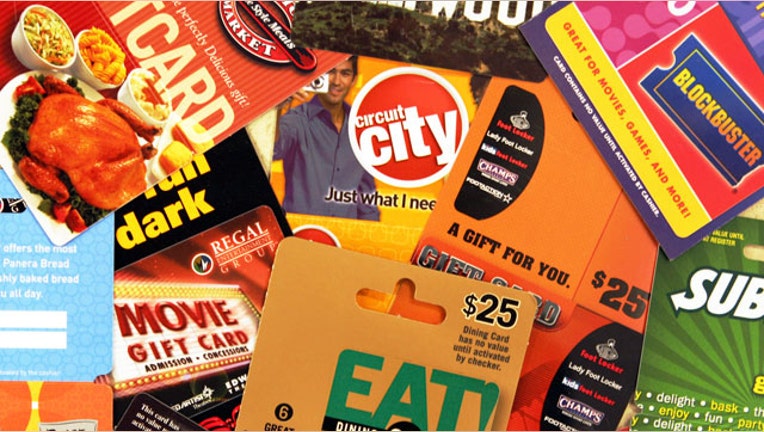 The End of Plastic?
If you thought your phone was indispensable now, just wait until the holidays. A wave of new smartphone technologies promises to make a staple of the season -- gift cards -- easier to use than ever.
It's all about lightening your load. Nobody wants to fuss with a deck of half-used gift cards when they hit the mall. So innovators have developed new ways to remove the clutter and boost customer loyalty along the way.
Smartphones, for example, can now store and access gift cards. They'll also let you send gift cards to others using email, text messages and social media. Which technology is right for you? It all depends on what you like to buy and how you communicate.
Bankrate has compiled a list of five technologies that will change the way people use gift cards this year. Here's how they work, along with their advantages and disadvantages.
Smartphone Apps That Spread Gifts Around Town
GPS devices can do a lot more than pinpoint your spot on a map. A slew of shopping apps now use this technology to send gift cards that are tailored to your location. Say you want to buy your friend a bottle of wine, for example, but that friend lives across the country. With apps such as Giftly, you can buy your friend a gift card for wine that can be redeemed at a variety of stores in your friend's neighborhood. Your friend can walk into any store, buy whatever he wants, and then get reimbursed through the gift card.
Benefits: This is tailored to small local retailers, and there aren't limitations on what kinds of gifts you have to buy. Giftly gift cards also can be printed out for people who don't have a smartphone. You can see where the recipient went, what he bought, and unlike some plastic gift cards, Giftly certificates don't expire.
Drawbacks: The person receiving the gift must pay for the purchase upfront before getting reimbursed. That can be a bit awkward. The giver must also pay a fee to cover bank processing fees.
Mobile 'Wallets' Turn Your Phone Into a Credit Card
Google Wallet, an app that works on Android devices, replaces gift cards altogether. It stores gift card information on the phone and uses near-field communication, or NFC, technology, so shoppers can pay by tapping their phone on a terminal at the check-out counter.
Another app, Square Wallet, works on iPhones and Android devices. It also stores gift cards and uses the phone's GPS to help find merchants that accept its payment service. When you're at a participating store, Square Wallet sends your name, photo and gift card information to the merchant. You can pay at the counter simply by giving the cashier your name.
Benefits: Convenience. You don't have to pull a card out of your wallet or sign a credit card receipt.
Drawbacks: Not all retailers are equipped to scan bar codes from your phone, and Square Wallet is relatively new (a recent search of New York City's midtown Manhattan found about two dozen participating retailers among hundreds of places to shop). Also, Google Wallet and Square Wallet only work with cards that are associated with one of the major payment networks: Visa, MasterCard, American Express and Discover.
Passbook for Store-Specific Gift Cards
Apple's Passbook lets your iPhone keep track of store-specific gift cards. Passbook, which is available on phones that run iOS 6, works with other apps to keep everything organized and up-to-date. Once your gift card is uploaded into Passbook, your phone doubles as the gift card. Passbook will display the card with a bar code that can then be scanned by the merchant.
Benefits: Your wallet is much lighter, and you don't have to worry about keeping track of all those gift cards.
Drawbacks: Not all apps are compatible with Passbook, which is new and still has bugs. Some users, for example, have reported difficulty adding apps to Passbook that they've downloaded. Many shoppers will also find uploading gift cards to be a pain in the neck. You'll need to go to the App Store and download the app that's linked to the gift card. In some cases, you'll be asked to open an account with the app before you can transfer the account information and gift card to Passbook.
Ding! A Gift by Email or Text
Here's yet another way to get rid of that plastic. Many gift cards can be transmitted electronically now through email or text. And if you want to announce your gift to the world, you can send someone a gift card with Facebook or Twitter. Apps such as Gyft and Wrapp will help you set this up. You can also send electronic gift cards directly from many retailers' websites.
Benefits: Great for last-minute giving. There's no need to push through crowds at the mall on Christmas Eve. You also won't be charged shipping costs, and electronic gift cards are environmentally friendly by design -- there's nothing to throw away.
Drawbacks: The technology isn't 100% reliable. If the recipient doesn't receive your text message, for example, the gift might not arrive on time. Plus, if your recipient doesn't have a texting plan with his or her cellphone carrier, it could cost them to open your text.
QR Codes for the Camera Phone
A lot of camera phones can be used as a scanner to quickly download coupons, gift card giveaways and other product information. Retailers are increasingly catering to this technology by adding scannable QR codes to circulars, catalogues, billboards and even other gift cards. These codes look like crossword puzzles, and they're usually about the size of a postage stamp.
Benefits: QR codes are quick and easy to use. Instead of hunting online for websites or pulling out a pen and paper, a QR code will take you directly to the information you need.
Drawbacks: You'll have to download an app to your smartphone to get going, and you'll need a phone that is equipped with a camera. Some retailers will also attempt to collect your email and other information as part of a registration process.