Five Tips to Deal With a Divorce in a Downturn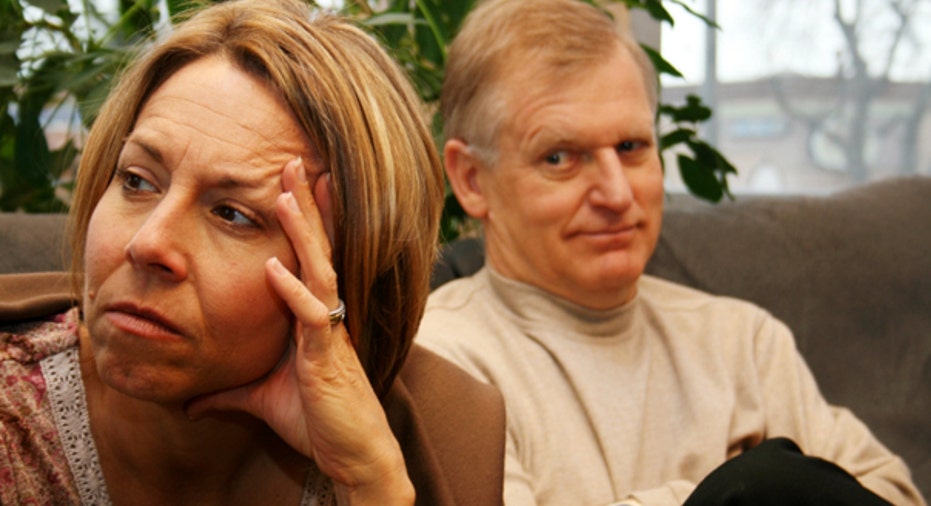 Recession and Divorce
Thirty-eight percent of couples considering divorce or separation have postponed those plans due to the recession, according to a study released earlier this year by the National Marriage Project at the University of Virginia.
The reason? Divorce is expensive, and in a tough economy, families don't have extra money to spend. Those couples who choose to go through with divorces are facing new financial challenges, such as determining what to do with upside-down mortgages or establishing individual credit in a tougher regulatory environment.
"The economic downturn has made divorce more complex than ever," says Lee Block, a national divorce coach and the writer behind the Post-Divorce Chronicles blog.
Here are some of the common financial challenges faced by couples divorcing in an economic downturn along with experts' advice for dealing with each one.
Protecting Assets
It was once standard for divorcing couples to sell their assets, such as homes and stock portfolios, and divide the profits. But in today's market, when many homes are worth less than the mortgages held on them and the stock market outlook changes every day, few couples want to watch their accumulated savings go up in smoke. Rather than allowing a judge to require them to sell assets, some couples considering divorce are drawing up post-marital agreements that divide their common assets between them, says Steve Mindel, managing partner specializing in family law at Los Angeles-based law firm Feinberg Mindel Brandt & Klein LLP.
Similar to a prenuptial agreement, a post-marital agreement lists certain marital assets as the husband's property and certain assets as the wife's property. While Mindel often organizes such agreements for business owners who want to protect their personal assets from potential business losses, recently he has created numerous post-marital agreements for couples contemplating divorce.
"A lot of the fighting that takes place in family law court is the result of fear -- fear that one person will end up with more money, fear that one spouse will try to take the children away," Mindel says. "Having a post-marital agreement takes away a lot of fear, because both spouses have already agreed which assets they will keep and which ones they will give up."
Selling an Undervalued Home
A married couple's largest asset is often their home, Block says. In most cases these days, the home's value is either down tremendously from what it was a few years ago, or it's worth even less than the mortgage balance. Either way, selling the home and splitting the difference may not be the wisest financial strategy at the moment.
Some couples choose to rent the home to a third party and split the rent until the market improves, says Jim Toto, partner in the New Jersey office of accounting firm WeiserMazars.
Block says some couples with children choose to "time share" their homes, with each parent taking turns staying there and moving themselves instead of the kids.
Unable to sell their home or afford separate living quarters, many divorcing couples are simply living together longer. "It's tough on both the couple and the kids, because you have two people who are essentially suing each other and living together," Mindel says. "Even though money is tight, spending a few hours with a counselor or other mental health professional can help people deal with it."
Supporting 2 Households
Getting divorced often means supporting two households with the same amount of income that previously supported one. In a tight economy, that can be especially difficult, Block says.
"Both parties may be out of work," she says. "This affects support for the children -- not only the amount, but also whether it is even given. If during your marriage there were bankruptcy issues, and you were named in the bankruptcy, then life after divorce is tougher due to credit ratings."
To move forward financially after divorce, both spouses may need to adjust their expectations. "Come to the realization that you may have to downsize and change your lifestyle, maybe move back in with your parents or a sibling," Toto says. "Everyone really needs to realize their economic picture will be significantly different than when they were married. Budget closely and set reasonable expectations for yourself."
Mindel recommends meeting with a financial planner who will, for a flat fee, review your expenses, help minimize them and create a realistic budget for living post-divorce.
Valuing a Business
In many divorce situations, there is a small business involved and one spouse runs the business, Toto says. Assuming the business is a marital asset, the spouse who doesn't run the business typically expects to be compensated for his or her share of the business. But in an economic downturn, the business may not be valued as highly as it would have been a few years ago or may be valued a few years from now. And the business may not have the assets to pay a divorce settlement without going under. That's why Toto recommends patience.
"It's in both spouses' best interests to make sure the business survives," he says. "You might have to allow flexibility, such as accepting an installment payment or some other type of payment. When you have illiquid assets such as a family-owned business, there needs to be patience on the part of both spouses to reach an agreeable settlement."
Paying for the Divorce
Most middle-class families don't have a lot of excess money lying around, Mindel says. For that reason, Mindel says he's seeing more couples working toward mediated agreements and alternative dispute resolution rather than suing each other in a courtroom.
"People used to just rush out and let the judge make a decision, and now they want to make their own decision," he says. "When a couple goes to mediation, their attorney fees may be one-third of the cost of going to court."
Participating in mediation doesn't just mean saving money; it means working together. A few years ago, divorcing spouses would "rush out and buy the most expensive lawyer blindly," Mindel says. "If you're going to fight it out, judges will rush to sell your house and liquidate your stock portfolio in order to pay attorneys' fees. People don't want that result, so more of them are working together rather than blaming each other. They don't want to be forced to sell a house for less than what's owed on it or be forced to take their kids out of private school."
For instance, instead of selling the family home quickly to split the equity, a mediating couple may decide to let one spouse stay in the house for a few more years until the market improves and split the proceeds later.