Five Tips on Safely Selling Your Gift Cards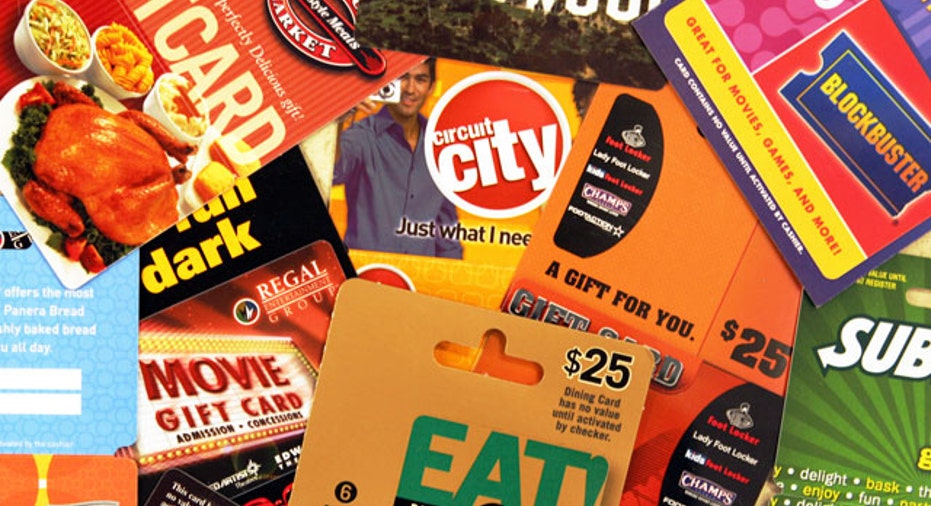 Don't Dump Unwanted Gift Cards
Have a gift card you're itching to sell or trade?
There's a site for that. However, it pays to do a little homework before you pack up your gift cards and send them on their merry way.
These days, "consumers are doing everything they can to find the best deals," says Rebekka Rea, executive director of the Retail Gift Card Association, an industry group representing merchants that offer retail-branded gift cards.
Gift card exchange sites, which allow consumers to buy, trade or sell gift cards with the company that runs the site, are a great resource, she says.
Want to get the best bargain for your gift cards? Here are five tips to help.
Decide if You Really Need to Sell
Gift cards are good for at least five years, thanks to the Credit Card Accountability, Responsibility and Disclosure Act of 2009. And retailer-based gift cards often charge no fees, says Hillary Mendelsohn, author of "thepurplebook" series of shopping guides and founder of thepurplebook.com.
So, you might be able to hang onto the card until you need it.
If it's a retailer gift card, you also might be able to return it to the store for cash, says Kathy Grannis, media relations director with the National Retail Federation.
"Some retailers even have a policy that the gift card can be refunded if the buyer can bring the receipt to the store," she says. "And some retailers will provide a refund (to cardholders), if there's a receipt."
By returning the card, you'll get 100% of its value. You won't pay any fees or have to find another card that you want instead. Best of all, you can use that money to treat yourself to something you really want.
The downside: Unless the giver also tucks the receipt in with the card, (or the store doesn't require one), your gift giver will know something's up when you ask for the gift card receipt.
Stick With Well-Known Businesses
It's one thing to swap gift cards at the office with someone you know and see every day. It's another to go online and trade or sell gift cards to an individual you've never met or put their check into your bank account.
"There's a lot of fraud involved in that," says Kwame Kuadey, CEO and founder of GiftCardRescue.com, a site where consumers can buy or sell gift cards. "You're going to mail your $100 card to someone, hoping they'll mail a $100 card back."
Instead, he says, stick with business-to-consumer sites where you can thoroughly vet the site, its policies and its customer service record before you send off your cards.
For gift cards, "my advice is to steer clear of" the consumer-to-consumer auction sites, Rea says. And do your homework, she says. Consumers "need to do their due diligence."
Business-to-consumer exchange sites are a great resource, and dealing with a business rather than an individual provides "an added layer of protection for consumers," Rea says.
Two smart moves: Deal with well-vetted, respected sites and research before you sell.
Look for sites that offer a phone number to call if you have problems, says Mendelsohn.
Get the Address Right, Then Look Around
Sure, it sounds basic. But it pays to double-check those URLs. Otherwise, you risk landing on a look-alike site that could be anything but what you need, says Karen Barney, program director at the Identity Theft Resource Center.
Before you start shopping, check out the site's privacy and security policies, too, she says. Do they make it easy to view, or do you have to really search for it?
Pay particular attention to seller protections regarding your payment, Barney says. If you don't receive your money, do you deal with the site? Or does it pass responsibility off to a third party such as a money-transfer company?
Also, make sure you have "a good understanding" of how the site works, says John Breyault, director of the National Consumers League's Fraud Center.
That includes what happens when things don't go as planned, he says. "What's the dispute resolution process if something happens?"
Research a Site's Reputation
Sites that buy up or exchange unwanted gift cards have been great for consumers, says Rea. Dealing with a business, rather than an individual, gives consumers an extra bit of protection, she says. "And they're a positive thing for the gift card market."
But "there really hasn't been any accreditation or seal of approval for these exchange sites," she says. So, consumers have to take some time and do some research.
"The onus is really on the consumers to protect themselves," Rea says.
A few things you can do:
Do an Internet search on the site name or search the name plus the word "complaints." What kind of a response does that bring? "Remember, anyone can make a mistake, Mendelsohn says."But if you see a consistency of bad reviews, then you know."
Check BetterBusinessBureau.org for complaints, says Rea.
Look for guarantees, says Kuadey. "If a website is guaranteeing all the transactions, whether you're buying from them or selling to them, that's a good sign."
Don't forget to check out what's being said about the site on social networking sites such as Twitter or independent review sites, says Kuadey.
"If you don't take some responsibility to research the site, then you have to take the consequences," says Rea.
Compare Costs
Shopping for a site to sell gift cards to is just like shopping for anything else: price matters.
"Sites typically have fees," says Mendelsohn. It's "really important to read the fine print. Like anything else, it's comparison shopping."
Her advice: Pick a few reputable sites and compare what you will get back for your card. Be sure to include the transaction fee.
"That formula will give you what you're really getting back," Mendelsohn says. Do that on three or four sites -- "that's how you pick," she says.
Allow for intangibles, too. Sometimes you won't end up using the site with the best numbers because it won't have what you want, she says.
Check the Payment Procedure
Exactly how is the site going to compensate you? Is the method convenient?
Some sites may offer to make a deposit to your PayPal account. However, if you're not already a user and have to set up the account just for one transaction, it could feel like a hassle.
If you want to trade or sell gift cards, consider whether the site has cards you want. Different sites may specialize in different types of gift cards or merchants, says Mendelsohn.
"Some sites will give you credit to take whatever card you want," says Mendelsohn. "Some of the sites send you a check. Some of the sites will give you credit to shop only with the store they work with. Be careful. Look at the policies for the site before you send off your gift card."
You want a site that makes getting cash or much-wanted cards easy for you, and the site should safeguard your cards and data in the process.
It also pays to be a smart consumer, says Mendelsohn. When you send gift cards, use a mailing service that includes tracking. Save all your e-correspondence and receipts "until you're finished with your transaction and are satisfied with the goods."