Five Costly Service Fees and How to Buck Them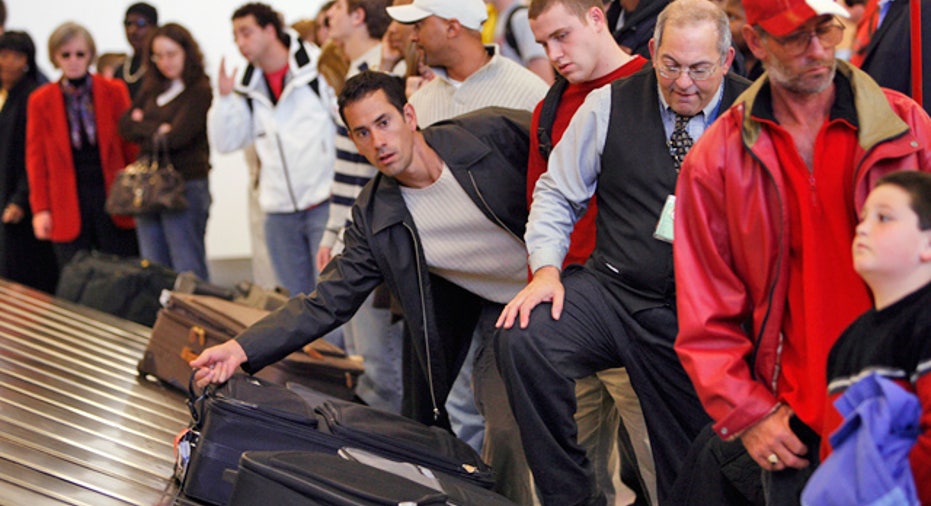 Watch for Hefty Service Fees
Paying to check in airline luggage may be the best-known service fee consumers face regularly, but it's not the only one. Almost any transaction can come with a small fee that may not be costly but can really add up if you have to make the transaction often.
"I think they're nickel-and-diming you to death," said Lisa Flowers-Latorre, a marketing expert in Milford, Del., who estimates she pays $120 a year in online fees to do business.
In recent years, added fees have become a hidden way for companies to increase prices without actually increasing prices, says Mitch Lipka, a longtime consumer advocate and editor of The Consumer Chronicle. He says fees aren't generally regulated and are add-ons companies disclose in the fine print of consumers' contracts.
The best thing consumers can do is watch for them. Here are some annoying service fees for simple services that were once free and ways you can avoid them.
Checking Account Fees Mount
Free checking used to be common at banks, but new laws limiting overdraft and interchange fees have forced banks to add fees to checking accounts, says Denise Winston, a blogger on personal finance and founder of MoneyStartHere.com.
Some banks still provide free checking, but it's only available if customers keep a high balance in the account. Because banks review and change their fees each year, it's worth asking each year how to get a free checking account. If you open a new account, be sure to read the fine print.
"Banks, in particular, are notorious for either handing you an unreadable booklet that constitutes disclosure or tells you where you can find these rules should you want to read them," Lipka says.
Pay Your Bill by Snail Mail
Companies send out all kinds of notices saying you'll save money and the environment by paying bills online and forgoing paper snail-mail bills. You may save on stamps, but some of those companies then turn around and charge an online fee.
Flowers-Latorre says she pays about a $2.95 monthly service fee to pay her utilities bill online and a $7 fee to make quarterly payments online for her car and home insurance.
How can you avoid such fees? You can buy a stamp and mail your payment.
Don't Print Tickets at Home
Paying for convenience is sometimes why you're paying an extra fee. Paying to print a concert ticket at home instead of waiting for it to arrive by mail is fine if you need the ticket for a concert that night. But if you have a lengthy lead time before the event, you'll save by choosing the mail option.
Ticketmaster charges a $2.50 service fee to print at home through its TicketFast program. It doesn't charge a fee to have the ticket sent via standard mail. Alexander Petrucelli of Commack, N.Y., recently bought a concert ticket on the day of the concert and opted to pick it up for free at the box office.
"If I could purchase the ticket far enough in advance, I would use standard mail for no additional cost," Petrucelli writes in an email.
Fees for Filing Taxes Online
If you're lucky enough to get a tax refund after doing your taxes online with TurboTax, you may be surprised to see a big fee added to get your refund that's transferred directly to your checking account.
For a federal tax refund, TurboTax assesses a "refund processing" fee of $29.95 for those who elect to receive their refunds electronically. In addition, TurboTax charges a $49.95 online filing fee that is deducted from the tax refund. These fees are above and beyond the normal fee TurboTax charges for the use of its service.
You can avoid the $29.95 fee by receiving your refund via snail mail, and you can avoid the online filing fee by printing out the tax return and mailing it to the IRS.
Tax blogger Kelly Phillips Erb says the easiest way to avoid fees is to use the IRS "free file" program in which software companies make their products available through the IRS website.
Caught by Checked Luggage Fees
Introduced by American Airlines in 2008 as oil prices spiked, fees for checked airline luggage were among the first levied by airlines. According to The Associated Press, U.S. airlines collected $3.4 billion in bag fees in 2010. Typically, the service fees are $50 per round trip for the first piece of checked luggage.
Most major U.S. airlines have similar service fees. JetBlue has no fee for the first bag, while Southwest allows two free checked bags per customer. The easiest way to avoid the fee is to carry your luggage on the plane, and store it in the overhead compartment or under your seat. And don't pack more than you need.