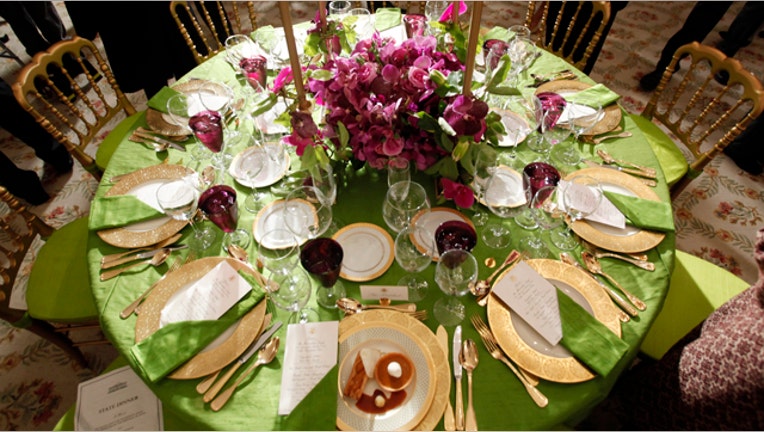 It's supposed to be fun, but let's face it, wedding planning can be downright stressful. There's the drama of merging families, the hunt for the perfect dress and, oh yes, you have to do it all on a budget! I got married once and during the planning phase I started to have this terrible pain on one side of my jaw. It ached every day. I began to think, "Oh my goodness, this has never hurt before, I wonder if I have cancer?! I'm going to be one of those sad stories you hear about a young bride who dies before her wedding..."
I went to my dentist, he told me everything looked fine. Then he asked me if I was dealing with more stress than usual. I thought about it and said, "Well, I don't think so. Work is the same stress as it usually is, everyone else in my family (including my dogs) are healthy, I can't think of anything. Oh I am planning a wedding..."
The dentist BURST out laughing and said, "You're clenching your teeth at night, that's why your jaw hurts! It's stress! Just wait 'till you get married, then you'll experience stress!" (Note: Dentist was right!)
Since money constraints are the main source of stress when it comes to planning a wedding, I thought you could use some tips-- the kind of tips I wish someone gave me! Consider this, the average cost of a wedding in the US is around $27,000! For money saving ideas, we went to the penny pinchers themselves, a bunch of accountants: The Massachusetts Society of CPAs (MSCPA).
5 Budget Friendly Wedding Tips
1. Avoid the Crowds: May through October is the most popular time to schedule a ceremony, which also means these months are the most expensive. Caterers, reception halls and other vendors are much more likely to offer better pricing – or be willing to negotiate on costs – if you set the date during the slower months, such as January, March or November. You can also lower your costs by avoiding a wedding on a Saturday night, the busiest time for receptions. Why not pick an afternoon affair or a Friday night instead?
2. Set Smart Priorities: If your budget is limited, then it's wise to devote your dollars to the most practical items, such as the things that will be meaningful to you and your spouse in the long term. For example, when it's all said and done, what most people are left with are memories and...pictures! It may be worth it to pay a little extra for a high-quality photographer, since the value of pictures or videos will last a lifetime. On the other hand, you can save money on the floral arrangments by avoiding out-of-season blooms or expensive varieties of flowers. If flowers are too expensive altogether, simple candles or tea lights can brighten up your surroundings at a much lower cost.
3. Think Outside the (Dress) Box: A wedding dress sold in a bridal shop will likely cost a lot more than a beautiful gown you might find at a department store, so keep an open mind when you go shopping. Consider checking out different types of stores (like a prom dress shop) to find the perfect gown for you. And on this occasion, a hand me down carries with it sentimental value that you can't put a price tag on. Find out if the mother of the bride or groom has a gown that she would be willing to lend you for the occasion. That will not only cut your costs but also add some meaning to the moment. Finally, in lieu of renting or buying a tuxedo, consider opting for a great new suit for the groom that he can wear again.
4. Be Creative: Simple party invitations with a postcard for responses will probably run much less than an elaborate wedding invitation with multiple layers and inserts. To add a personal touch, consider designing and printing your own invitations.
5. Have Fun With Your Choices: Catering is usually a big ticket item, so this is a great place to search for cutbacks. Consider choices that will make your party unique and enjoyable for you and your guests. A buffet meal, for example, not only promotes opportunities for socializing, but it will also cost less than a sit-down dinner because the caterer does not have to hire wait staff. Don't feel compelled to have a wedding cake, either, since they can be costly. Some couples opt for a tower of cupcakes or other fun and affordable alternatives.
Read more From Galtime:
Don't Get Ripped Off Buying Wine