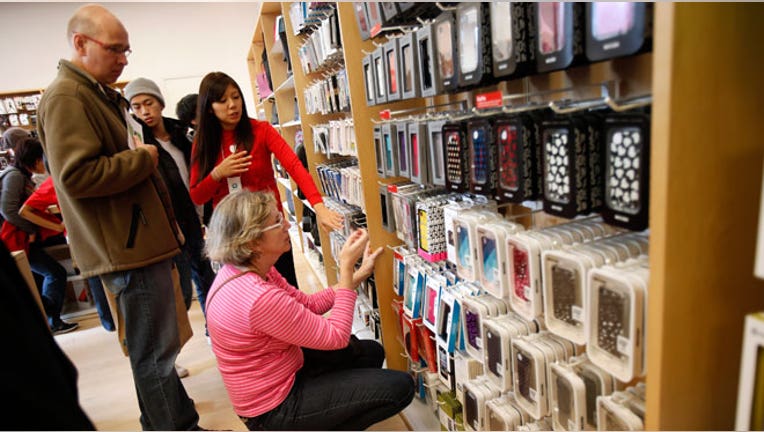 When it comes to shopping nobody wants to miss a deal--especially during the holidays when the list of who needs a present seems endless.
But you have a secret shopping weapon in your pocket (or purse). There are a variety of apps available for smartphones that will help you save money, compare prices and find the best deal.
Here's a look at five apps that will help you get the best price for everything on your holiday shopping list this year.
With more than two million downloads, RedLaser is one of the more popular apps that will make you a smarter shopper. This free app works on the iPhone, Android-based phones and Windows Phones and allows you to compare prices on an item to find the best deal. You can search for the price of a product by scanning its barcode or searching by voice or image. The app searches both online and traditional stores to save you the most money.
Say you see a must-have toy in the local toy store. Scan the bar code and RedLaser will tell you how much it's going for in other retailers. The app also lets you can buy directly from your phone and pick up the items at nearby stores. RedLaser can also help you in the food aisle: you can scan food products' labels and it will tell you the ingredients to show any possible allergens or keep your diet on track.
Whether you are making a big-ticket purchase or purchasing a gift early, the idea of whether the price will drop in a few weeks is always at the back of your mind.
Decide aims take that decision off your hands. The free app uses proprietary price and modeling predictions to tell you either to head to the check-out counter or wait for a heavier discount. The company says its predictions are right 77% of the time, saving consumers on average $101 per product. You can also track products and set up an alert when a price changes or if there is any news about a product.
For many people, part of the holiday tradition is shopping at local stores instead of on the couch, but shopping in person can be challenging if you are looking for a specific item.
To keep your stress level in check while shopping locally check out Milo, the shopping app for the iPhone and Android-based phones. Search for a product and Milo will check the shelves of its retailer partners to let you know what stores have it in stock. It will also tell you how the local retailer's price compares with others in the area. The free app also includes product descriptions and user reviews so you can make a better purchasing decision.
Everyone knows coupons save money, but in the busy holiday season it can be hard to find the time to clip and sort coupons. Enter the Coupon Sherpa app. This free app takes all the work out of using coupons—it provides access to more than 100 mobile coupon codes. Choose the coupons you want, show it to the cashier and he or she will scan them directly from your mobile device. The GPS feature will help you find the closest store while the favorites feature lets you view coupons from only the stores you shop at.
Even the most loyal Amazon.com shoppers will step into a retail store every now and then. And when they do, they want to make sure the brick and mortar retailer's price is better than Amazon's offerings.
Amazon.com's free app called Price Check lets you compare prices against the online retailer by either scanning the bar code, taking a picture, dictating the product or typing it into your smartphone. If the price is better on Amazon.com you can buy on the spot. If it isn't, you can share that price with Amazon. And you never know, your input could result in Amazon lowering its price.