Five Apps to Pack on Road Trips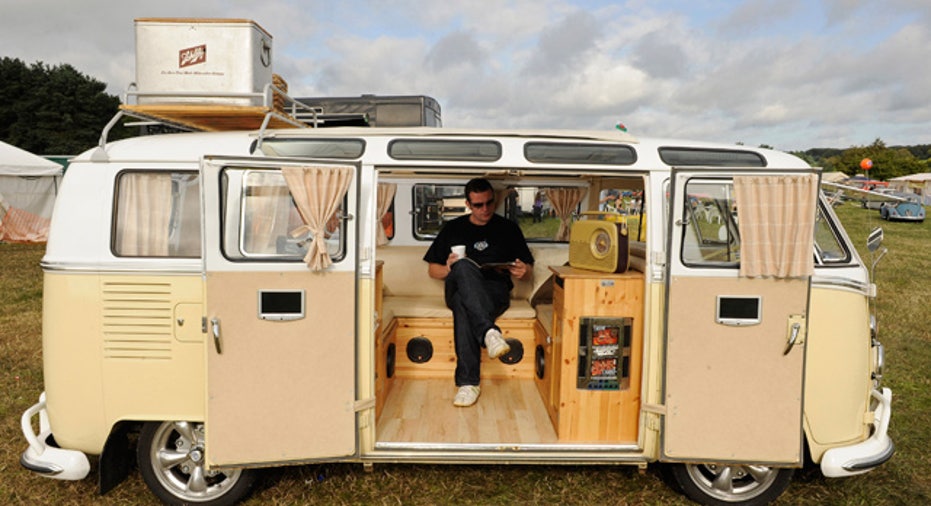 If you recently splurged on a new smartphone, you can use your device to help save a bundle of money and enhance your vacation experience this season. That's because there are many free and low-cost applications that can help you plan a smart road trip and find good deals along the way, says Nicholas DeRenzo, an assistant editor at Budget Travel magazine.
"The app market is enormous, whether you're on an Android, BlackBerry or Apple phone," he says. When people buy new smartphones, there are a few apps they feel they absolutely must have, and trip-planning apps should be in that category, DeRenzo says.
Here are five ways smartphone apps can help enhance your road trip. As long as you obey all texting and cellphone laws, and don't let smartphone usage interfere with driving, the apps can help you save money, find good spots to rest and be well-prepared for your trip.
Find Cheap Gas
App: GasBuddy. Available on: Apple, Android, Windows and BlackBerry devices. Cost: Free.
The GasBuddy app lets drivers search for cheap gas prices across the country. The product was first made popular by the website of the same name, and now smartphone users can access gas information on the road, says Ari Kissiloff, a frequent traveler and assistant professor in Ithaca College's School of Communications in New York.
GasBuddy users can search for stations by city, state or ZIP code on their smartphones. Pricing information is crowd-sourced, meaning users submit per-gallon costs as they drive by and see them on gas station signs. "The app is popular and has a large number of users, so it's updated frequently and the gas prices are usually quite accurate," Kissiloff says.
Download Road Maps On the Fly
App: TripTik. Available on: Apple and Android devices. Cost: Free. (Some features only available with AAA membership, costs vary from $80 to $150 per year.)
The TripTik app from AAA lets users download maps for road trips onto their phones, and it also helps locate attractions along the way, says Heather Hunter, AAA' s public relations manager in Orlando, Fla.
"It's a mobile version of the AAA online TripTik travel planner. You can set up a route online, and then download it into your mobile device. And if you're traveling with different members, you can share directions," she says.
For drivers who need to stop and rest overnight, the app also provides AAA's diamond ratings for nearby hotels, and users can call for lodging directly from the app to book their rooms, she says.
The TripTik app is free, but only members can save routes, says Hunter. Additionally, members who experience car trouble on the road can also use a separate AAA Roadside app to contact the auto club directly, says Hunter. "You can send your GPS location and use the app for roadside assistance."
Find a Good Restaurant
App: TripAdvisor. Available on: Apple, Android, Windows and BlackBerry devices. Cost: Free.
TripAdvisor is known for its community of users who review hotels, but the site and its smartphone apps also include information on several restaurants and vacation attractions, says DeRenzo.
Reviewers are average people, not professional critics, so it's possible that some reviews may not be accurate, says Kissiloff. For that reason, he says if one person's evaluation is really good or really bad, he tends to disregard it.
Fortunately, the popularity of the app means restaurants and attractions tend to have multiple reviews from several users. "On balance, I've found that if you read 10 or more reviews, you can generally see what people think about a place," says Kissiloff.
"For many people, TripAdvisor is a trusted name they know, so a lot of people will turn to them," says DeRenzo. People who use the app get the benefit of using a product that's simpler and less cluttered than the website, with easy-to-find search options by price and location, he says.
Download Attraction Maps
App: Maplets. Available on: Apple devices only. Cost: $2.99.
Once you get to your city destination, you'll still probably need a map of the places you plan to visit, especially if you plan to spend time in a national park, zoo, theme park or city subway, says Kissiloff.
The Maplets app lets you download maps of these types of places into your mobile device before you even arrive. With this software, there's no need to collect crumple-prone paper maps and stuff them into your pocket.
Because you're downloading the data into your device, the app "is also helpful if you're traveling to an off-the-grid area where cellphone reception is weak or nonexistent," says Kissiloff.
Find a Place to Go When You Have to Go
App: SitOrSquat. Available on: Apple and BlackBerry devices. Cost: Free.
Locating a public restroom when you're traveling isn't always an easy task. The Charmin-sponsored SitOrSquat app is a bathroom finder that provides a list of nearby places to make a pit stop, along with facility user ratings, says Kissiloff.
"This is especially helpful when you need to find a restroom that has certain features, such as an infant changing station," he says. Another similar app for motorists is Rest Area Finder, which can be downloaded for free on the iPhone.