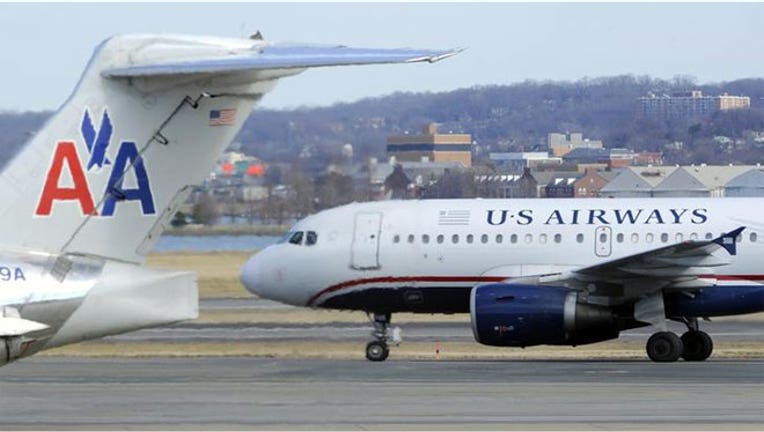 An $11 billion merger of American Airlines and US Airways (NYSE:LCC) that would create the world's largest carrier could weaken operations at certain airports, Fitch Ratings argued in a report released Wednesday.
The forecast comes as the two carriers finalize discussions in a deal that is expected to help American Airlines' parent AMR emerge from bankruptcy.
The companies reached a tentative merger agreement on Wednesday, with AMR's board expected to vote late in the afternoon followed by US Airways, according to a Bloomberg report. A deal could be announced as early as Thursday, the sources said.
An American and US Airways merger would mark the industry's fourth major consolidation in the U.S. over the past five years and would dethrone United Continental (NYSE:UAL) as the sector's No. 1 carrier.
While consolidation is largely looked at as a plus for the industry, Fitch argues it is both good and bad for airports, weakening some hubs while strengthening others.
"The central risk for the incumbent American hubs would be a major loss in connecting traffic, exacerbating the debt burden, and airline cost profile," Fitch said.
For the less-traveled hubs, mergers of this scale might mean less traffic, hurting the airport's revenue stream.
If the American deal closes, for example, the combined airline would likely adopt six hubs: Dallas-Fort Worth, Miami, Chicago, Philadelphia, Charlotte and Phoenix, while maintaining a sizeable presence in major markets like New York and Los Angeles. As a single company, though, one could argue that six hubs running at the same level of operation is excessive for a single network.
In an industry where costs have become paramount, some of those less profitable hubs may be cut out if they begin to impact efficiency. Regional carriers are also put at risk, particularly if there is an overlap of destinations across the two merging carriers, Fitch said.
Airlines in the past have either pared down or eliminated large-scale hubbing services at smaller markets like Pittsburgh, St. Louis, Cincinnati and Memphis. So Fitch's argument is that it's reasonable to assume additional operational shifts over time.
However, Bob Herbst, an independent airline analyst and founder of AmericanFinancials.com, believes the bleak outlook is overly pessimistic, as there's less than a 1% direct overlap between the two carriers.
"They can't really cut back anywhere," he said, especially if they want to maintain the same level of capacity.
Take Philadelphia as an example, which Fitch argues could be impacted should an American and US Airways merger go through. Philadelphia, while located in between the popular New York City and Washington D.C. hubs, is a key spot for international travel. Trans-Atlantic flights are lucrative for airlines, so in Herbst's view, why would the combined airline want to give up high-yielding slots?
"I disagree with people saying American is going to pull out of a bunch of cities and pull back, especially in their focus cities and cornerstone cities," Herbst told FOX Business in 2011 following a Fitch downgrade of three U.S. hubs. American is "going to go out there to be competitive, their costs are going to go way down."
AMR filed for Chapter 11 bankruptcy protection in November 2011. In December of that year, Fitch downgraded to "negative" three U.S. airports that have a significant American presence: Dallas Fort-Worth International Airport, Miami and Chicago's O'Hare.
At the time, its reasoning was a potential loss of traffic as American began shedding assets under a court-supervised overhaul. Similarly, it argues a reduced or loss of hubbing services under a US Airways merger would affect those airports' terminal space rentals and ancillary services.
"All three American hub airports have in place or will be facing high leverage metrics driven by capital programs," Fitch said.
Miami, however, was returned to a "stable" outlook by Fitch in October, as a terminal-upgrade capital program there helped improve the level of service. Traffic in Miami also improved as carriers used it as a gateway to Latin America.
Fitch on Wednesday called Miami a "solid franchise" and said its operational performance will likely remain intact even if America's operations contract in event of a US Airways merger.
It didn't have as positive an outlook for Dallas-Forth Worth and Chicago.