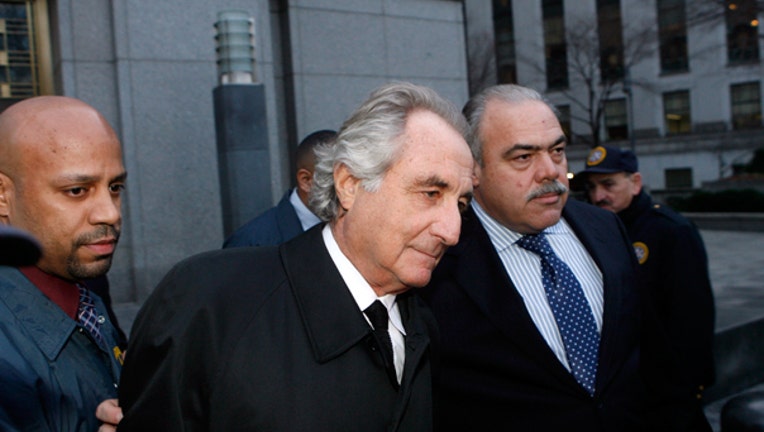 The inside workings of the largest Ponzi scheme in history are expected to be revealed in testimony starting today as five of Bernard Madoff's closest associates go on trial in federal court in New York.
Madoff, who is serving a 150 year prison sentence in North Carolina, initially told investigators he acted alone, operating his $65 billion fraud essentially as a one-man show.
Prosecutors never believed the claim, however, and since the scheme unraveled in late 2008 more than a dozen of Madoff's former employees have been charged.
Many in the legal community have been anticipating this trial, the first of anyone charged in Madoff's decades-long fraud which spanned the globe and roped in thousands of investors, including Hollywood celebrities and famous athletes.
"This trial should be fascinating theater.  We will likely see where many of the bodies in the Madoff scam are buried," said securities lawyer Andrew Stoltmann.
"It is likely that Madoff's final lie -- that he was the sole person responsible for this fraud -- will finally collapse.  I think this trial will be more compelling than any movie and prosecutors will secure convictions all the way around," Stoltmann added.
According to an indictment handed down in July, the five employees who go on trial beginning today assisted Madoff by among other activities creating false documents that were distributed as statements to Madoff's investors. The statements used complicated Wall Street jargon to suggest Madoff was employing sophisticated techniques to generate the handsome profits he used as his calling card, prosecutors allege.
Investigators have since revealed that Madoff made virtually no trades at all and fabricated all his records. He used the money generated from new investors to cover profits paid to older investors – a classic Ponzi scheme.
The five now facing trial are Daniel Bonventre, Annette Bongiorno, Joann Crupi, Jerome O'Hara and George Perez. All face charges of conspiring to defraud investors, securities fraud and falsifying records. All have pleaded not guilty.
Michael Shapiro, a former white collar prosecutor and now a defense attorney in New York, said past guilty pleas of former Madoff employees are proof that Madoff didn't act alone.
"Given the nature of what was done it would have been impossible for a single person to have conducted the fraud alone," Shapiro said.
Bonventure, Bongiorno and Crupi were all long-time Madoff employees, working on the 17th floor of mid-town Manhattan's Lipstick Building, one floor below Madoff's legitimate market making business, which was run primarily by his brother, Peter, and his two sons, Andrew and Mark.
Peter Madoff was sentenced to 10 years in prison in December after pleading guilty to participating in the fraud. Andrew and Mark Madoff were never charged in the scheme. Mark Madoff committed suicide in December 2010.
The other two defendants, O'Hara and Perez, were computer programmers. In court documents their lawyers have said the two merely carried out orders – programming data -- given by employees who worked closely with Madoff.
The prosecution's key witness is expected to be Frank DiPascali, described by prosecutors as Madoff's right-hand man. DiPascali, who worked with Madoff for over three decades, has pleaded guilty to fraud charges and is now cooperating with investigators.
Including Peter Madoff and DiPascali, a total of nine former employees have pleaded guilty in the scam.
Recent documents filed ahead of the trial indicate that the office where Madoff ran his Ponzi scheme was rife with romantic affairs and that some of the defendants now on trial participated. The filings said Madoff was also involved. It's unclear how or whether those relationships might affect the trial.
Madoff, a well-known Wall Street figure and a powerful but behind-the-scenes player in uppercrust society in Manhattan, Long Island and Florida, turned himself in to FBI agents in December 2008 as his fraud collapsed in the wake of the financial crisis. As his clients sought redemptions while stock markets collapsed around the globe, Madoff could no longer attract enough new investors to keep the Ponzi scheme afloat.
Hundreds of his clients lost all of their investments including retirement funds and others have been ordered to return profits generated by the fraud, known as a clawback. Lawsuits arising from the scheme are expected to play out for years.
Shapiro the defense attorney said convictions of the five now on trial aren't likely to have any "meaningful" financial impact on Madoff's former clients because none of the defendants has the financial resources to make a dent in the billions of dollars lost in the scam.