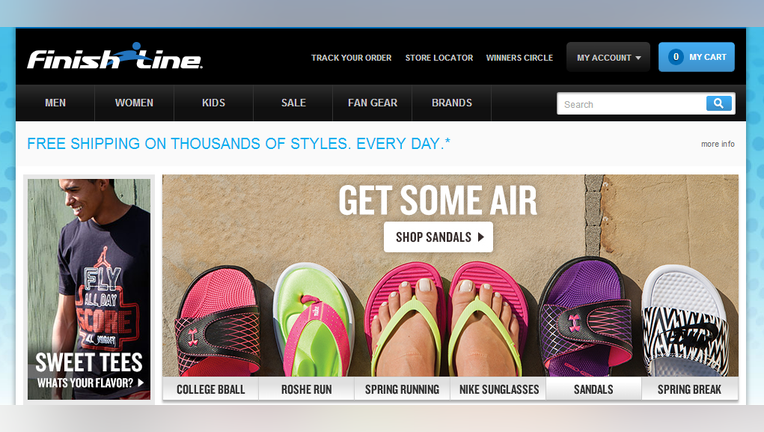 Finish Line (NASDAQ:FINL) on Friday said its first-quarter earnings more than doubled, as sales continued to climb.
The sports apparel retailer reported a profit of $12.4 million, or 25 cents a share, compared to $5.1 million, or 10 cents a share, in the year-ago period. Adjusted earnings checked in at 28 cents a share.
Revenue improved 16% to $406.5 million. The results beat Wall Street estimates for earnings of 21 cents a share and revenue of $394.5 million.
Shares climbed 3.4% to $30.14 in recent trading. Finish Line has gained about 7.2% since the start of 2014.
Finish Line was able to combat declining sales of running shoes during the winter months by offering a wider selection of basketball gear. Other retailers widely saw a drop in sales, citing harsh winter weather that kept shoppers away.
In the period ended May 31, Finish Line's same-store sales were up 5%. Last month, rival Foot Locker (NYSE:FL) booked a 7.6% increase in first-quarter comparable sales. Both retailers benefited from growing demand for sneakers and sports gear, fueled by new products from Nike (NYSE:NKE) and other apparel companies.
"The integration of our store and digital operations is allowing us to deliver great product and service to consumers in a seamless fashion no matter what channel they choose to shop," Finish Line chairman and chief executive Glenn Lyon said in a statement.
Lyon added that Finish Line has expanded its market share through a relationship with Macy's (NYSE:M).
The Indianapolis-based company affirmed its outlook for the fiscal year. Finish Line expects comparable sales growth in the mid-single-digits on a percentage basis and earnings growth in the high-single-digits to low-double-digits.
Shares of Finish Line traded 3% higher in recent action.