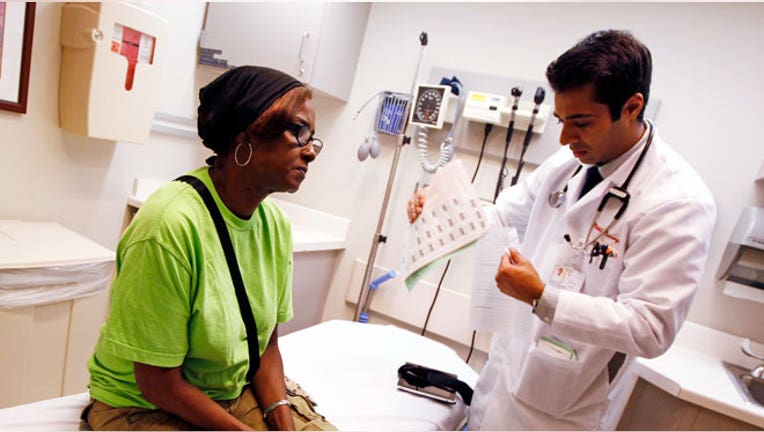 Despite reports on the severity of this season's flu, you are still hesitant to get a flu shot. Last time you got the vaccine you felt sick after and you still aren't sold on its effectiveness.
You know it would be helpful to chat with your doctor, but you aren't convinced she is aware of your fear nor has the time to help you understand the shot's pros and cons.
Experts say that care and outcomes improve when you have a doctor who understands and respects your values—a doctor who "gets" you, someone with whom you feel comfortable enough to open up in return.  Much like the dating process.
Patient centered care is just that, says Shub Debgupta, founder and CEO of WiserTogether which provides support tools for consumers to help them make thoughtful decisions about their health care and doctor choice.
Unfortunately, doctors are falling short of patient's expectations and turning out to be more like a bad first date. According to Wiser's Patient Centered Care Index, a survey that measures how well doctors are doing in taking up the challenge of the shared decision-making at the heart of patient centered care, doctors are not meeting patient expectations.
The industry may be improving in cost and increasing accessibility and convenience, says Gregg Rosenberg, Wiser's chief product officer, but the quarterly survey that canvasses more than 2,500 patients indicates treatment ratings remain gapped.
Rosenberg says you should ask yourself these five questions to evaluate whether your relationship with your doctor is healthy:
Does your physician take the time to understand your values and personal situation?
How well does your doctor help you understand the range of treatment options for your particular condition?
How well does your physician understand the evidence that goes with the various treatment options, reporting if they are strong or weak?
Does your physician communicate with empathy and relate to your fears, anxieties, beliefs or even your financial considerations?
Does your doctor actively involve you in the decision-making regarding treatment?
Rosenberg says the index shows doctors do best involving the patient to get a shared decision, "but you can't truly get to shared without the other four factors, and the likelihood your physician can take the time to understand your values and help you understand your options is not high."
The Culprit: Time Constraints
High patient volume and a shortage of physicians, particularly in the primary care arena, translate to doctors being pressed for time during office visits. "Few doctors have time to walk patients through the 18 treatment options for carpal tunnel syndrome which is why they short circuit," Rosenberg says.
The shortage situation is expected to go downhill, with experts predicting the situation to worsen in 2014 as millions more patients stream into the system—bad news for the dating pool.
"The 10-minute paradigm really has to change," says Dr. Glen Stream, chairman of the American Academy of Family Physicians (AAFP). These short visits do not provide adequate time to develop trust and share the in-depth dialogue that shapes a treatment decision.
The current fee for service environment is not conducive to forming deep relationships, claims Dr. Charles Kennedy, head of Aetna's Aligned Care Solutions Group. Much of a patient's care—particularly for those patients who have chronic conditions—is done at home. One way to build deeper relationships is to empower patients to do a better job of maintaining their care at home. But the current environment makes this difficult because doctors are too busy running from examining room to examining room, Kennedy says. "It's like being a hamster on a wheel."
Stream emphasizes that patient trust goes two ways. Patients have to be forthcoming about their medical history and concerns. He adds that patients tend not to open up at first but can build trust after half a dozen visits. "Decisions don't have to be made abruptly. A key part is taking time to be comfortable," Stream says.
The dating game is not an unreasonable comparison for determining whether a doctor is a good fit, Stream adds. Patients can go online to review a doctor's background. But it's more than just being knowledgeable. "To be compliant, patients need to know I have their best interests at heart."
Sometimes it's as simple as managing expectations. A patient may have a specific treatment need and the doctor who is most expert at providing that treatment is not a good communicator. Stream prepares his patients for that. "I tell them, 'Don't expect warm and fuzzy.'"
Here are some tips to find a physician who will be your best health care mate:
Poll like-minded friends and family. The information about their physician experience is anecdotal, but it's a start.
Use consumer-friendly tools.  Wiser'shealth suite and mobile applications, Change Healthcare's Transparency Messenger or Aetna's iTriage can help identify available doctors and/or compare cost.
Do a dry run. Visit the office of a physician prospect. This helps you evaluate the staff and the environment. A bad encounter at the reception desk can crush your experience.
Seek out PCMH practices and ACO's. A complement of nurse practitioners, physician assistants, health coaches and nutritionists add layers of expertise and technology reliance ramps up on-the-fly convenience and access and frees up physician time to build relationships.
Keep looking till you find a good fit. People often stick with a doctor they don't like because they're afraid to change, says Stream. "If you don't connect with the first person you see, it's okay to find someone else."