Finding the Grill of Your Dreams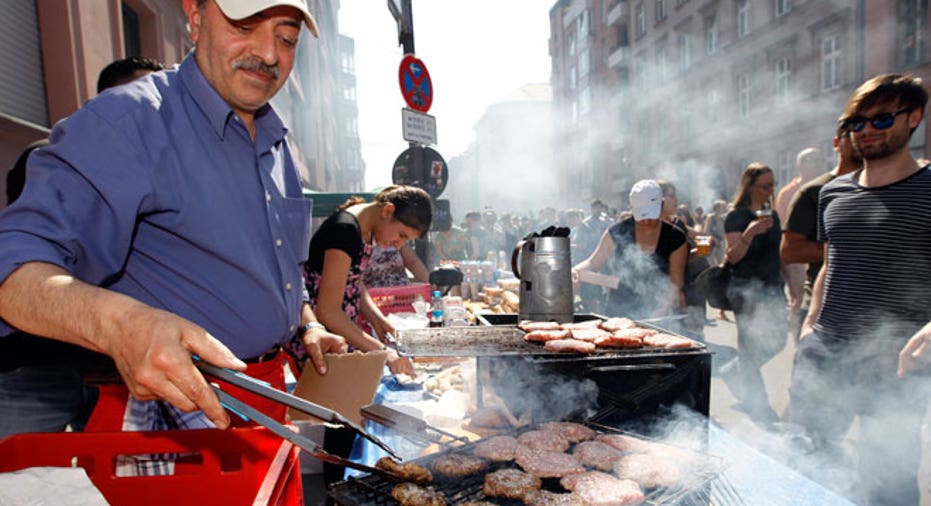 The unofficial start of summer is here, which means it's time to fire up the grill. So, what's the totally tricked-out grill wearing this summer? Think stainless steel, a few side burners, a rotisserie, a smoker and a little infrared technology.
From a basic $30 patio model to an outdoor dream kitchen with a price that rivals the down payment on a house, there really is a grill for everyone. The trick to getting the perfect model is deciding what features you want and how you want to cook, then shop specifics.
"The first big trend, I think, is all the stainless steel," says Mark Connelly, senior director of testing for appliances at Consumer Reports. The good news for consumers is that manufacturers have "been doing that without the price getting too crazy."
The abundance of stainless steel is a reflection of what's going on in the high-end kitchen market, he says. "The more stainless steel, the more expensive," he says, but its popularity has made the sleek, shiny look more affordable for everyone over the past year.
The other hot grill item? Plenty of side burners with heat "equivalent to what you have in your own kitchen," Connelly says.
When buying, think stainless steel, a few side burners, a rotisserie, a smoker and a little infrared technology.
Rotisseries are big, too, says Karen Adler, co-author of "The BBQ Queens' Big Book of Barbecue." "Over the past few years, this has been the most popular add-on," she says.
And "there seem to be more smokers," says Lynn Blanchard, test kitchen director for Meredith Corp., issuer of the Better Homes and Gardens publications.
If you're going to spend big bucks on a grill, get a test drive first. Some specialty retailers will fire them up on the weekends so that you can try them out first. Some things to watch:
"Don't be enamored with the high BTUs per hour they advertise," says Connelly. Quality "has to do with how well they distribute heat. It's no horsepower race. And unfortunately, that's what a lot of manufacturers tout."
How evenly does it heat the grate? Will burgers in different corners cook at the same rate, or will one burn while the other stays pink inside?
Does it flare up? This is important to most people, says Connelly. And it has a lot to do with the construction underneath the grate -- the part few people see. One feature to look for in gas grills is metal pyramids beneath the grate surface. The construction gives grease a way to drip down while allowing flames to rise unhindered at the same time, he says.
Can it handle low-temperature grilling? That's important if you want to cook something such as salmon, says Connelly.
Another feature to examine on a gas grill: the number of controls. Does each burner have its own control? "Generally speaking, the more burner controls you have, the more flexibility it gives you as a chef," Connelly says. His recommendation after shopping grills is to look for at least three burner knobs.
Check how easy it will be to clean, too, says Blanchard.
And ask about assembly. "It can be an eight-hour nightmare on a Saturday," says Connelly. "It's probably worth the money" to have the store do it.
Gas or Charcoal?
Before you get in the car, ask yourself (and whoever else might be using the grill) a few questions. The hardest one first: gas or charcoal?
Charcoal tends to be less expensive, gets hot enough and creates that traditional "cook-out" flavor. You don't have to worry about filling or returning propane tanks. (And it's easy to tell if you have enough charcoal for the big day.)
Gas models can be pricier, although these days there are portables and less expensive models in the $100-plus range. State-of-the-art and high-tech models most often feature gas. They start quicker, and the flame and temperature are easier to control. Some gas grills will allow you to burn wood chips to enhance flavor. You do need a supply of propane. In some cases, you also can tap into your home's natural gas -- with the help of a pro, of course.
After you've settled the fuel question, look at price. If you're starting out and want a $30 patio grill, your decision will be a lot easier than if you have to wade through the choices available for $1,000 or more. Set a limit and stick to it.
For a gas grill, people pay an average of $250 to $300, says Connelly.
Now, the big question: What do you want to do with it? Grill hot dogs for two on warm summer evenings? Fire it up on July Fourth and feed the whole neighborhood? Do you want to smoke that Thanksgiving turkey? Or roast a whole chicken on a spit?
Make a list of the things you want to do and refer to it when you compare grills. Is it made for this purpose? Does it come with all the necessary equipment or will you need extra parts? Will the job be easy or difficult with this grill? How does it compare to others for this particular job? Chances are, one model will have more of what you want.
The main thing to look for "is the ability to cook at a wide range of temperatures, just like you want in your kitchen," says Bill Jamison, co-author of "Good Times, Good Grilling," with his wife, Cheryl. For smoking, you want low, controlled heat. To get that backyard barbecue flavor for steaks and burgers, you want really high heat.
While many grills will boast high heat, opt for one that will give you those temperatures with the lid open. "That's the only way you apply direct heat," says Bill Jamison.
While some barbecue aficionados look at the BTU usage to measure potential heat, Cheryl Jamison believes that's just one factor. "The main thing that makes a difference is the closeness of the source of heat to the cooking grate," she says.
Bill Jamison agrees. "That's an indication that you're going to get higher heat." Another indicator is an infrared burner. All infrared or a combination of gas and infrared "means you're going to have a high searing capability," he says.
On the other hand, if the flame is "eight or nine inches from the grate and there is no infrared, I would insist on seeing it in operation and doing a hand test," he says.
Put your hand two to three inches above the cooking grate and see how long it takes for the fire to force you to pull your hand away, says Bill Jamison. One or two seconds is hot fire. Three to four, medium, and five to six, medium low. "There are not many meats, or seafood or poultry, that you can grill below medium-low," he says.
How to Shop Smartly
Whatever the price, look for signs the grill is well-made.
Examine the grate for quality, weight and how well it fits into the grill, says Cheryl Jamison.
Make sure the grill doesn't wobble or roll, and the cart (if there is one), is solid.
Look for good soldering. If it's flimsy or looks like it would move around while you're using it, that's not a good sign.
One expert's trick is to take a magnet to the store, says Connelly. "If the stainless steel has any magnetic properties to it, it means it's pretty cheap stainless, and it could start to rust," he says.
Another good sign in a gas grill is burners that are warranted for 10 years or more.
And shop a variety of store types (warehouse, specialty retailer, home improvement) before you make your selection.
"You really need to look around and see as many options as you can," says Bill Jamison. "You should do your shopping and not run to the nearest warehouse store and buy what looks good or is the cheapest."
Copyright 2014, Bankrate Inc.