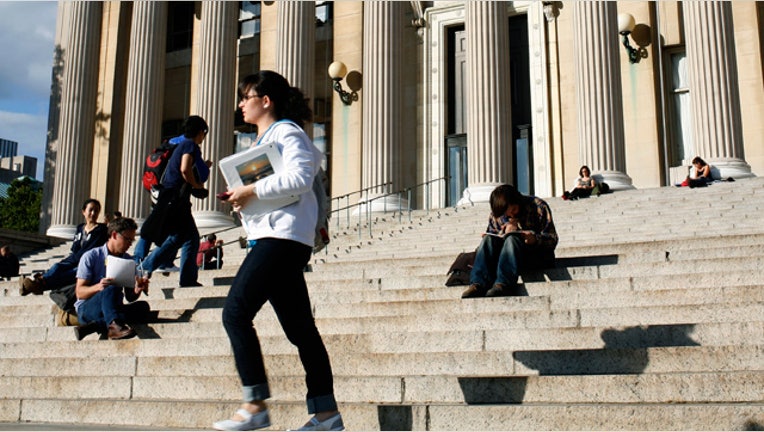 For banks and credit unions, students are good for business. When a high school or college student opens a checking account at a financial institution, there's a good chance he or she will be a customer for life.
To provide an incentive to open an account, many banks and credit unions offer student checking accounts that give extra benefits to young adults who are just starting their financial journey, says June Walbert, a CFP with USAA in San Antonio.
For example, students who offer proof they're enrolled in an educational institution by showing a school-issued ID can open up student checking accounts with a low minimum balance, minimized fees and "forgiveness" plans that let them avoid a penalty if they overdraw their account for the first time, she says.
Walbert believes it's worthwhile to search for a bank that's a good match. "Parents or students should really look closely in order to understand what kind of checking account to get," she says.
Here are five basic student checking features Walbert and other financial experts say students should look for before opening an account.
Low or No Minimum Balance
Students don't often have a regular source of income, so it's important to make sure their balances can go low without penalty, says Ken Cyree, a professor of finance at the University of Mississippi in Oxford.
Customers should look for a student checking account that doesn't charge fees if the balance drops below a high number such as $500, he says. Of course, all this assumes the account does not get overdrawn. "If you bounce checks, the fees will add up," he says.
As an alternative, some banks will require a low minimum balance to open an account -- such as $50 -- but then won't require a minimum amount to maintain the account, Cyree says.
Free Checks and Debit Cards
"For banking accounts, look for free, free, free," Walbert says. "Ask for free checking with no monthly fee, free checks, free debit cards with no usage charges and a refund of non-network ATM fees."
But take note, administrators of "free" student checking accounts will charge fees and penalties for certain transactions, such as out-of-network ATM withdrawals and wiring money abroad, she says. Before opening up any free student checking account, make sure you know what extra fees may be assessed and when.
Waive First-Time Penalties
t's easy for students to make mistakes when they first open their checking accounts, Walbert says. In many cases, they may not keep a good record of their spending and as a result, they may overdraw their checking account.
When that happens, there's usually a nonsufficient funds, or NSF, fee of at least $35, she says. But some student checking accounts will waive this penalty the first time it occurs.
"I think we should all get one 'oops' that we're not penalized for," she says.
In addition to receiving "forgiveness," Cyree says some students also may be able to link their checking account to a savings account or line of credit as a backup. If the student overdraws the checking balance, a deposit from the backup account would automatically be transferred into the student checking account.
The bank may charge a fee to make a transfer, but it would likely be much smaller than an NSF charge, he says.
Waiving penalties and using backup accounts can be helpful, but students should be careful not to let it lead to a false sense of security, Cyree says. Otherwise, it could lead to another potential problem from young adults -- the misuse of credit.
"We don't want to give our college students such a large safety net that they'll feel it's OK to continue to make the same financial mistakes," Cyree says.
Student Accounts Offer High-Tech Features
Student checking accounts generally feature online bill pay, online statements and the ability to set up text and email alerts if the balance drops below a certain limit, Walbert says.
These mobile banking features lessen the reliance on needing to be physically close to a branch, she says. That's important for students, especially if they live in one town during the school year and somewhere else during the summer.
"Many college students are armed these days with a smartphone. So if they can access their account information and make transactions from their mobile phone, it can give them flexibility in managing the money they need," Walbert says.
In addition to mobile banking, students should look for the ability to set up a schedule to automatically move money from one account, such as checking, to another, such as savings, at regular intervals, says Casey Weade, a CFP and vice president of Howard Bailey Financial in Asheville, N.C.
This feature can help young adults build up an emergency fund with little effort. "Being able to set up automatic transfers online is a benefit for someone who is trying to save money," he says.
Seek Proximity and Convenience
Students should look at the location and ease of access of a bank when choosing a student checking account, Walbert says. This includes selecting an institution that has ATM locations on and around campus, so students can avoid using out-of-network ATMs and their high usage fees, she says.
In many cases, convenience for students can also mean selecting the same bank as their parents, Weade says. That would make it easier to receive deposits from Mom and Dad, he says.
In fact, Weade says that was exactly what he did in school. "My parents took me right into our bank branch to open an account," he says. And if the student is under 18 years of age, they have to open up a joint account with an adult anyway, Walbert says.